Standing together
The truth about Hillsborough has finally been exposed - now the fight for justice will begin, says David Jones.
Last Updated: 19/09/12 3:49pm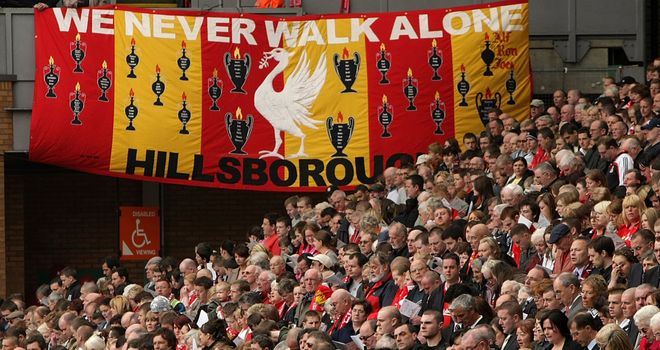 Even the coldest heart would have been moved by the outstretched hand from Everton to their city rivals Liverpool before Monday night's game against Newcastle.
Mascots, shivering in the chilly September air, clung tightly to each other. A girl dressed in the blue of Everton, a young boy in the red of their neighbours Liverpool. Side by side their shirt numbers spelling out 96.
Mersey foes together as friends, united in respect for the 96 who lost their lives on English football's darkest day at Hillsborough 23 years ago, and for their long suffering families who had to wait until now to hear the truth. As we all did.
And the truth was staggering.
It amounted to the biggest cover up by police and emergency services in living memory. An exposure of lies, deceit and falsehoods aimed not only at protecting reputations but also smearing those of the dead. A double injustice, according to the Prime Minister himself.
Now the truth has finally been exposed the fight for justice will begin.
Which is why this week on The Footballers Football Show we will provide a platform for those who are leading the pursuit.
We'll be looking back at that tragic day with those who were there.
If you haven't heard their stories before I urge you to do so. On this issue the football family is standing together.