David Jones: Peter Odemwingie has helped catapult Stoke up Premier League
How Chelsea wish they had a striker that could do same and stop season from falling apart...
Last Updated: 03/04/14 7:51pm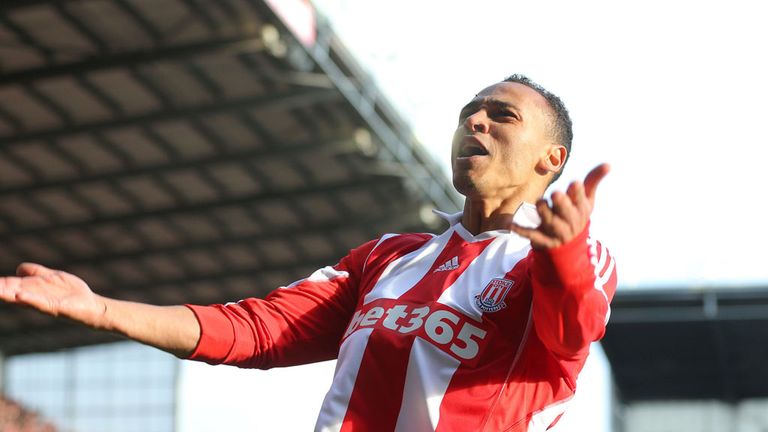 Title favourites little more than two weeks ago, Chelsea's season is now in real danger of total capitulation.
Defeat in three of their last four games has left Jose Mourinho's side surrendering their advantage in the Premier League and heading back from Paris staring at a Champions League exit as well.
Of course, Chelsea could still win both but more likely will be the confirmation of Mourinho's constant insistence that next season will be the time for the Blues to deliver.
By then you can be sure there will be a new centre-forward at Stamford Bridge to stop Mourinho lamenting his lack of goalscoring options in public.
Be it Diego Costa, Edinson Cavani or Falcao you can be sure Fernando Torres will feature even less next time round.
All was going so well until they ran into trouble at Villa Park, then after smashing Arsenal for six, they bizarrely drew a blank again at relegation threatened Crystal Palace.
A most unlikely run of results, though the defeat to PSG was more predictable, the manner in which they conceded the perhaps crucial third so deep into injury time wasn't.
Chelsea have six games to go: six wins - including victory at Anfield - would take them to 87 points and guarantee that they finish above Liverpool.
The problem is that Manchester City can still get to 91 points - though of course they also have to go to Anfield and Goodison Park, where they have lost for the last five seasons.
Yes it was the weekend that Liverpool fans started to really believe but it wouldn't take much for the momentum to swing back to west London.
The only thing Chelsea can do is to keep on winning and be ready to pounce if indeed the others do slip up.
Mark Hughes led the Blues line with distinction, and now he's leading Stoke to their best ever Premier league finish in his first season in charge.
David Jones
Catapulted
On Saturday Night Football we'll watch Chelsea take on Stoke, one of the form teams of the Barclays Premier League who are led by a man much respected at Stamford Bridge.
Mark Hughes led the Blues line with distinction, and now he's leading Stoke to their best ever Premier League finish in his first season in charge.
Four wins from their last five games have catapulted Stoke into the top half of the table and made me look a fool.
When I saw them lose at Sunderland at the end of January - their fifth defeat out of six - I thought they looked in deep trouble and left reasonably confident they would finish below the Wearsiders.
Four days later they beat Manchester United, went onto upset Arsenal, and are now chasing a fourth win on the bounce for only the second time in their Premier League history.
Peter Odemwingie has been at the heart of their recent success, scoring four in their last three games, displaying pace and real poise in front of goal.
A goalscorer who his manager believes in and who his team-mates can rely on... now wouldn't Chelsea like one of those.
Do you think Chelsea can get back on track with a win over Stoke this weekend? Let us know your thoughts by commenting below.