Niall Quinn
Football Expert & Columnist
Pain in Spain
Barcelona will have too much for Celtic but Man Utd, Man City and Chelsea can all win, says Niall Quinn.
Last Updated: 23/10/12 5:21pm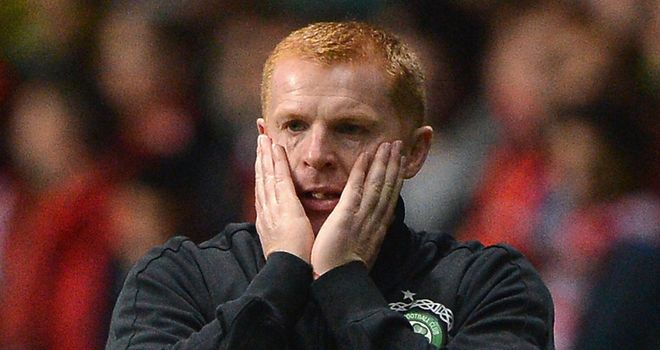 The Champions League returns to your screens this week with the third round of group stage matches.
Arsenal, Man United and Chelsea each top their groups after wins in round two at the start of the month and know another victory this week would give them a great chance of qualifying for the knockout phase.
However, perhaps the most impressive result from all the British teams in round two was Celtic's dramatic 3-2 win away to Spartak Moscow. Neil Lennon's side face a far tougher test this time round, though, with a trip to Barcelona on Tuesday night.
Premier League champions Manchester City are the only British club yet to get a win on the board in this year's group phase; a fact they'll be hoping to change when they visit Dutch giants Ajax on Wednesday.
Here Sky Sports pundit Niall Quinn gives his take on how the British contingent will get on this week...
Barcelona v Celtic, 7pm, Tue, Sky Sports 2 HD
I was speaking to Celtic's owner Dermot Desmond and everybody at the club is thrilled to be involved in this fixture; it's one of those days that makes it all worthwhile.
The win in Moscow has made this an even better fixture for Celtic and their fans because they've done the hard thing by getting away points on the board at a tough place like Spartak and now they can go into this game with freedom, knowing whatever the outcome they're still in the hunt.
I doubted they could do it in Moscow and they proved me wrong. I hope they prove me wrong again because at the moment I couldn't back them to get a result at the Nou Camp, Barcelona are just too good.
But what a wonderful game for those players to play in; they should cherish every moment because it will be fantastic.
NIALL PREDICTS: BARCELONA
Shakhtar Donetsk v Chelsea, 7.30pm, Tue, Sky Sports 4 HD
Over the years Shakhtar have repeatedly caused visiting teams problems and it'll be a hostile atmosphere out there on Tuesday night. Chelsea will have it all to do to come away with a result.
The draw with Juventus makes life a little bit more difficult for Chelsea, although obviously victory gets them bang back on track as champions to go on and think about winning it again. A draw or worse and there will be some head scratching going on among the management.
This is a big, big game and it's a big ask for Chelsea but we have to take their league form into consideration because the Blues are blazing at the moment.
It's not just the results, though; it's how they're doing it. They were excellent against Spurs on Saturday and played really, really well so they'll be on a high after that. Their signings are paying off and I expect them to do the job out there and win the game.
NIALL PREDICTS: CHELSEA
Man United v Braga
United's record speaks for itself, their home record particularly, and while they had some hairy moments against Galatasary in their last match I think they'll understand now that they got away with that one a little bit and will be a lot sharper for this match as a result.
United have the opportunity to put daylight between themselves and the other three sides, with second-placed Cluj travelling to Galatasary, and if they achieve that then they can almost start to think exclusively about the Premier League for a few months.
That's not the way they'll be looking at it, of course, but the less pressure they have on games after this the better. The job is never easy in the Champions League but it's there for them to win.
They've been sluggish at the start of games this season, even in the Premier League, but the opposite of that happened against Galatasary where they didn't build on their goal, so they'll be looking to improve on that.
But his one should be interesting and it's one I'm looking forward to. Even though United scored four goals at the weekend they're not quite hitting it at the moment but you feel it's coming and it could arrive in this game - I think United could win it really well.
NIALL PREDICTS: MAN UNITED
Ajax v Man City, 7pm, Wed, Sky Sports 2 HD
If a Premiership team can learn a lesson, City did so at home to Borussia Dortmund.
They learnt the Champions League is a whole new ball game and they have to do things a little bit differently.
Ajax are a plucky team, they do things the right way and, although on paper Man City have too much for them, Ajax will love the opportunity to get at them, knowing Man City need a result here.
Interestingly Edin Dzeko once again came to the rescue for City at the weekend and he's crying out for a start. I'd almost hedge my bets on this one until I see the team selection because I don't trust Balotelli playing up front. Selection is the manager's job and we'll leave it up to him but it's a game they must do well in.
Joe Hart will be busy - although not as busy as he was against Dortmund - and whoever they pick, Sergio Aguero, Dzeko or whoever, needs to be looked at carefully.
I think City can get the win but they really need to brush up their ideas now because at times Dortmund gave them a lesson. They've got to be stronger now and do what they do to Premiership teams.
Although Ajax will be no pushovers, I can see City getting the result if the right team is picked.
NIALL PREDICTS: MAN CITY (If the right team is picked!)
Arsenal v Schalke, 7.30pm, Wed, Sky Sports 4 HD
Looking at this group the hardest team for Arsenal was going to be Schalke.
Arsenal have got off to a good start with six points on the board from two games but they got away with the game in France against Montpellier, where they were under pressure for long periods, and they weren't brilliant at home to Olympiacos but got the points.
This is different though; now they need to come to the table with their Champions League pedigree and fight hard for this victory.
I'd be wary of this German side. I think it will be a difficult one for Arsenal and Schalke might have enough to frustrate them and get something from the game.
It's going to be a very tight game and Arsenal need to make sure they're right at it, coming into the game off the disappointing defeat against Norwich.
I think the power of European football is swinging a little towards Germany and I can see them having a big influence on this season's Champions League - Schalke represent that.
I'd love to see my old club win the game comfortably and have a more relaxing time and concentrate on the league up until Christmas but Schalke are no pushovers. Arsenal would do great to win this one because I can see Schalke causing enough problems to get a point.
NIALL PREDICTS: DRAW
Don't forget to tune in to our interactive commentary with comment from the Sky Sports experts and access to the games via our Events Centre by visiting www.skysports.com/championsleague