Niall Quinn
Football Expert & Columnist
Bridge of sighs
Niall Quinn tips Celtic to qualify for the last 16, but fears a victory won't be enough for Chelsea.
Last Updated: 17/12/12 4:59pm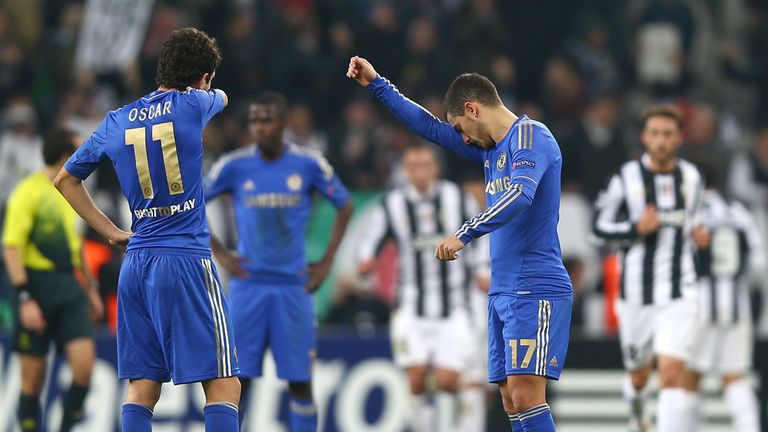 We've reached the climax of the Champions League group stages and there's so much still to be decided.
Chelsea and Celtic can still qualify for the last 16, but they'll need good performances against Nordsjaelland and Spartak Moscow respectively - and they'll also need other results in their groups to go their way.
Manchester City are already out, but have a chance of securing Europa League football if they beat the impressive Borussia Dortmund, while Arsenal will be looking to find some form and have a chance to claim top spot in Group B when they travel to Olympiakos.
You can catch 15 Champions League games live on Sky Sports this week - but first read on to see how our expert Niall Quinn thinks the British sides will get on.
Borussia Dortmund v Man City, 7pm, Tue, Sky Sports 2 HD
As a manager you want to win every game and Roberto Mancini will say they want to try to qualify for the Europa League, but the reality is that it would be no harm to miss out.
They have such a big game at the weekend and it would be difficult to see him risk tiring key players ahead of the trip to Manchester United, who will have no need to play their big guns against Cluj.
It's a dilemma for the manager and I think we might see a mixture of senior players who should be okay in terms of fitness but he'll give a rest to some big players who might suffer from a tough trip ahead of the biggest league game of the season so far.
In an ideal world they would like to be in the Europa League with the chance of winning the tournament, but how do they get a win against a crack Borussia Dortmund team and not tire their players out?
It may look like their heart won't be in it - and nobody could blame him for not putting his strongest team out in this case because it's coming to the time of the season when injuries are creeping up on them.
It's a real difficult one. I think Mancini will patch the team up as best as he can, but I still don't think it will be enough. My belief is that this will be a win for Dortmund.
Olympiakos v Arsenal
There's two ways of looking at this. I don't know whether this game will be a welcome relief for Arsenal or a tiresome trip that they could do without.
It could be a relief from their league form and they could finish off the Champions League group stages in style and win the group. Schalke are playing away in Montpellier, so nothing is guaranteed and if they play with a bounce in their step then I'd expect them to do well on the night.
But you don't know what Arsenal you're going to get these days and their domestic form has been shaky - very shaky - going into the game.
Olympiakos will be right up for this. They can't qualify, but it's a big send-off game for them and they worried Arsenal for long periods in their first meeting.
Nine times out of 10 I would say it's very important to win your group, but when you see some of the strong teams that are going to finish second then you might want to avoid them! They can't worry about that though; you just have to go out and try to do your best in every game.
I think it will be a difficult night for Arsenal and if they come out of it with a draw they'll have done very well.
Chelsea v Nordsjaelland, 6pm, Wed, Sky Sports 2 HD
I believe Chelsea will get the win they need to give themselves a chance of qualifying, but I'm worried about the other match in their group.
They need Shakhtar to beat Juventus and given the way Donetsk have been playing you would expect that to happen, but you never know. In this day and age you would hope for a competitive game, but a draw suits both of them and that's always an issue in European football.
There's always a suspicion that they could play out a drab 0-0 game and both teams are happy.
Chelsea just have to go out and do what they have to do. They've put themselves in a poor situation and the whole shape of the group turned with the late Juventus goal at Stamford Bridge. That was the moment that really hurt them.
The fans aren't happy with Rafa Benitez at the moment, but the sooner they win a game the better things will be and I think the manager will relish this game as a chance to silence a few of the doubters.
This is a great chance for him to get going and I think they will in the match - but my feeling is they won't go through because Juventus are the sort of team who know how to go away and the draw they need.
Celtic v Spartak Moscow, 7.30pm, Wed, Sky Sports 3 HD
Of all the games involving the British clubs, this is the situation that is most alive - and it would be wonderful if Celtic could come out of their group.
They only have to better Benfica's result against Barcelona and you would hope that means they only have to avoid defeat to go through. All things would point to that being the case.
They've already won in Moscow, so they've proved that they're better than this Spartak side - and now they just need to go and finish it off. There will be a huge atmosphere up there and the supporters will give every bit of energy that they have, so I hope they can go out and dominate the game.
When the draw was made it was a real tall order for Celtic to come out of it - and to have relegated Spartak Moscow to a position where they can't even qualify for the Europa League is excellent. That should help them on Wednesday night too.
To come between Barcelona and Benfica would be an absolutely fantastic achievement and I think they will get a result. I just hope the gods don't do something daft and Benfica get a worldy result in Barcelona.
There will be a bit of drama, but I think Neil Lennon's side will limp over the line and win the match. I also believe Barcelona will have too much for Benfica, so I see Celtic reaching the next round - and I hope for everybody connected with the club that that's the case.
Man Utd v Cluj, 7.30pm, Wed, Sky Sports 4 HD
Sir Alex Ferguson put out a much-changed team in the last match at Galatasaray and it was maybe their finest performance of the competition - even though it was the first game they failed to win.
Galatasaray had to be right at it to win that game and United had plenty of chances to take something from it. When you've got international players like Javier Hernandez and Danny Welbeck trying to get into the team I don't think you've got anything to worry about. I don't think UEFA could ever complain about Manchester United fielding a weakened team because they've got such a strong squad.
Also, Sir Alex Ferguson is a proud man - you can count his European defeats at Old Trafford on one hand - and he will be keen to keep that going, but like Manchester City he will have one eye on the derby at the weekend.
Whoever Sir Alex picks will have a fantastic opportunity to win a Champions League game at a packed Old Trafford. Nick Powell hit the bar in the Galatasaray game and if somebody like him gets another opportunity it would be a huge plus.
Manchester United will be well-served by players like him trying push on and carve out a name for himself and I think they will have enough to get a result against a Cluj side that will give it everything.
Cluj have a wonderful opportunity to qualify - they need to better Galatasaray's result - and that should give a nice flavour and a wonderful edge to the game. However, I'd be surprised if the home side don't come out on top.