Niall Quinn
Football Expert & Columnist
Niall Quinn tips wins for Barcelona, Bayern, Dortmund and Real Madrid
Spain and Germany will celebrate double triumphs in the Champions League this week, says Niall Quinn.
Last Updated: 02/04/13 10:30am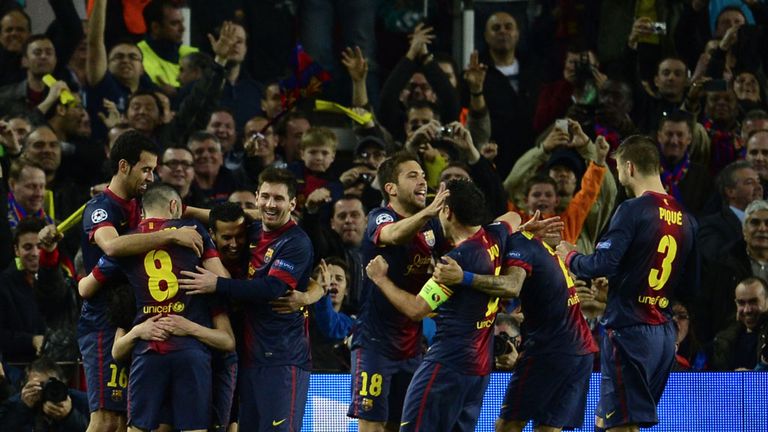 They were 2-0 down and looking out of sorts before their second leg at the Nou Camp. Few expected Milan, adopting a typical Italian defence attitude, to fail to protect that advantage - myself included - but Barcelona produced a stunning performance to win 4-0 and set up a quarter-final clash with Paris Saint-Germain.
You get the impression that result has rejuvenated Barcelona after their lacklusture display in the first leg of their Round of 16 tie in Italy. They've got their mojo back and, although there are some great teams left in the competition, Barcelona sent a really strong message with that second leg showing.
There's no question PSG face a stiff task to keep the Spanish side quiet on Tuesday night and take something to Barcelona. PSG have the home advantage and they'll have to make it count - but even that, as we saw from the last round, may not count in the end.
The French side will be looking to Zlatan Ibrahimovic - who is allowed to play after his ban was reduced by Uefa - and he will be important for them. He can make a vital difference against his old club if he has a good night - but he didn't get a kick against Ireland when I watched him last week.
Barcelona will have their tails up and I reckon they'll have too much for this emerging PSG side, before finishing off the contest on home turf next week.
Prediction: Barcelona win
Bayern Munich v Juventus - 7pm, Tue, Sky Sports 2 HD
Bayern Munich are a team absolutely full of confidence at the moment and they showed that again with a 9-2 win over Hamburg at the weekend. Lots of people from the word 'go' saw them as potential Champions League winners and as a team they seem to be beginning to really believe it themselves as well.
They've got a tough quarter-final against Juventus, though. The Italians will try to contain Bayern's forward threat and take something back to Turin for the second leg. It's going to be a real clash between Bayern's creative flair and Juventus' defensive performance.
Can Bayern break them down? After seeing them get nine at the weekend you'd be surprised if they didn't. That will have been a real confidence booster. But I can't see Juventus allowing them to get out of sight; they are too experienced and too well set up to allow Bayern to wrap up the tie on Tuesday night. I expect the tie to still be alive after the first leg.
Prediction: Bayern win 1-0 or 2-1.
Malaga v Borussia Dortmund - 7.30pm, Wed, Sky Sports 4 HD
Malaga's wonderful story goes on. Fair play to them, they surprised me because I really couldn't see them turning around their 1-0 deficit to Porto in the last round. But once again they showed their might at home.
They are yet to be beaten at the Estadio La Rosaleda in the Champions League this season and their ground has been the scene of impressive wins over Zenit St Petersburg and Milan. Now they face Dortmund for a place in the semi-finals of the Champions League, which is incredible.
Dortmund, in their own way, are a success story as well. They are an efficient team without any real weak links. They play for each other and have a system that works well, combined with the flair they have in their line-up. While Malaga are relying on spirit, passion and some nice tidy football Dortmund have the better all-round game.
If Dortmund take the lead in this one Malaga will find it tough. With the stakes this high I cant see Dortmund making enough mistakes over the two ties for the Spanish side to profit. Dortmund are too efficient for that. Dortmund will have seen this as the easiest tie they could have got at this stage and will be hoping to do the damage on Wednesday so victory is safely in their hands ahead of the second leg.
Prediction: It would be a huge achievement for Malaga to maintain their unbeaten home record. But a draw is the best I can see them getting and I think Dortmund could win this one.
Real Madrid v Galatasaray - 7pm, Wed, Sky Sports 2 HD
Galatasaray did really, really well to come through against Schalke last time out. They won again at the weekend domestically and are on a good run. With Wesley Sneijder and Didier Drogba they have some class and I love their manager Fatih Terim. He's a real character and is getting some great performances out of this side.
Their win away to Schalke was unexpected and this tie is no foregone conclusion either. That win in Germany showed that Galatasaray are about more than their passionate home support - they are no pushovers; they are dogged and strong. But Real Madrid are a step above Schalke.
You have to think if Real fire on the night they should go with at least a one or two-goal lead into the second leg. I think Real will sense an opportunity to put this tie to bed and the last thing they'll want to do is go to the cauldron that is the Turk Telekom Arena in Turkey needing a result.
I expect plenty of attacking football and, although Galatasaray are on a roll, I expect Real to put them away.
Prediction: Real to win.