Niall Quinn
Football Expert & Columnist
Transfer Deadline Day: Niall Quinn tips Mesut Ozil to shine at Arsenal
Niall Quinn says Mesut Ozil could do for Arsenal what Dennis Bergkamp did and take them to a new level.
Last Updated: 03/09/13 3:35pm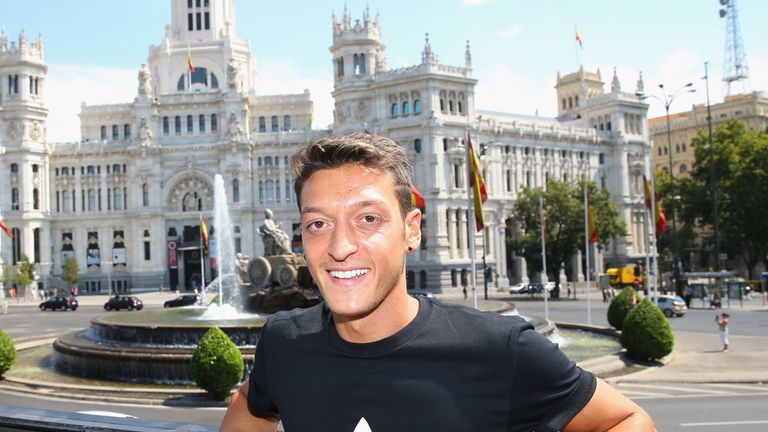 You can see all the Deadline Day deals here.
Former Sunderland chairman and Arsenal striker Niall Quinn was in the Sky Sports News studio for the final few hours of the window and is in no doubt both Arsenal and Manchester United will be delighted with their new acquisitions.
He also reflected on several other late deals...
Mesut Ozil's £42.4m move to Arsenal from Real Madrid
"Should we ever question Arsene Wenger? We're talking about a team who we thought were in crisis after the first game of the season - we saw Aston Villa beat them easily and they had got 15 players off their books with nothing seemingly coming in.
"But Ozil is a perfect signing.
"He's 24 years of age and there could be a 10-year role for him at Arsenal. He could do what Dennis Bergkamp did, he's that good. He's the player that Jose Mourinho said is the best number 10 in the world and I remember Ruud Gullit on a Champions League night saying he is technically the most perfect footballer he's seen.
"Ozil has the ability to bring this club onto a new level. He is a player who is coveted and has been talked about for the last few years as one of the great players. He's developed into that great player and Arsenal are getting him at the peak of his career.
"The pressure will come on now that Ozil has thrown it out there that he wants to help Arsenal win titles but this is a step in the right direction for the club. Over the last few years they've sold all their good players and lots of players have left them who have won lots of things but the curve is going up the right way again and this is shrewd business from Arsenal.
"It's a fantastic signing and fair play to Arsene - now he's gone, he's gone big."
Marouane Fellaini's £27.5m transfer to Manchester United from Everton
"This is one of the major transfers. [The fact it went through so late in the window] suggests he wasn't their number one priority and they may have been after a big hitter in Europe they haven't got - Cesc Fabregas.
"But he's an excellent signing. The Manchester United manager gets a player who he knows and trusts and someone he knows can do a great job for the team.
"You add that to the fact you have a rejuvenated Wayne Rooney at the club and it all bodes well from where they were a couple of weeks ago. We might have expected a bit more because it's Manchester United - maybe we thought Leighton Baines would go there as well - but it didn't happen. Their fans will be happy, though."
Gareth Barry, Romelu Lukaku and James McCarthy's arrival at Everton
"Everton's team has definitely improved [at the end of this transfer window] and that's saying something, given Fellaini's move to Manchester United.
"James McCarthy is a great up and coming young player, full of energy and enthusiasm and a lot of onlookers would say he is someone who can go all the way to the top. [Wigan chairman] Dave Whelan didn't kill off the deal with his earlier statement - he was leaving it open for another bid and Everton were prepared to do that - and he has managed to get a fantastic deal for the Latics.
"McCarthy is an excellent player and I've talked him up for some time now. I've seen him play for Ireland, I've seen what he means to Wigan and he's going back to a manager who knows him and trusts him.
"Barry has also come in which is a good move, while Lukaku - well, what a signing he is. He took the Premier League by storm last year and I'm surprised Chelsea have agreed to let him go.
"This has been a very good transfer window for Everton."
Stephane Sessegnon's transfer to West Brom from Sunderland
"West Brom have got themselves a great player. If Sessegnon buys into what West Brom are doing and if he's coveted, wrapped up warm and told he's a great player by the manager - and I don't think Sunderland boss Paolo Di Canio was the right manager for him - I think he can be unbelievable.
"When I was at Sunderland not so long ago Chelsea were making noises about signing him and now West Brom have got a really good player. If he comes good, he could be as good a player in this window as there is."