Niall Quinn
Football Expert & Columnist
Niall Quinn says Republic of Ireland lack playing talent for new boss
Niall Quinn says the next Republic of Ireland manager will struggle because the squad lacks quality.
Last Updated: 11/09/13 1:44pm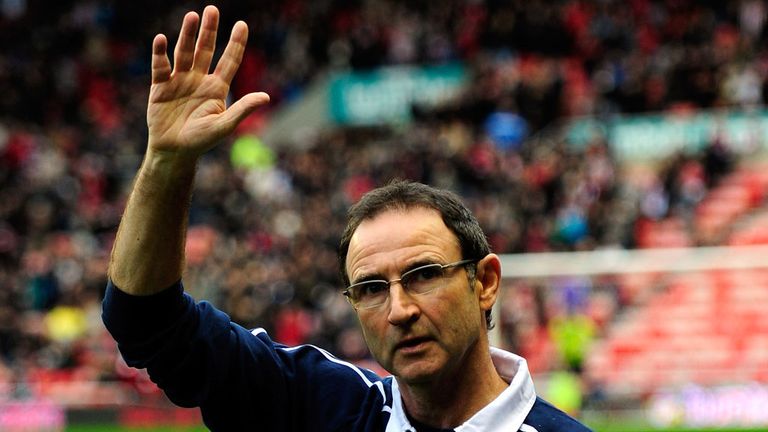 Giovanni Trapattoni parted company with the national team on Wednesday morning following defeats to Austria and Sweden which effectively ended their hopes of qualifying for the 2014 World Cup.
The likes of Martin O'Neill, Roy Keane and Mick McCarthy have been tipped as potential successors, but Quinn said all of them should be worried about qualifying for the 24-team Euro 2016 tournament because Irish football lacks the standard of player they had when the Italian took over in 2008.
"Anybody who feels a magician is going to come in and turn us into a great team overnight is sadly mistaken," he told Sky Sports News.
"This is where Giovanni Trapattoni deserves his best praise. When he came in he inherited five very good players in the prime of their careers; Shay Given, Richard Dunne, John O'Shea, Damien Duff and Robbie Keane. He had the nucleus five-and-a-half years ago to try and do something.
"The worry for a new manager coming in is that those five have come to the twilight of their careers or don't play any more and what's followed them? What great stars have come in to take their place? The answer is none.
"I'd be very worried that we don't have the talent. We don't have something strong for a manager like Martin, Roy or Mick McCarthy to go and kick on and do well straight away.
"The only upside to a new manager coming in, is at the Euros next time around there's eight new places at the competition and that will make it a small bit easier to qualify.
"But I think the problems are more deep-rooted."
Finances
Ipswich boss Mick McCarthy is an early front-runner for a return to the position he held between 1996 and 2002, but Quinn feels the FAI are more likely to turn to O'Neill or Keane.
He says Irish chiefs may prefer to install a currently unemployed coach in time for next month's matches against Germany and Kazakhstan, rather than wait for other options to become available.
"The finances of the FAI has a major bearing on a decision like this," Quinn added.
"Can they go in and get somebody out of a Premier League job or a big European job straight away and meet up next month before the big double-header and find out more about the team?
"In dreamland that would be a lovely place to be, but it's not appropriate because the FAI can't afford to do that.
"Two of the three potential managers being mentioned are out of work right now, so that would lead you to think they could do that because there would be no compensation to be paid and they could start straight away. There'd be merit in that.
"I guess wisdom would tell you that the best thing to do is to slow down, take a deep breath, take your time and see what's out there because in the summer I would have thought there'd be a lot of potential coaches - but leaving the vacancy for that long might be detrimental too.
"They have a decision to make."