Niall Quinn
Football Expert & Columnist
Capital One Cup: West Ham playing for pride against breathtaking Man City, says Niall Quinn
Manuel Pellegrini's calming influence has led to Man City's 'breathtaking' football, says Niall Quinn.
Last Updated: 21/01/14 6:16pm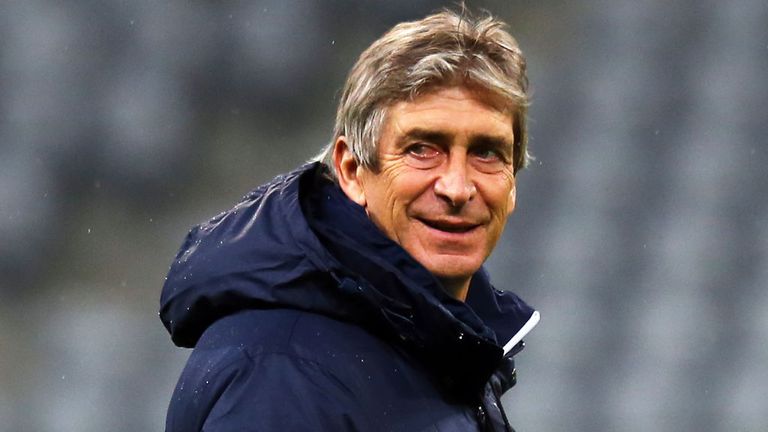 It's a dead rubber - and that's the kindest thing I can say about it on their behalf - but there is pride at stake and an opportunity to get more game time into players returning from injury, especially Andy Carroll.
Getting him on the pitch, whether he starts or comes on as sub, is important for the Upton Park side because the England man is going to be critical to their Premier League survival hopes.
West Ham will feel better with him in the team, too - but they've got to be tight, strong and play like a Sam Allardyce team in terms of their defending and desire to keep Man City at bay this evening. They have to put in a performance with pride.
No-one expects them to do anything other than struggle against Manuel Pellegrini's men but it will be a confidence booster for them if they manage to put in a performance that prevents Man City from running riot again.
The last thing they want to do is capitulate again but if they do the basics, defend well, work as a unit they can show to their fans and themselves that the first leg performance was a one off.
Talent
However, that will be no easy task against a free-scoring Man City side.
City are breathtaking at the moment and I'm really enjoying watching them. I think most neutrals, when they see Man City are playing on Sky, tune in because they know they're in for a treat.
They're creating history with their goal-scoring feats and doing it in a style that's so easy on the eye. Other clubs fear them and they're not taking any prisoners, they're just going for it. They're in full flow and I for one am enjoying every minute of it.
Edin Dzeko is coming to the table and scoring goals, Alvaro Negredo is getting all the plaudits and rightly so because he's adapted to life at City really well, Sergio Aguero has returned, David Silva is back to full throttle after his injury, Yaya Toure has been driving them forward... there's just so much attacking talent in that team.
There's even talk that Stevan Jovetic might get a game for City tonight. It's amazing to think someone who cost what he did - over £22m - and who has the profile he has hasn't contributed yet.
Calmer
However, another person who deserves lots of credit is the manager, Pellegrini.
After City won their first Premier League title in 2012 it looked set for them to have a really good crack at dominating the division but it didn't happen for them.
Instead, last season, under Roberto Mancini, there seemed to be issues every week at the training ground, players falling out and the manager's press conferences were uptight, with him demanding the club sign more players.
It all ended up with their season imploding and they handed the title back despite having all these new players.
Enter Pellegrini, who has come in and calmed everything down, he's put all the fires out and got everyone feeling easier and calmer about what they do.
The players at Man City are capable of wonderful play and they have now got the freedom to do that.
First and foremost that's what Pellegrini has got so right. It's now a lovely place to go training every day; there are no rows, no cliques, no factions and no superstars throwing toys out of their pram. He's got them soothed and playing to the best of their ability.
Pellegrini deserves great credit because it's not an easy thing to do when you come into a club that in effect has been in a hurry to get to the top. Man City have tried to cut out 20 years of Manchester United's foundation to get to the top. It takes some man to hold all of that together and Pellegrini is doing a fantastic job.
He also made some very good signings with the likes of Negredo and Jesus Navas, while, their defence - which at times looked suspect in the first half of the season - has tightened up too.
When we're heaping praise on the players, we shouldn't forget the contribution he's made.
PREDICTION: MAN CITY WIN
Man City are taking no prisoners and I expect them to win this game. However, I also expect West Ham to put up a more Sam Allardyce-style defence to the wave of attacks we saw City deliver at the Etihad. We'll see a more determined and resolute West Ham, I'm sure, because they have to get something out of the game for them to build on. Even if that's only Andy Carroll getting a game, bustling defenders and being all-action then fine - but they need a boost from somewhere.