Niall Quinn
Football Expert & Columnist
Sunderland must move on from Wembley woe and focus on Premier League safety, says Niall Quinn
Sunderland should ignore their Wembley woe as they strive to avoid the drop, says Niall Quinn.
Last Updated: 04/03/14 9:51am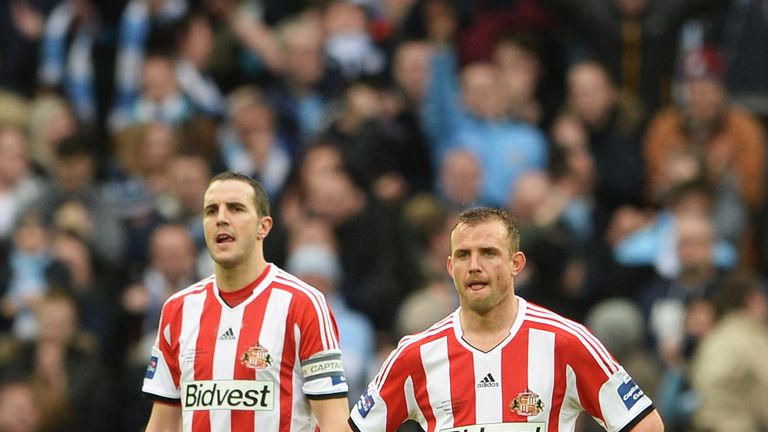 Gus Poyet's Black Cats took an early lead in Sunday's showpiece through Fabio Borini but eventually slipped to defeat courtesy of screamers from Yaya Toure and Samir Nasri, and a late Jesus Navas settler.
The Black Cats' attentions will now turn to securing their Premier League status, with the North East outfit sitting 18th in the top flight, a point behind West Brom.
And Quinn has urged the side he played and served as chairman for to ignore most of what transpired against City to ensure they do not follow in the footsteps of Birmingham, who won the League Cup in 2011 before getting relegated.
"Sunderland's players can feel very proud as they gave a great showing and represented their club brilliantly and it was only the genius of Toure that turned the game on its head," Quinn told Sky Sports.
Rut
"But they have to get it out of their mind totally - aside from the bits that were good - and really concentrate on lifting the club out of the problems that they are in in the Premier League.
"They can't get into a rut where the games just go by."
However, Quinn had tinges of regret that the Black Cats could not win at the Home of Football and etch their names onto the League Cup trophy for the first time.
And the pundit says the match may have played out differently had Sunderland's former Arsenal goalkeeper Vito Mannone - signed by Poyet's predecessor Paolo Di Canio during the summer - been at the top of his game.
"For Sunderland to do well we said Mannone would have to have a great day and he wasn't bad by any stretch of the imagination," added Quinn, who won the Capital One Cup when it was branded as the Litttlewoods Cup in 1987, with Arsenal.
"But when your 'keeper has a good day he saves Navas' shot easily and may get a hand to Toure's strike. It just didn't happen for him."