Niall Quinn
Football Expert & Columnist
Sunderland: Black Cats must beat West Ham and stop letting down Gus Poyet at home
Niall Quinn says it's "now or never" for Sunderland against West Ham after a season of misery at home.
Last Updated: 31/03/14 7:22pm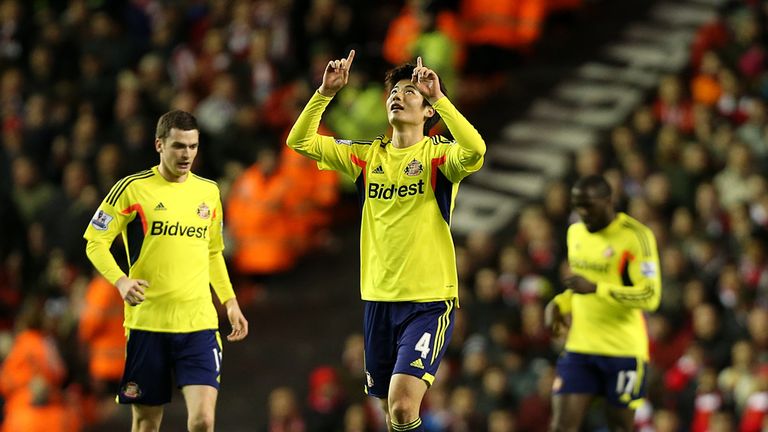 Gus Poyet's side were left three points adrift of safety following Wednesday's 2-1 defeat at Liverpool, even though Ki Sung-yueng's 75th-minute goal prompted a late surge from the spirited visitors.
Thoughts now turn to the Monday Night Football clash with West Ham and while Sky Sports pundit - and former Black Cats chairman - Quinn was impressed with the way Sunderland rallied at Anfield, he says that they must now start turning performances into points at the Stadium of Light.
"It was another heroic performance from Sunderland but there was nothing at the end of it," he said. "That's got to stop now - it's all about winning games, not letting their fans down again.
"It's a huge game for them on Monday night; they've had this opportunity several times to win games at home after performances like this away from home.
"It's now about getting together as a group and saying to themselves it's now or never - we have to beat West Ham United and we've got to keep this club up.
Failed
"Home, home, home - that's where the whole direction of their thoughts have to be.
"They have been doing absurdly well away from home for a team in the bottom three - but it's failed so many times when they've come back to the Stadium of Light.
"They've failed after a performance like against Liverpool and let themselves down. That has to stop right now.
"For this club to stay up they have to approach the West Ham game and take risks, as the manager said. They have to be the dominant team and go forward to get goals.
"You get bogged down as a centre-forward when you keep trying to be ultra-cautious as a team and your team aren't really going for it. You can have excuses.
"The way he has spoken, none of the players at that club can have an excuse."
Chance
Sunderland have only won three Premier League games at home all season, but Quinn says they need to improve that statistic drastically if they are to stay in the Premier League.
Their four remaining away games are at Tottenham, Manchester City, Chelsea and Manchester United and Quinn says with points on the road looking unlikely, the players must be aggressive in their final five home games.
He added: "I looked at a game there a few weeks ago in the league. It was a great chance for them to kick on. It was against Hull at home and 43,500 Sunderland fans went to the game.
"They fired blanks and Hull won the game comfortably. These things have happened to them too much this season. These players need to step up to the plate for who I think is a terrific young manager and has brought something into that dressing room.
"The last bit of icing on the cake is to do what is easiest of all in most people's minds and win the home games against the teams down there.
"This is it. No more mishaps. The Di Canio debacle is all gone and is ancient history. It's about these games and everybody being focused for Poyet.
"He's given them a chance and what they've got to do is pay him back and go and win games."
Performances
Sunderland have scored just 13 goals at home all season and Quinn, who played more than 200 times for Sunderland and scored 61 times, says their strikers have let them down too often.
But he said the performances of Ki and the recalled Connor Wickham at Anfield have given the supporters a reason to be optimistic.
Quinn added: "They've got Ki, who has shown against Liverpool he might be the one. He has scored some important goals already and looks like the type of player who might just kick on now and be the one that leads them.
"There's even Wickham. I thought he did okay against Liverpool and Steven Fletcher may come back.
"But it's all about these home games. They have to approach them differently to all of the other games this season.
"They have got to go and win them."