Quotes of the week
Zlatan Ibrahimovic offers Steven Gerrard advice, while Eric Cantona talks deep-sea diving in this week's QOTW.
Last Updated: 21/11/12 4:44pm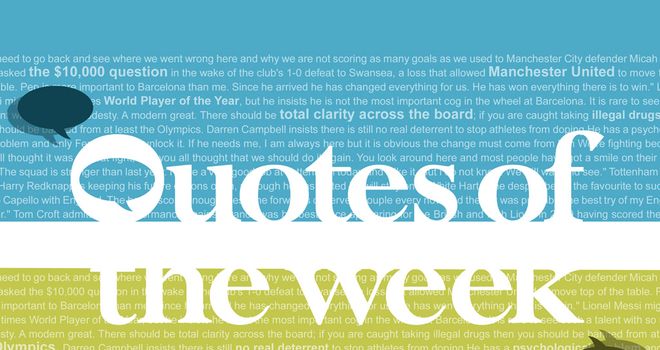 "When people are called up I expect them to come running, get on a bicycle and cycle to the training session." Roy Hodgson wants his England players 100 per committed.
"There are magazines, letters, pictures, clothes, creams, everything, he cannot open the door. If he did it would make a bigger mess." Fernando Torres reveals messy Juan Mata has a lot in his locker.
"You're just a **** Andy Carroll." England's fans bait Sweden's Zlatan Ibrahimovic - then are promptly silenced as he scores four goals.
"It was an incredibly positive year. It's been the best year of my career by a mile." US Open and Olympic champion Andy Murray admits he's not had a bad season.
"I always wanted to be either a bullfighter or footballer, but my mother was a little scared of me becoming a bullfighter. So I opted for football, which was less dangerous." It could have all been so different for Real Madrid defender Sergio Ramos.
"When will you stop asking me that? I'm tired already." Brazilian ace Neymar is getting fed up with questions over his future.
"I would like to see Steven at a big international club." Ibrahimovic offers Steven Gerrard some advice.
"I am very happy at Liverpool and in my opinion I am at one of the biggest clubs in the world, a team that has won the European Cup five times. So I'm happy where I am, but thanks for his opinion." ...which the Liverpool legend politely declines.
"I have to walk my dog tonight. It's my turn. That's my primary focus now." Novak Djokovic gets his priorities straight after winning the ATP World Tour Finals title.
"10." Zlatan again, in typically humble style, when asked to give his international career a rating out of 10.
"It is right up there, one of the proudest nights of my career." Neil Lennon reflects on a historic win for Celtic over Barcelona.
"I'd never look at someone and think he's better than me, unless it's Cristiano Ronaldo or Lionel Messi. When I get on the pitch it's my time." Wilfried Zaha raises some eyebrows ahead of his England debut.
Then quickly backtracks: "My words were absolutely twisted and taken the wrong way in my last interview. I know there's players out there better then me so please don't take my words the wrong way #thanks."
"Why not. Like diving from here to the sea, watching, speaking to the fish, octopus, crabs and journalists." Eric Cantona prompts memories of seagulls and trawlers when asked if he'd take over at Manchester United.