AP McCoy picks his all-time Arsenal #one2eleven
Arsenal fan AP McCoy told the Fantasy Football Club who would make his Gunners #One2eleven.
Last Updated: 09/04/13 8:47am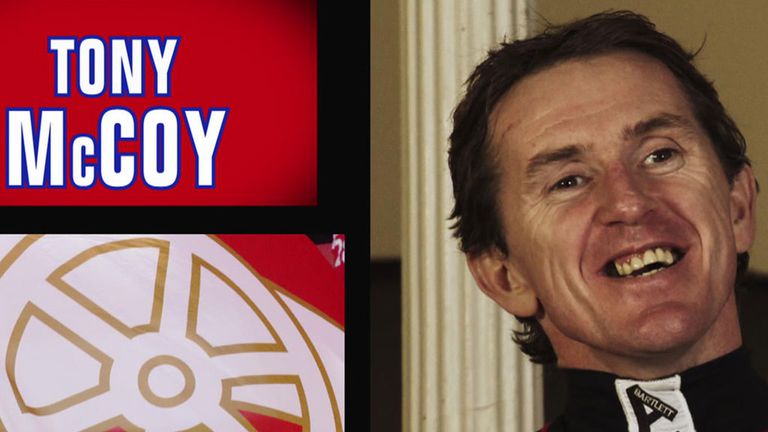 Ahead of riding Colbert Station in the Grand National, he told us who he'd pick in his all-time Arsenal team. This is his #one2eleven, playing in a 4-3-1-2 formation...
GOALKEEPER - Pat Jennings: I can remember queuing up outside a sports shop when I was younger to get Pat Jennings' autograph. He was one of the reasons that I supported Arsenal. Obviously David Seaman was a fantastic goalkeeper but it has to be Pat for me.
RIGHT-BACK - Lee Dixon: I'm going to try and involve as many die-hard Arsenal players and fans as I can. Lee was at Arsenal for most of his career and he was a fantastic right-back. He makes the cut pretty easily.
LEFT-BACK - Nigel Winterburn: This is quite a difficult choice. I suppose 'the Invincibles' back four had Ashley Cole in it who is sadly now more remembered as a Chelsea player. For that reason I'm going to go with Nigel, so I am. He was very reliable and solid and he played in one of the best back-fours that our club ever had.
CENTRE-HALF - Tony Adams: Tony stands out a mile. I think he's one of the best centre-halves I've ever seen: reliable, consistent, a leader. He was a lot of things we probably need at the moment. Tony would be one of the first names on the team-sheet.
CENTRE-HALF - Martin Keown: This was another tough one because I could have gone with people like David O'Leary and Steve Bould, but I'm going to go for Martin for a few reasons. I'm pretty friendly with him, which gets him in ahead of the rest and I think he probably gave me one of the most memorable moments in an Arsenal shirt when he climbed all over Ruud van Nistelrooy after he missed a penalty at Old Trafford. He was a fantastic defender as well - his longevity at the club showed that.
CENTRAL MIDFIELD - Patrick Vieira: A brilliant footballer and athlete - sadly everything that we haven't got at the moment. His clashes with Roy Keane were some of the best that the Premier League had seen - two fantastic players, both hard but fair.
LEFT MIDFIELD - Liam Brady: He was one of my heroes when I was growing up. I'd never met him in my life and I was riding at Cheltenham in 1996. I was going through the crowd to meet someone in a box and an arm stopped me and it was Liam Brady! I just thought 'how many people get to meet their hero?' But he actually stopped me. I've been pretty friendly with him ever since. He was a fantastic footballer with a brilliant left foot. He's one of the best players that Arsenal have ever had.
RIGHT MIDFIELD - Ray Parlour: The Romford Pele had a very successful career. He's also a good friend of mine so I'd never live it down if he didn't make my team. He was very reliable, both defensively and offensively. He did the simple things well - that's what kept him in there for as long as he was in there. Obviously Merse is an Arsenal legend but because he's on the show he doesn't make it.
BEHIND THE STRIKERS - Dennis Bergkamp: A class footballer. When I speak to any of the other lads who played with him or against him, they all say he was just magic to watch and had unbelievable talent and skill. The goal that he scored against Newcastle was one of the best that I've ever seen. He looked like one of those naturally-talented sports people who find everything easy.
STRIKER - Ian Wright: He was our all-time leading goalscorer for a long time. He was a deadly finisher in and around the six-yard box. He had that instinct to be in the right place at the right time. Sometimes I look at our Arsenal team now and I wish they had a bit more grit and a bit more passion. Ian Wright definitely had that.
STRIKER - Thierry Henry: The goal he scored against Manchester United when he flicked it up and volleyed it from outside the box was a fantastic goal but there are so many of them that you could make a film of them on their own. He had everything - pace, skill and he was a brilliant finisher both inside and outside the box. He was the all-round ultimate striker, in my opinion. Not many players who are that good at that level come back to support the team that they played for.