Goals on Sunday: Mark Noble says West Ham fans should back Sam Allardyce
'Boss has improved side'
Last Updated: 04/09/14 2:07pm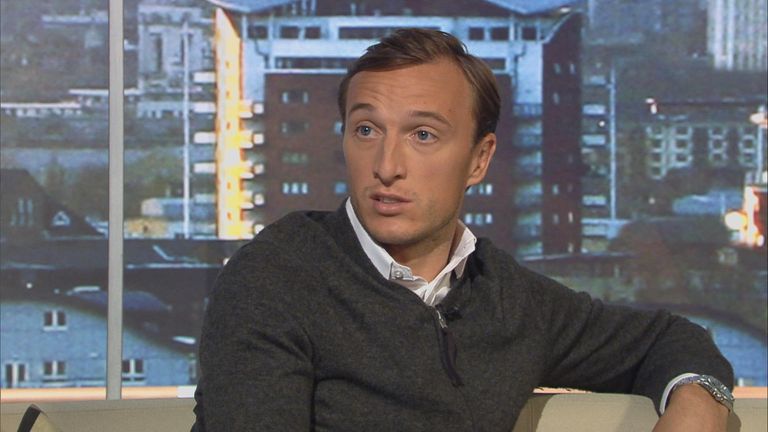 The West Ham fans should get behind under-fire Sam Allardyce, Mark Noble told Goals on Sunday.
The Hammers manager has regularly received criticism from the Upton Park faithful during his three-year tenure and the team were booed from the pitch after losing 3-1 at home to Southampton on Saturday.
He's up there with the best of the managers I've played under. His man management skills are second to none.
Mark Noble
However, Noble says the players enjoy a great relationship with Allardyce and the good work he's doing at the club is going unnoticed.
"He's up there with the best of the managers I've played under. His man management skills are second to none," said the midfielder.
"You can sit with him in his office and sometimes you get managers you're not like that with. He'll come and sit down with the players while they're having their breakfast and 10 minutes later he's opening you up on the pitch but there's no hard feelings.
"Obviously the fans don't know him personally but he came to West Ham with a philosophy with the way he plays and he's been successful over the years – he's never been relegated as a manager.
"When he came to West Ham it was at a low point, the club needed a massive change, it needed a figure to lead and we got that. We got promoted, came 10th in the Premier League and then last year was a tough year but we still ended up coming 13th."
Style
Allardyce's style of play has often been an issue with West Ham supporters, who would prefer to see a less direct approach from their team, and the board even demanded a more 'entertaining' brand of football be played this term.
Noble believes there has been a significant improvement from the team at the start of this campaign but conceded the criticism of Allardyce after Saturday's loss was inevitable, given his history at the club.    
"The first two games of this season were better than any games we played last year," he said.
"Against Crystal Palace we played really well and against Spurs we played really, really well but didn't get anything out of it.
"But with the way it's been over the summer for the manager and for the stick he got last year, he knew and the players knew that as soon as we got a bad result it was going to come again and it did yesterday, when there were boos after the game.
"But Sam's thick-skinned enough to deal with that and hopefully we can go to Hull next week and get some more points on the board."