'Bring it on!'
With 95 England caps, Alex Scott knows about football. The Arsenal ladies star is therefore perfect to begin a regular Sky Sports column
By Follow me on Twitter - @Alexscott2
Last Updated: 24/04/13 10:59am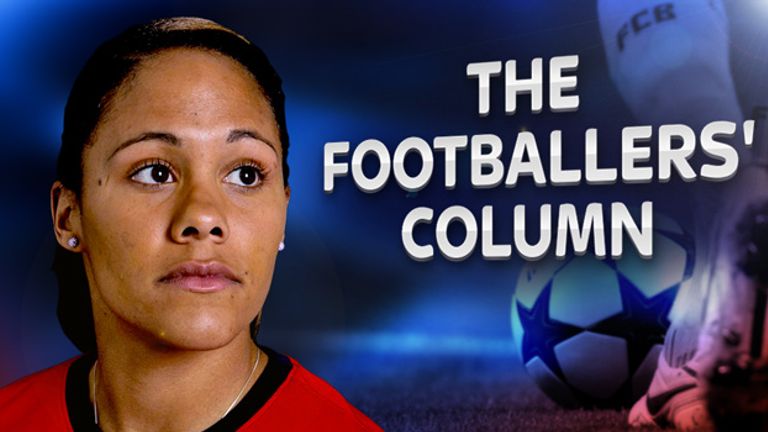 What a great week to start this blog. Some of you may already be aware that last week Arsenal secured our place in the semi-finals of the Champions League by beating Italian side ASD Torres over two legs and we are also through to the next round of the FA Cup (cue the applause, thank you). These are two massive competitions to be involved in and it is the third consecutive year Arsenal ladies have reached the semi-final stage of the Champions League.
It is not good to look too far ahead, as you have to concentrate on one game at a time. But the women's Champions League final is being held at Stamford Bridge this year and it would be amazing if we could get there. It was special to win the competition in 2007 and I would love to be in that final again.
Like I said, though, I can hope and pray that this will happen but there are two hurdles to overcome first. Those hurdles are a two-legged tie against a very good German side, Wolfsburg. I say, bring it on!
I collect fridge magnets as memories of all the places I have travelled around the world. I struggled to pick one up last week in Sardinia when playing ASD Torres, though. We played our Champions League game on the Wednesday and had a nice little alarm call at 4am to travel home on the Thursday. Not many shops were open at that time in the airport! I only got to see the hotel and the football field on our short trip.
Many people have told me how lovely the country is, though. So hopefully all the people that told me how lovely it is will take a little holiday there sometime soon and bring me back a little magnet with Sardinia on it as a present. That would be lovely, thank you.
This week, I am back with the England team at St George's Park. St George's Park really is exquisite, a great place to train and prepare for a game. I am so glad that it is open to the women's teams as well as all the men's.
We play Canada at Rotherham on Sunday. It is a 3pm kick-off, so if you are looking for something to do, please do come and cheer us on. Canada are a great team with great players. We have beaten them already this year. The key thing for us as a national team is to keep beating the top teams consistently and not just a one-off.
Well, that is me for this week. I hope you all had a great Easter Weekend. I gave up biscuits for Lent, so I am glad that I will be able to dunk a custard cream in my tea once again (on the odd occasion of course!).