Time to shine
England and Arsenal ladies star Alex Scott continues her regular Sky Sports column by chronicling a massive week at club and international level
By Follow me on Twitter - @Alexscott2
Last Updated: 24/04/13 10:59am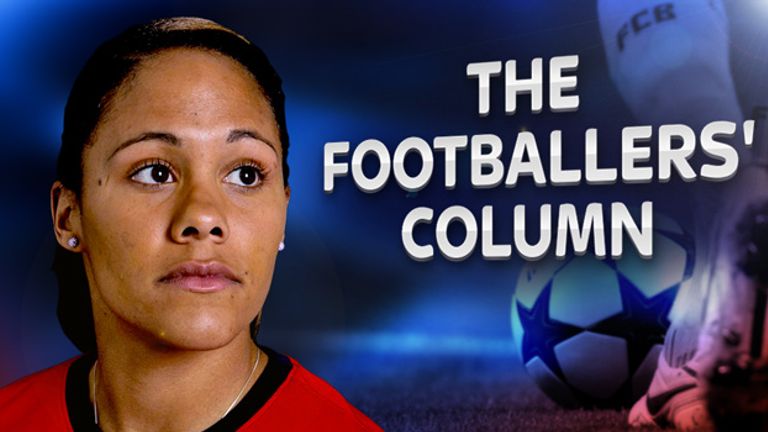 It's the start of another eventful football week for me. There is definitely no rest for the wicked. We beat Canada 1-0 on Sunday. Being honest it was not a great performance by us. We still managed to grind out a win which is the most important thing though. We just didn't really seem to hit the ground running, we didn't really play a nice, slick passing game which suits us. The game just lacked that 'something'. Ellen White's stoppage time goal was the game winner in the end and it's another win against the bronze medallist for us.
It was a landmark game for Rachel Yankey. 'Yanks', as we all know her, equalled Peter Shilton's record as being the most capped England player, male or female. That is some achievement, considering Yanks was left out of Hope Powell's European Championship team in 2009. It just shows what determination and strength of character can do when you have the will to roll up your sleeves, get your head down and want to prove a point. From being left on the sidelines to going on to equalling Peter Shilton's record... Rachel Yankey I salute you!!!ha. Another little thing I will mention about the game is that I was voted POTM, which I am delighted about as it's not very often a defender gets that honour.
So like I mentioned above, no rest for the wicked! Yesterday I was playing against Canada, tomorrow it's the quarter-final of the FA Cup and then the weekend the semi-final of the Champions League... wow I need to catch my breath. It's not often you have three massive games like that in the space of a week. The key is to take each game as they come and the right rest and recovery methods are going to be crucial to make sure you are in the best shape physically going into all the matches.
You may ask what recovery methods are those? Well, straight after the Canada game it was into ice baths for players. Standing in a bin full of ice for 10 minutes is not fun but it sure does help. Making sure I drink my protein shake, to help aid my recovery after a game, is important also. Then it's putting my skins on for the night. These are basically tighter than tight tights!! They help flush through all the toxins that have built up in your muscles. Then I'm making sure I do a recovery session on the bike and going through a good stretching routine to loosen off my muscles.
Gone are the days when you could just play and your legs felt okay the next day. As I'm getting older making sure I do all the above really helps me stay fresh and keeps me training at a high intensity and playing at the top level. Recovery techniques are just as important in a player's game these days as all the other things.
Well that's it from me... talking about recovery, it's now time for me to head off to London Colney, the Arsenal men's training ground. We (Arsenal Ladies) have a final training session to work on tactics and how we are going to play against Birmingham tomorrow night in the FA Cup.
Wish us luck everyone. Until next week, have a good one.
Alex