Bouncing back
England and Arsenal ladies star Alex Scott continues her regular Sky Sports column by analysing a heavy defeat, and also praising Sir Alex Ferguson
By Follow me on Twitter - @Alexscott2
Last Updated: 15/05/13 3:24pm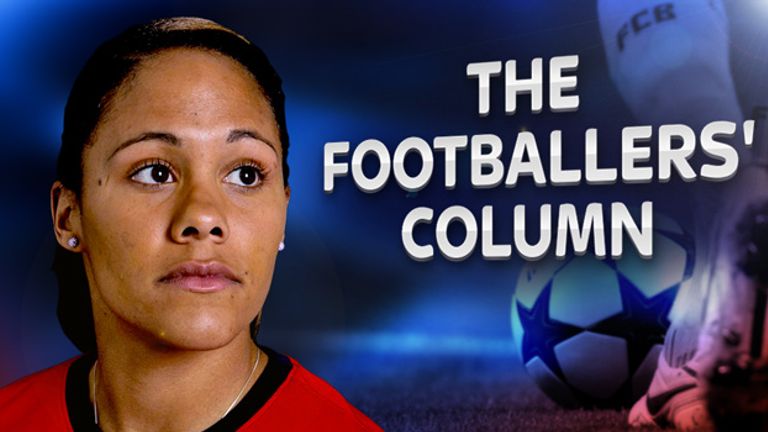 What a strange week it has been for me in the world of football.
A highlight of the week has to be playing at Emirates Stadium at the beginning of the new Women's Super League (WSL) against Liverpool. Being an Arsenal supporter, it is a dream every time I get to play there. It is such a magnificent stadium and I really do wish women's football could play in stadia like that all the time. I am not too sure this will happen in my playing career but, the way women's football is heading, it is definitely something that may be a possibility for the next generation of women footballers.
The big lowlight of my week has to be getting beaten at the Emirates. It is not often Arsenal Ladies lose, so to lose to Liverpool at the Emirates in front of our home fans was a horrible feeling. The scoreline was not one we will want to remember. We lost 4-0 last Tuesday night.
When you look back at the game, we had eight chances to Liverpool's five and that was the difference on the night. Liverpool were really clinical in putting chances away. As for us, I think if we were still out there playing now, we still would not have scored. So it was our first WSL game of the season and it was a loss. In a way it is a good thing to remember how we all felt, because it should give us that drive to push on and not want that feeling again anytime soon.
For a neutral, the league is going to be an interesting season. I believe this is going to be the closest WSL campaign yet. Other teams have strengthened and are really pushing on to raise their level and challenge in every game. It is for us as champions, and being the club we are, to also push on and never rest on what we have achieved. It is about wanting to win week in, week out and continuing to maintain high standards. Arsenal Ladies have had that winning mentality over the last 10 years.
So what happens after such a loss? It is about the team showing character and the desire to get back out on the pitch and show what Arsenal Ladies are about. That is what we did on Saturday when we beat Birmingham 2-1 in the Continental Cup. It was a very close game and we managed to keep fighting to the end to get a late winner by Ellen White. It is now all about recovering again, as we have another midweek game at Lincoln in the cup on Wednesday. The games just keep coming thick and fast.
I suppose the main talking point this week is also the retirement of Sir Alex Ferguson. What a manager and he is definitely one of the greats in the game. To achieve what he has is nothing short of amazing. Not only to win what he has but to nurture talent and get the best out of players is what makes him one of the best in the world. I hope Sir Alex goes on to enjoy his retirement and the new adventure he is about to start in his life.