Would United sell?
Thursday morning's papers will have made pretty bleak reading for Wayne Rooney, with the nationals united in the belief he's on borrowed time at Old Trafford. The stats suggest he's hardly a fading force but Nick Miller can see why Sir Alex may decide to sell in the summer
By Nick Miller - @NickMillerF365
Last Updated: 07/03/13 12:40pm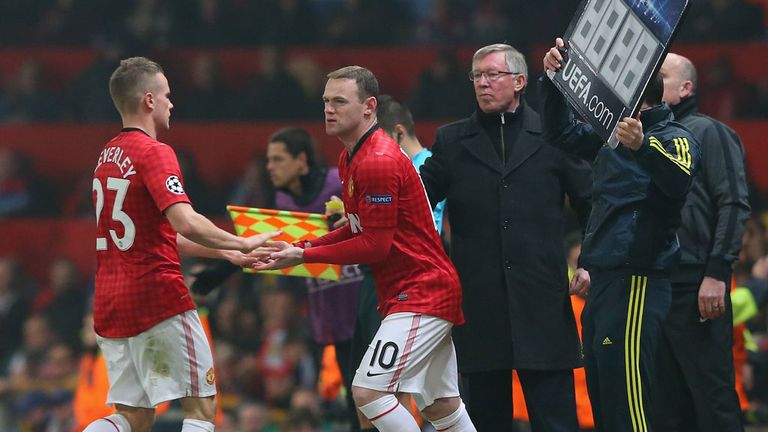 Let's start with some stats. Wayne Rooney has scored 14 goals from 24 starts this season. He has scored 11 and set up nine in around 1,500 minutes of Premier League football - a better time/contribution ratio than Robin van Persie. What's more, most of them have been important goals - nine of them have directly contributed to positive results for Manchester United.
And yet, Sir Alex Ferguson was perfectly comfortable sending out his side in their biggest game of the season without Rooney, leading to widespread speculation that the United forward is on his way. Why? Simply put, he was considered non-essential to the team. Ferguson had a good idea of the formation he wanted to play but couldn't find a place for Rooney. Before the game, people wondered what the flipping heck Ferguson was playing at, but for the first 56 minutes against Real Madrid, it worked a treat.
Several pieces were written about Rooney in the build-up to the Real game, unfavourably comparing his development to that of Cristiano Ronaldo. While that might be unfair given the Portuguese is one of this generation's great talents, it is a relevant comparison, given their similar ages and recruitment by United at similar times. When Ronaldo was at his peak in a United shirt, Ferguson would not have dreamt of leaving him out of any big game.
The point here is that, despite his contributions this season, Ferguson still views Rooney as non-essential. He is not the main man; if he was the main man, the team against Real would either have found a place for him, or indeed been built around him. And this is where the money comes in.
Despite their extraordinary revenues, United are still a club to whom money means something. They are not Manchester City of 2011 or Chelsea of 2007, wantonly throwing cash around with little regard to where it lands. They must be relatively careful about what they spend, and reasonably certain that the money they invest is worthwhile.
Rooney has a little over two years remaining on his colossal, £200,000-plus-a-week contract, meaning that if United wanted to keep him at the club in the long term, this summer is when they should be talking about a renewal. But will they want to do that?
Rooney will be 28 at the start of next season. Say United talk new contracts in July, and they give him a four-year deal - that will take him up to 31/32. As other members of the United squad have showed, that's not automatically a sign that a player should be ushered towards the glue factory, but Rooney is not Ryan Giggs. One of the reasons Ferguson gave for leaving Rooney out on Wednesday was that 'he needed a game', the implication being that he didn't think he was fit enough for 90 minutes against Real Madrid.
Given Rooney had started seven of United's previous ten games (and played 30 minutes in two of the others), that doesn't say brilliant things about a player supposed to be entering the 'peak' years of his physical being. Rooney's fitness, apparently not brilliant at the moment, is not going to get better.
Do United really want to shackle themselves to another four years of premium prices but not-so-premium performances? United must not put themselves in the position of feeling they cannot afford to let Rooney go because of his 'star power', and thus tie themselves to a financial commitment they will probably regret.
An apposite comparison might come from United's equivalent in baseball, the New York Yankees. In 2007 the biggest star in the sport Alex Rodriguez's contract was up for renewal, and the cash-spunking giants gave him a ten-year, $252million contract. Rodriguez was 32 at the time, but still playing well (he won the MVP award that season), yet the Yankees acquiesced to his demands because the prospect of letting him go was unthinkable in the short term, with little regard to the long.
Of course, his form has more or less consistently declined since then, to the extent that he was dropped in the play-offs last October. Perhaps more importantly, his body is failing too - he played only about two-thirds of the last two seasons, and will miss at least the first half of the coming campaign after hip surgery. Of course, because of his bumper deal, the Yankees are still on the hook for $114million that they may as well have set on fire in the middle of Central Park. This commitment is hampering their efforts to revitalise an ageing squad, and indeed is informing similar upcoming contract situations.
Rooney is not Rodriguez and the numbers involved will not be the same, but the general comparison holds. Rooney is of course an excellent player, and can perform a number of roles, but if United and Ferguson don't regard Rooney as an essential player, or doubt that his health will hold up for much longer, then they shouldn't pay him as such. One doubts that Rooney, with his goal stats to hand, will accept a pay-cut, so the prudent option would be to sell him while his value is still high.
And think what United could do with the money they bank for their man. Suddenly the talk of Robert Lewandowski arriving makes a little more sense, they could get a proper long-term replacement for Patrice Evra. Hell, they might even buy a central midfielder. Imagine that.
If United decide their future is one without Rooney, this summer is the time to sell. With two years remaining on his contract, he could theoretically attract top whack - the suggested fee in the press is £40million, with PSG mentioned as potential suitors. While the thought of Rooney in a Parisian cafe does jar a little, United would be fools to turn it down.
This article first appeared on Football365