Baffling decision
Jeff Stelling says there'll be plenty of takers if Wayne Rooney does leave Man Utd - starting with Man City.
Last Updated: 09/03/13 10:41am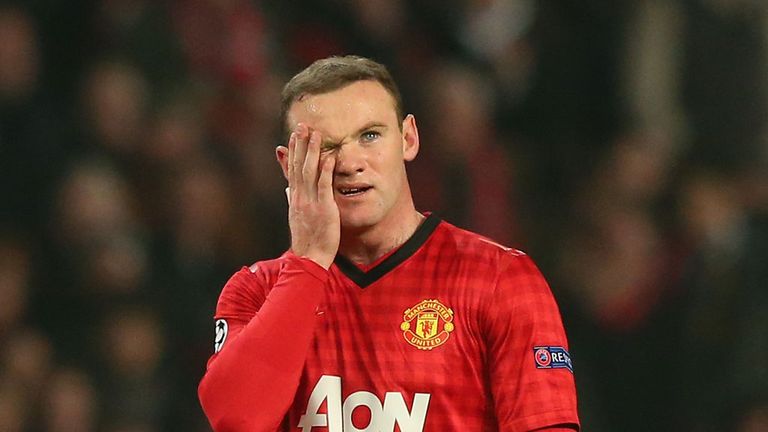 The fact that he arrived at the ground all smiles suggested that he'd had no hint of what was to come, as seemingly confirmed by a tweet from his wife Coleen.
Frankly I was flabbergasted that his name wasn't on the team-sheet because Rooney was absolutely brilliant in the second half of the match against Norwich.
Many of the papers are now speculating that Rooney will leave United in the summer, leaving me to wonder exactly what went on before the Real game and whether or not there's been a falling out between Wayne and Sir Alex.
In the away leg Rooney was asked to play on the right-hand side and was almost playing right full-back at times - a role that he's been asked to fulfil for the team frequently in recent times.
Whether Sir Alex felt he couldn't fulfil that role this time around or Rooney wasn't happy doing it, we'll only know in time.
Takers
If Rooney is on his way out of Old Trafford, there will be plenty of takers. Don't believe for a minute that Manchester City aren't interested. They may say that, but they would, wouldn't they?
They were interested before, in 2010, when it looked as though Rooney was on his way out and I've no doubt they're interested again. Why wouldn't they be?
I've heard some people say that Rooney doesn't perform on the big stage, that he is a flat-track bully. It's not a view I subscribe to. In fact, I think it's absolute nonsense.
This season Rooney has scored twice at Manchester City and against Brazil for England. This comes after a season in which he scored a hat-trick against Arsenal and three goals in two games against Chelsea, not to mention two goals against City, two against Spurs, two against Liverpool and two more against Everton.
Form
It's true that United's circumstances have changed in as much as they've got Robin van Persie now, Danny Welbeck is flourishing and Javier Hernandez is waiting in the wings. They may, if you believe the rumours, be in for Borussia Dortmund striker Robert Lewandowski.
But I would be surprised if Sir Alex is looking to move Rooney on now simply to avoid a repeat of what happened in 2010, when he appeared on the verge of walking out before signing a five-year deal. At the time Sir Alex seemed desperate to keep him and went to extreme lengths to achieve that goal.
United do have options but not only was I staggered that Rooney wasn't starting on Tuesday, I was amazed that Nani was in the XI, I was stunned that Tom Cleverley was playing off the front man and I was startled that Ryan Giggs was in midfield.
But if you look at recent form, Van Persie has been struggling for form more than Rooney and yet he's never asked to adapt his game to fit in with the way United are playing.
They have started 15 Premier League games together, scoring 19 goals between them, of which Rooney has got 11.
On top of the Rooney decision, I don't understand what Antonio Valencia did to be left out of the starting XI?
Last season he was just about a guaranteed starter - he started five of the six Champions League games - but this season he hasn't started in the Champions League since November.
Since the victory over Braga he has become a bit-part player and I think United miss his pace, his strength, his fire down the right-hand side and his ability to play as an attacking wide man or, if needed, a right full-back. The whole thing puzzles me.
Astonished
For the record I thought it was never a red card for Nani.
By way of comparison, do you remember when Newcastle's Fabricio Coloccini almost kicked Demba Ba's head off in the Premier League and there was no penalty and no yellow card?
But this is European football and incidents are treated differently. Roy Keane made the point that Nani gave the referee an opportunity to send him off.
Yes, Nani's eyes were on the ball, but he had to be more aware of what was going on around him particularly as it was unlikely to have been critical if he hadn't won the ball in that area of the field.
It was totally unintentional but on the other hand Nani's foot was high. Tellingly, every single player on the field was running into position for a free-kick without arguing that Nani should be sent off and everybody was astonished when the referee pulled out a red card, including me.
Confidence
Last night it was lovely to speak to Neil Lennon, albeit after Celtic's exit from the Champions League.
To my mind he's changed so much in the course of this Champions League campaign; he's grown and matured, gaining confidence and self-belief.
There was a lovely moment before the second leg against Juventus when David Tanner asked Neil 'what have you learnt' from this season? Neil replied "I've learnt how to manage".
In recent years he's come through some torrid times - the sort of things that no manager should be asked to come through - and at times he's become defensive in himself.
Now he's an expansive, charismatic character who is full of passion on the touchline. Even when Celtic were 5-0 down on aggregate, he was still out there giving it everything.
Will he stay at Celtic? It's a phenomenal club that is guaranteed Champions League football, so it's a hard call because there's no doubt that he'll lose several of his best players.
I think his future depends on the quality of any offers that he gets. If an established Premier League side with a track record - or even one of his old clubs - approached him, then that might tempt him away. But if I had to say one way or another right now, I'd expect him to be at Celtic next season.
Jeff's Gem of the Week
It has to be Portsmouth, who won at the 24th time of asking in all competitions by beating Crewe 2-1 away. I have as much idea of what the future holds for them as their fans, their players and their manager have - in other words, not much. They may still be bottom but remarkably they've scratched and scraped together a team each and every week and on Saturday they managed to earn a win. David Connolly, who scored one of the goals, didn't have a club for a large part of last year - and he's a goal-scorer! It was a fantastic effort all round.
Jeff's climbing Kilimanjaro!
Just as Hartlepool have a mountain to climb this season, so have I because in June I'm going to attempt to climb Mount Kilimanjaro with a couple of ex-footballers - Colin Cooper and Craig Hignett. A couple of years ago Colin set up the Finlay Cooper fund in memory of his two-year son, who tragically choked to death. We're aiming to raise money for all children's causes but principally children's hospices. The easiest way to donate is to visit http://uk.virginmoneygiving.com/giving/ and search for my name. Any donations large or small will be more than welcome.