Focus on fourth
Jamie Redknapp analyses the race for fourth and tips Spurs to take a big step by beating Man City.
Last Updated: 18/04/13 11:08pm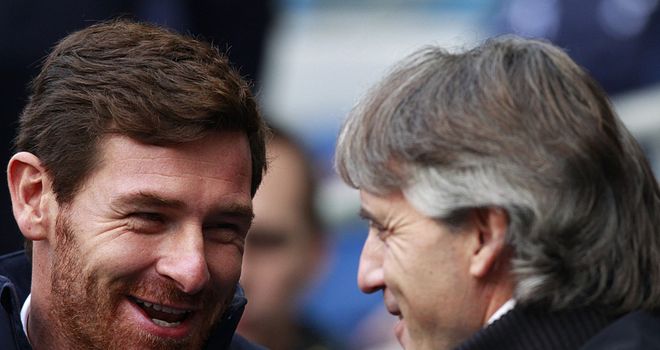 And this Sunday we've got a fantastic double header on Sky Sports which will have a big impact on the teams going for the top four.
First up, fifth-placed Tottenham host Manchester City before Chelsea travel to Anfield.
Arsenal may have moved into third by that stage if they beat Fulham at Craven Cottage on Saturday, so the pressure will be on both Spurs and Chelsea to get results come Sunday afternoon.
Everton are also still in the equation as well. They're four points off fourth going into the weekend and are outsiders to make the Champions League spots, but they have to be considered because of the form they're in.
Anyone who saw them at Arsenal in midweek has to admire the team David Moyes has built. Yes, they've got an incredible appetite and work ethic, which the manager has instilled in the team, but they also have a lot of quality; Kevin Mirallas, Marouane Fellaini and 19-year-old Ross Barkley showed their talent in that game, while Phil Jagielka and Sylvain Distin were immense at the back.
They will probably need to win at least four and draw one of their remaining five games, although even if they win all five they're not guaranteed to make the cut. But the rest of the contenders all have some tricky fixtures and could potentially drop points, so Everton mustn't be ruled out.
Pressure
Tottenham's hopes, though, are in their own hands, given the game in hand they have on Arsenal, who they trail by two points ahead of the weekend.
Andre Villas-Boas' side have put pressure on themselves since their victory at the Emirates last month with a draw against Everton - which they were fortunate to get - and a poor performance in a 1-0 home defeat to Fulham.
But they've had a nice break since then which has allowed them to recuperate and has given injured players such as Gareth Bale and Aaron Lennon more time to recover ahead of the run-in.
In contrast, their opponents this week, Man City, despite enjoying a fine run of form, are perhaps starting to show signs of fatigue. They've impressed with wins over Manchester United, Chelsea in the FA Cup and against Wigan on Wednesday night - they're perhaps playing as well as they have all season - but there were indications in midweek their busy schedule is taking its toll.
Roberto Mancini has said his players are tiring and Sergio Aguero looks like he has picked up a hamstring injury. It's unusual for Mancini to say his players are suffering and that fatigue factor may be decisive at White Hart Lane.
I'm going for a 2-1 win to Tottenham.
Importance
That would add even more importance to Chelsea's clash with Liverpool - a match the Blues really need a result from, given the fixtures they have to come this season.
With United, Spurs and Everton all featuring in Chelsea's run-in they will be hoping to take something from this game - but Liverpool caused them plenty of problems last season, with wins home and away in the league and held them to a 1-1 draw at Stamford Bridge earlier in this campaign.
There's also the added spice of Rafa Benitez returning to his old club. Hopefully he gets a great ovation from the Liverpool fans - he did a great job there, winning the Champions League with not a great team - and he deserves the Kop's applause.
I didn't approve of his comments the other week about returning to Anfield - that was disrespectful to Brendan Rodgers - but I don't think Benitez would have said it if he didn't think it might happen, so maybe there's something in it.
But that's for the future. Now Benitez and Chelsea must focus on getting a result this weekend and staying on course for a Champions League place.
I'm going for a 1-1 draw here in what should be a great game.
Fascinating
Chelsea, Arsenal, Tottenham and Everton still have so much to play for because the repercussions of not making the top four are massive.
Not being in the Champions League can prevent you from attracting the top players to your club and I'm sure there are a lot of deals on hold at the moment with footballers waiting for this race for the top four to play out before committing themselves to a certain club.
For Everton, finishing in the top four would be an incredible achievement. Spurs will feel they must make it with the squad they've got while Chelsea are still in a good position and know they should qualify. Arsenal could just miss out this season, for the first time under Arsene Wenger, and perhaps they will have to address weaknesses in their squad this summer.
There's a long way to go yet, though, with twists and turns to come. But, however it eventually pans out, Sunday's results will have a big impact - and it'll be edge-of-the-seat stuff for all the sides involved.