Mignolet v Reina
Brendan Rodgers' decision to pay a significant fee for Simon Mignolet looks to have opened the door for Pepe Reina's Anfield exit. Our resident goalkeeping expert Ian Watson weighs up the respective merits of two more than capable goalkeepers
By Ian Watson
Last Updated: 27/06/13 11:08am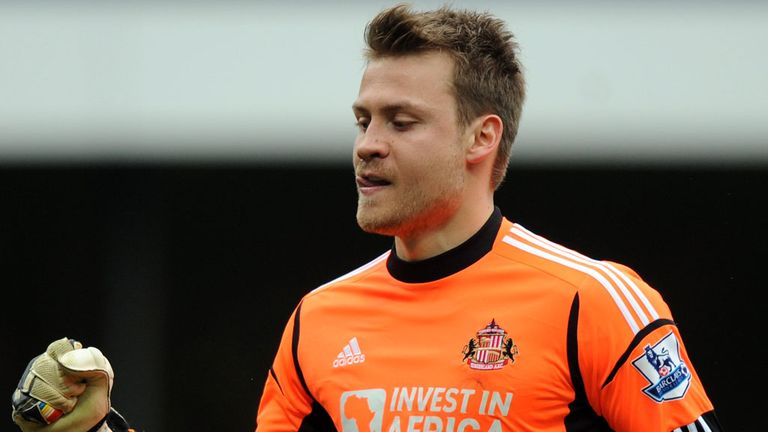 Liverpool have set about their transfer business this summer with an obvious determination to avoid the costly mistakes of 12 months ago.
Simon Mignolet this week became the club's fourth new arrival of a transfer window that is yet to officially open, and the Belgian is arguably the club's most intriguing signing so far.
All we know for sure is that Mignolet is a Liverpool player. The club, as is the fashion these days, confirmed only that the 25-year-old had signed a long-term contract after Sunderland were paid an undisclosed fee.
Reports suggest Mignolet could cost the Reds up to £11million - a sizeable sum which sees him become the Premier League's joint-third most expensive goalkeeper. The size of the investment also indicates that Brendan Rodgers sees the Belgian as his number one for the new season - despite what the manager and his new recruit say about Pepe Reina's prospects.
Rodgers says he told Reina over dinner before the end of last season that he was planning to add some competition to an area where there was previously none. However, despite the manager's claims of harmony, Reina is unlikely to accept even the prospect of a bench role. Nor do Liverpool want one of their highest-paid players rotting in reserve.
Indeed, Mignolet would surely not have moved to Merseyside unless he had received some assurances over his status.
With less than a year until the World Cup in Brazil, the Belgian - the first to play for Liverpool - has often spoken of his ambition to be number one for Marc Wilmots' much-fancied side. If he is to achieve that, Mignolet must have an eye on matching his ever-present record in the Premier League last season.
Most Liverpool supporters have welcomed the arrival of Mignolet, though those loyal to Reina have questioned whether he is better than what they already have.
The simple comparison is that Mignolet was one of the most impressive goalkeepers in the division last season - possibly the best. Reina's performances, however, fell below the level the Liverpool faithful have come to expect.
Mignolet was by far the most consistent performer for Sunderland and the Black Cats have him to thank more than anyone else for the fact they remained in the top flight.
Despite Sunderland's struggles, the 25-year-old still kept 11 clean sheets. While that statistic suggests the Black Cats' problems were rooted at the other end of the field, Mignolet still had to work for those shut-outs, making 149 saves in the process, which ranks him second only behind the rejuvenated Jussi Jaaskelainen at West Ham.
For the purposes of comparing the two Liverpool goalkeepers, stats without context can sometimes be misleading. One of the more telling performance indicators, though, is the ratio of saves to shots the keepers faced from inside the box. Mignolet's 66.4 per cent success rate in this category bettered Reina by 11 per cent.
Premier League 2012-13
Simon Mignolet
José Reina
Team
Sunderland
Liverpool
Appearances
38
31
Minutes On Pitch
3420
2790
Goals Conceded
54
34
Minutes per Goal Conceded
63
82
Clean Sheets
11
14
Saves
 
 
Saves
149
73
Saves per game
3.9
2.4
Saves from Inside Box
93
36
Saves from Outside Box
56
37
Saves to Shots ratio
73.4%
68.2%
Saves to Shots ratio (inside)
66.4%
55.4%
Saves to Shots ratio (outside)
88.9%
88.1%
Catches
 
 
Punches
39
17
Catches
47
31
Dropped Catches
5
0
Catch Success Rate %
94.5%
100.0%
Passing
 
 
Touches
1638
1322
Touches per game
43.1
42.6
Total Passes
746
692
Pass Completion %
41.4%
70.8%
Pass Completion into final third %
36.6%
19.4%
Short Passes Attempted
94
343
Successful Short Passes
68
330
Unsuccessful Short Passes
26
13
Short Pass Accuracy
72.34%
96.21%
Long Passes Attempted
652
349
Successful Long Passes
241
160
Unsuccessful Long Passes
411
189
Long Pass Accuracy
36.96%
45.85%
That said, the demands placed on the Sunderland and Liverpool keepers varied considerably.

Martin O'Neill and Paolo Di Canio preferred Mignolet to concentrate on stopping the opposition but, at Anfield, Rodgers also expects his last line of defence to be the first line of his attack. This may be the greatest challenge for Mignolet in adapting to life on Merseyside.
Reina's distribution - both in quality and variety - has always been among his better qualities, as you would expect of a goalkeeper schooled at Barcelona. Last season, there was an almost-exactly 50/50 split between long and short passes from the Liverpool stopper.
Mignolet and Sunderland, though, were far more direct. The Black Cats keeper attempted 746 passes - 87.3 per cent of which went long.
This may reflect the instructions given to Mignolet from his managers at Sunderland. But what might concern his new boss more is that only 72 per cent of the 94 short passes he attempted reached their target. In major contrast, Reina was accurate with 96 per cent of his 343 short passes attempted. He was also more accurate over longer distances too.
Mignolet told Liverpool's official website that the extra duties did not worry him. "Back in Belgium, the goalies always train to play with the ball at their feet," he said. "We join in most of the time, playing more with our feet than with our hands. I'm used to this."
Regardless of however true that may be, the added responsibility is unlikely to ruffle Mignolet, who says he has "never been a nervous person".
Indeed, Liverpool have acquired one of the coolest keepers in the game - an intelligent, down-to-earth individual who speaks five languages and has a degree in political science. If anyone has the nous to adapt to such a different style of play, it is probably Mignolet.
The competition argument is also something of a moot point. Reina will not be happy to stew on the bench and nor does he need to for Mignolet's sake. Thibaut Courtois will push Mignolet from Madrid, where he will spend a third season on loan at Atletico. Mignolet's desire to retain his Belgium place will be incentive enough for him to perform at club level.
Reina, then, appears to be surplus to requirements and despite the noises coming out of Anfield, it seems Liverpool would happily accept a decent offer to get the Spain number three off their wage bill.
It might all still end happily ever after, though, for the 31-year-old. Despite Victor Valdes' insistence that he will play out the final year of his contract at Barcelona, the Primera Division champions may yet offer Reina a return to Catalonia. If Monaco or anyone else is willing to pay for Valdes, then Barca would prefer to take the money to reinvest in a replacement now, rather than have to budget for a new goalkeeper in 12 months.
Arsene Wenger may finally follow through on his long-standing interest in Reina but there is no question the former Villarreal stopper would favour a return to Spain.
The future, though, for Mignolet appears much clearer. Providing he can adapt to the more specialist demands of a Liverpool goalkeeper, there appears no reason that he could not at least match Reina's eight-year occupation of the Anfield goal and prove his transfer fee - whatever the amount - to be one of the wisest investments of the summer.