Jackson hails young Steer
Norwich's Simeon Jackson praised debutant keeper Jed Steer as he helped the Canaries claim a 2-1 FA Cup win over West Brom.
Last Updated: 29/01/12 5:48pm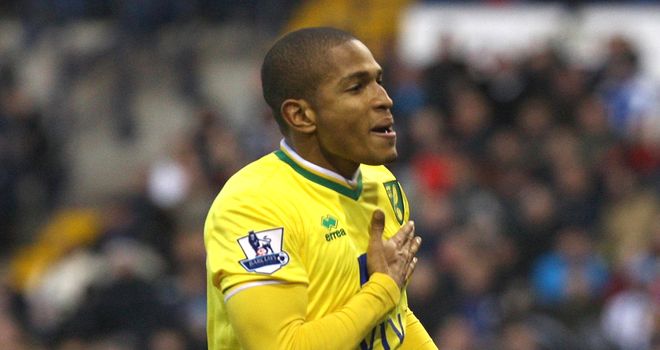 Norwich match-winner Simeon Jackson praised debutant keeper Jed Steer after he helped them claim a 2-1 FA Cup win over West Brom.
Jackson ambled from the bench to score a goal in the 85th minute which put his side into the fifth round of the competition.
But it perhaps signifies the spirit within their squad that Jackson highlighted the brilliant saves made by Steer, which made the win possible.
"Jed's debut was unreal. I watched him from the bench during the first half and he was outstanding from start to finish," said Jackson.
Confidence
"He was one of the reasons we got the result. I see him every day in training and he is as good as he showed today.
"When I was 19, I was a bag of nerves when I came on to the pitch but he came out oozing confidence.
"You have to be a strong character being a goalkeeper. He is quite quiet but an outstanding keeper and has done his chances no harm."
Paul Lambert believes that in Steer, the Canaries have the makings of a top-class keeper.
Humble
His raw talent is without doubt, but it could be his mentality that determines how far he can go in the game.
"I think he has got the makings to be a top keeper. He looks mature for his age and people have to remember he is only a kid," said Lambert.
"If he keeps level-headed, and always being humble about his career, he will have a massive career.
"There is no doubt a loan spell at Yeovil was great for him. He did fine down there. But I think, no disrespect to Yeovil, to play in an FA Cup tie against a Premier League side is a bit different.
"I would have no fear about throwing him in again."