Transfer news: Steve Lomas looking to take Simeon Jackson to Millwall
New Millwall boss Steve Lomas admits he would welcome the opportunity to add free-agent Simeon Jackson to his ranks.
Last Updated: 14/06/13 3:47pm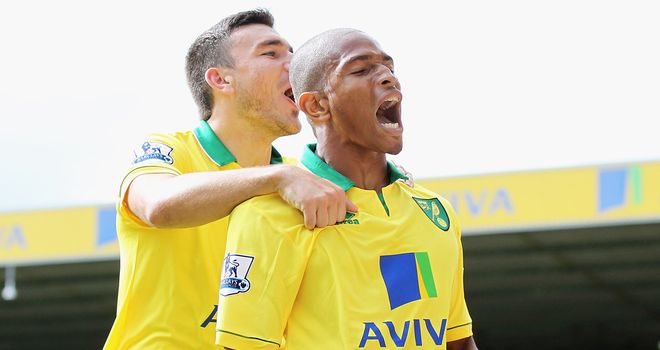 The striker has been released at the end of his contract by Premier League outfit Norwich City.
He struggled for top-flight game time at Carrow Road, but impressed as the Canaries secured promotion out of the Championship in 2010/11.
Jackson is not expected to be without a club for long, and Lomas concedes that he will have to move quickly if the 26-year-old is to join him at The Den.
He told NewsAtDen: "He's the right type for us - he's quick and he can score goals. But I will be one of about 10 managers that wants Simeon Jackson because he's done very well at Norwich. Some people were a little surprised that they let him go.
"I like the boy. I think he's got something about him and we want hungry players. I like him because he plays like he's hungry and, when you get that, it's a nice little combination.
"We'll certainly be looking at strengthening up front, but I don't want to be rushed into anything because the current squad deserve a fair crack of the whip.
"We've got two up there at the moment, in Andy Keogh and Jermaine Easter, and I'm keen to have a look at the two younger lads, John Marquis and Aiden O'Brien as well.
"We're looking to bring in the right type as well as the right player. When people come into the group, they need to buy into what Millwall is all about
"We need three or four fresh faces and I'm constantly looking at that. I'm touching base with a lot of agents at the moment - things will probably start kicking off the end of next week when players come back from their holidays. I'm not ruling anything out at the moment."