Leaving La Liga?
With competition for places fiercer than ever at Real Madrid and Barcelona, Tim Stannard takes a look at the players who should be considering their futures this summer...
By Tim Stannard
Last Updated: 11/07/13 3:01pm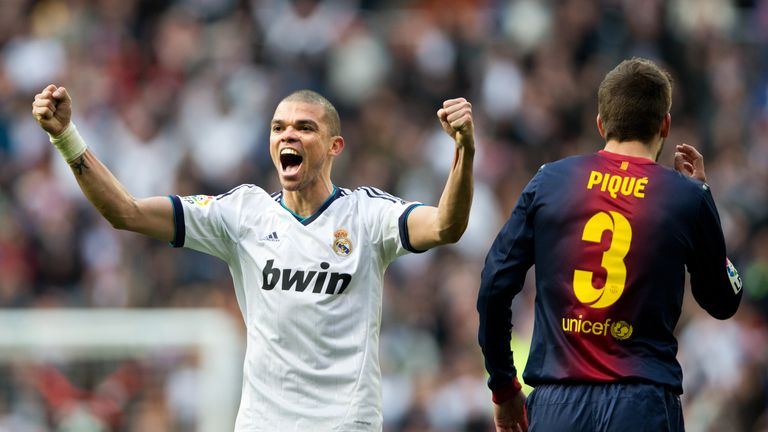 The huge salaries, big love from fans and press (when times are good) and even bigger free cars from sponsors are certainly quite the perk for Barcelona and Real Madrid stars. However, there comes a time when a player must either push aside Cristiano Ronaldo or Gerard Piqué, or take a look in the mirror and ponder if taking on a new challenge (playing for Spurs, for example) is the best move to make. Here are nine candidates with a lot of offer from Spain's Big Two who should be packing their bags this summer.
Pepe
The Portuguese defender always had a short fuse but Mourinho cut it down to a spindly thread in his personal project to make Pepe a footballing attack dog. This lack of self-control combined with Pepe's dubious composure in big games saw Raphael Varane take the 30-year-old's starting spot. Pepe needs to rebuild a reputation as a classy but physical defender under a new, more considered owner.
Cristian Tello
The one club where being an extremely talented forward player is a very bad thing is Barcelona. The squad currently contains hundreds of them, including Leo Messi, Alexis Sánchez, David Villa, Pedro and Neymar. Although Tello offers a little more aggression and directness than many of his competitors, the 21-year-old should step away from the Catalan club for a couple of seasons to get a bit more experience under his belt.
Thiago Alcantara
A tempting buy-out clause, a massive amount of self-belief and a number of fine footballers ahead of Thiago in Barça's starting XI ensures a move from away the Catalan capital is the right thing for Thiago to do. Just make sure that there is a long string of elastic in the transfer deal to ping right back to the Camp Nou when Xavi and Andrés Iniesta show real signs of wear and tear.
Víctor Valdés
For the sake of a quiet life in the campaign to come, it might be best if the Barça keeper sneaks out now. Valdés is firm on his commitment to leave next summer at the end of his current deal and that announcement has caused a huge amount of bother and fretful headlines in Barcelona. It is likely to get worse over the next ten months.
Alvaro Arbeloa
Versatile, able to mark Leo Messi out of games, composed and utterly dependable. That was the Arbeloa at Liverpool and Real Madrid until Jose Mourinho got his hands on him and contrived to turn the full-back into a irritable liability in too many matches. The arrival of former youth-teamer, Dani Carvajal, and the lesson handed out by Neymar in the Confederations Cup may make Arbeloa want to try pastures new to rediscover the quiet, consistent figure of old.
Alex Song
It's probably best to shake hands, have a quiet drink and realise that things are not going to work out at Barcelona. Signed as both a midfielder and defender, the feeling from the Barça fans is that the former Arsenal man is incapable of playing in either spot.
Kaká
Here we are again. Being in the pecking order for his favourite spot behind Mesut Özil, Isco and even Luka Modric will still not be a reason to persuade Kaká to move on. The 31-year-old has two years left on his contract, has probably given up on playing for Brazil in the World Cup next summer, and is paid an awful lot of money - three good reasons to go nowhere. At some point though, Kaka must realise that he is not getting any younger and he could still enjoy a glorious finale at a new club.
Diego López
The former Sevilla and Villarreal goalkeeper was signed as a stand-in for the injured Iker Casillas in January and then continued as the club captain's replacement until the end of the season. José Mourinho claimed to prefer the former Spain international to Casillas - a dubious assertion - but Carlo Ancelotti is set to reverse the decision in looking for a quiet life at Real Madrid and López is far too good to be sitting on the bench.
José Callejón
The right-winger is caught in a peculiar position of looking very good against opponents such as Osasuna and Getafe but hopelessly out of place at the highest level. There is certainly talent in Callejón's boots, but a poor season at Madrid last year saw a setback in the former Espanyol midfielder's development.