Neville and Carragher's Premier League guide II
Jamie Carragher and Gary Neville will team up each week on Monday Night Football this season, but what should fans of the 20 Premier League sides expect? In part two of their pre-season analysis, they told skysports.com what the remaining 10 clubs can expect...
Last Updated: 15/08/13 9:28am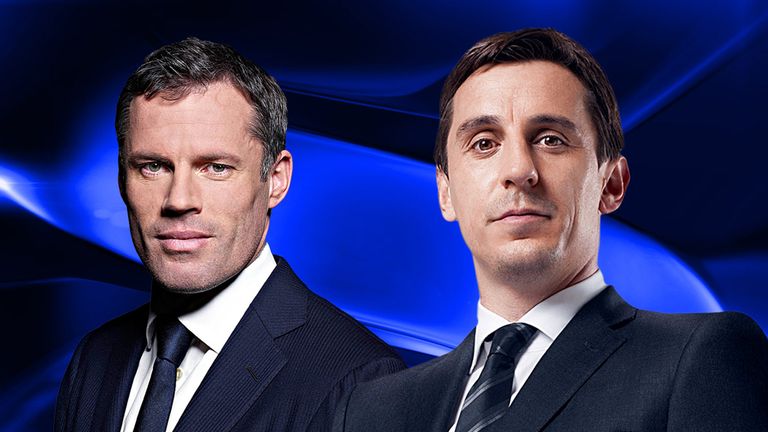 JAMIE: Like Chelsea and Man City, I think Manchester United should be expecting a league title. Whoever finishes second and third will be disappointed and that's what makes the league so exciting. There are three new managers and only one of them can be successful in the league. I like David Moyes, I think he's done a great job at Everton and as local rivals to ourselves I know him a little bit. I think he deservedly got the job, but this is another level up and he's aware of that. What he never did at Everton was win trophies - and it's difficult to win trophies at Everton - but he'll be expected to do so now.
Newcastle United
GARY: What do Newcastle need to do this year? Just start doing sane things! Don't do anything silly! The North East is a great place to play football because they're so passionate about the game but you look at both Newcastle and Sunderland and it's a bit like a rollercoaster ride. They need to do things normally and calm down a little bit - and I'm not talking about from the fans' perspective but from the clubs' perspectives. They've got great atmospheres, good crowds and great stadiums and you just hope that both those clubs can settle down.
Norwich City
JAMIE: Norwich have signed a couple of strikers and I'm glad to see that because without them I think they would have struggled and would have been a candidate to go down. I'm hoping that the two strikers - Gary Hooper and Ricky van Wolfswinkel - have been bought to score the goals that will keep them in the league. Grant Holt has been a great goalscorer for them over the last couple of years, but he's moved on and now I think Hooper will be trying to earn himself an England place.
Southampton
GARY: Everyone was a little bit dismayed by the sacking of Nigel Adkins after the job that he'd done at Southampton. However, Mauricio Pochettino has probably stepped things up a level. I think the performances improved under him, they looked a far more aggressive side and played more on the front foot. I'd expect them to improve again this season and I don't think they'll be in any danger of going down, I really don't.
Stoke City
JAMIE: I think Tony Pulis was unfortunate to lose his job and a lot of that had to do with the style of football that Stoke play, but Mark Hughes has come in and he'll be desperate to show everyone that his time at QPR was a blip. He's done well everywhere else he's been as a manager and it'll be interesting to see what style of play he tries to implement. Will he stay with the way Stoke play or will he try and change it? And has he got the players to change it? It'll be interesting to see what happens, but I don't really fear for them. It's always a difficult place to go.
Sunderland
GARY: As I mentioned above when I was talking about Newcastle, you just hope that the club can settle down. My message to Sunderland fans is simply to enjoy the ride. Anything could happen this season. Sunderland did need to bring in a few players this summer; they had a really tight squad of players and didn't have nearly enough numbers and they were struggling towards the end of last season when they lost Steven Fletcher and Lee Cattermole and couldn't replace them. They were in big trouble and should be grateful for the lifeline they got at the end of last season. The big thing for Sunderland now is hoping that all of those new Paolo Di Canio signings can really gel together and form some sort of team.
Swansea City
JAMIE: At times during the first half of last season they were looking like a top-six side, but they ran out of steam after winning the Capital One Cup. I wouldn't expect to see them challenging for Europe, but I'd say they've made a good signing in striker Wilfried Bony, who has started very well in the couple of games they've had. The fact they've had some competitive games in Europe before the Premier League kicks off will help them against Man United in the first game. They've got something going at Swansea, it's a difficult place to go and I like the way they play. I don't think there's any chance of them being in trouble and I think it looks to me like they've established themselves in the Premier League.
Tottenham
GARY: Spurs have got to hold their nerve in the last two months of the season. In my two years working at Sky we've got to a point in March where you were thinking they were going to get into the Champions League - and to be fair they did it under Harry Redknapp the year before that - and it wouldn't be fair to say that they blew up, but they certainly lost a little bit of nerve. Last season they lost at home to Fulham and drew at home to Everton and those results cost them in the end. So they have to hold their nerve in the final two months and also keep their players fit. They lost Sandro in January last year and that proved to be a big miss for them.
West Brom
JAMIE: I think it will be difficult for West Brom to reach the heights of last year. At times they were up in the top six and Steve Clarke did a great job, even though a lot of questions were asked of him when he replaced Roy Hodgson. They've lost Romelu Lukaku and got Nicolas Anelka, who has obviously been a top striker in the past and he will add something to them. They will find it difficult to replicate last season and it remains to be seen if they'll get dragged further down or keep their heads above water in mid-table.
West Ham
GARY: Andy Carroll is a good signing for West Ham and that signing alone, if he can get fit and stay fit, will keep them in the league. I think him and Kevin Nolan have a great record and the outcome of assists and goals when they play together is incredible, both at Newcastle and now at West Ham. Keeping those two fit is a massive priority for West Ham because they will be able to keep them up on their own. They are probably a bit better than a relegation battle, but they could get dragged into trouble if those two players aren't fit.
CLICK HERE FOR PART ONE OF THE GUIDE - FROM ARSENAL TO MAN CITY
Upgrade to Sky Sports on Sky and get Sky Broadband Unlimited Free for 12 months