Kevin Phillips
Football Expert & Columnist
Kevin Phillips: Players hold the power, but Di Canio had to go
Paolo di Canio's sacking was no surprise because the players hold the power now, says Kevin Phillips.
Last Updated: 27/09/13 11:15am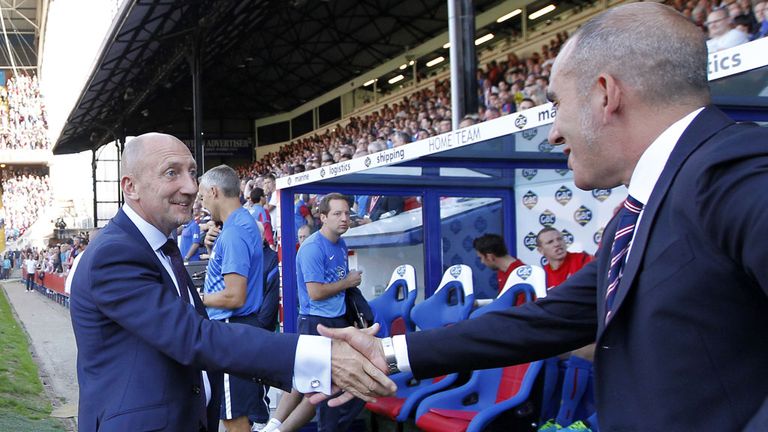 It happened with Chelsea and Andre Villas-Boas a few years ago as well. Football has moved on - it certainly wasn't like that when I started out 20-odd years ago.
Di Canio's sacking is no surprise to me if I'm being totally honest. Speaking as a player that's played under many managers over the years, once you lose that dressing room you lose your players - they don't trust you. I think the Chairman and the board had no choice but to relieve Paolo of his job and duties, because in this day and age I believe that man management is more important than actual tactics on the pitch and I think there wasn't any of the at the Stadium of Light.
Once you lose that dressing room you're on a hiding to nothing. I would certainly say that with the regime he was running there, allegedly. If you believe everything you read - banning smiling, staff aren't allowed to talk to players, no tomato ketchup, no coffee - I don't believe you can do that in this day and age. You're talking about fully-grown men that have got their own families - you can't treat them like kids. You have to treat them like adults and I believe Di Canio's style doesn't work for me in the Premier League.
Football has moved on and it certainly wasn't like this when I started out 20-odd years ago. It's changed a hell of a lot and you have to change with it, unfortunately that's the way it is and as I say, you have to manage the players right. Man management is more key than anything.
Player Power
Players have a lot more power than they did 10/15 years ago. And it is difficult to say whether that is a good thing or not. There will be a lot of people that disagree, but that's just the way that football has moved forward.
We put players on long contracts, on big money and they hold the power. If a player is not happy they can get themselves out of the football club quite quickly and quite easily.
It is a difficult one and unfortunately that is just the way football is at the moment, it's the era that we're in and we've just got to get on with it. It is disappointing to see a manager lose his job, but that's football and you've got to accept it.
Rules and regulations
The managers that I've played under over the years have been firm believers in whatever is said, is said between the four walls of the dressing room. Whatever it is, it stays in house.
When you're dealing with players that have played at the top level and you're coming out and criticising them in public it's not going to go down too well and it's not going to take too long before players start to revolt and start to go against the manager.
In my experience I've never had it and all the many managers I've played under have kept it in house, which for me is the correct way.
I've played under nearly 20 managers in my career; I remember at Sunderland when Howard Wilkinson took over for a brief period it was quite strict. He was very strict on his rules about meeting times and did ban sauces and stuff like that. I thought at the time it wasn't right, but that was the way that he managed.
There are always rules and regulations that the players put together themselves but never as harsh as - you're not allowed coffee, not allowed tomato ketchup, staff can't to talk to players etc. - that's going too far.
Courtesy and respect
The players have their own rules; it's the basic stuff like if you've got no flip-flops on in the shower, if you're late for training, if you leave some kit out on the training field, if you leave your plate out on the table after lunch. It's just common courtesy rules that you would abide to at home anyway and it just keeps everyone on their toes.
Those kind of rules are right in football clubs, you have to live by rules and there's no harm in doing that and it keeps the house in order.
The manager will have his own rules as well - like on match day if you're late you will get fined double - so it's part and parcel of football but I think you have to draw the line somewhere.
I think mine and Ian Holloway's relationship works because of respect. That's huge in football; I'm a great believer in in man management and having respect for your players and your manager. I think if you get that balance right, you want to work for that guy, you want to do your best for them. As soon as you lose that there's going to be problems.
My relationship with the manager is about respect, he can trust me, he's let me train at home many times on my own and I don't want to let him down. I respect him, he's the gaffer and we work by his rules.