In the firing line
Manchester United's trip to Chelsea dominates the Premier League landscape this weekend. Nick Miller looks at that clash and more as he previews a big weekend of top-flight action.
By Nick Miller
Last Updated: 18/01/14 7:14am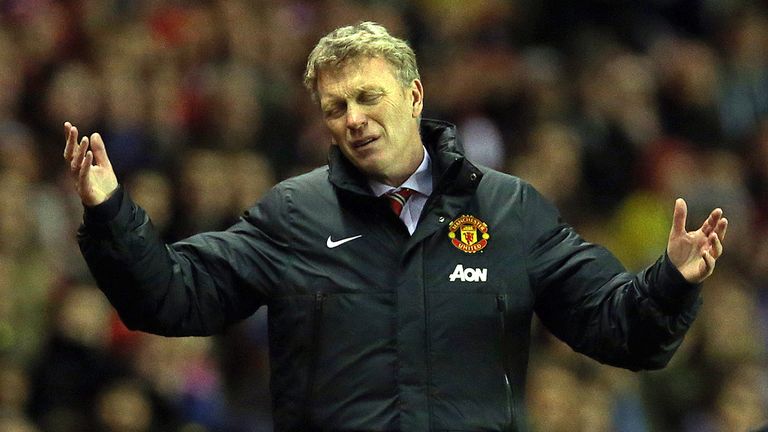 Oh Jose. It didn't exactly take Woodward and Bernstein levels of sleuthing for Jose Mourinho to work out that all is not exactly top-notch at Old Trafford. "My feeling, which is based on years of communicating with Sir Alex and some inside information, is Man United are not happy, but they are calm," he said. Oh really, Jose? The champions of England are 11 points off the top of the table and they're 'not happy'?
While Mourinho's Psychology 101 got tiresome some time ago, the power shift between the two sides has never been more obvious. Chelsea are the clear favourites in a way that they would not have been with Sir Alex Ferguson in the other dug-out, just one more way in which the whole fabric of the league has changed since the old boy left.
Most of Mourinho's tough words are reserved for Manchester City at the moment, the team who he seems to view as his main rival for the title. This week he said it would be his greatest achievement if Chelsea beat City, building an image of this unbeatable behemoth against a plucky minnow. Laughable, of course, for a team that just spent £21million on a player they basically chucked into a deal three years ago as an afterthought/makeweight.
Still, facing United is always one of the great challenges for Mourinho, and a win always a feather in his already pretty feathery cap.
Click here to read more on how Jose Mourinho is helping to turn Eden Hazard into a world-class player
David Moyes
A defeat on Sunday and the chances are Manchester United will be 14 points off the top of the table and, probably more troublingly, eight points shy of the top four. Even in a transitional year, that is pretty unacceptable for Manchester United.
Moyes has been on a little trip this week, touring matches across Europe looking at new talent, and man do they need it. There's no respite for Moyes at the moment, but of course if he couldn't cope with that sort of thing, he probably shouldn't have taken the job in the first place.
"We have to win regularly and in the next month we will know exactly where we are," Nemanja Vidic said in Inside United magazine this week. "By the end of January and start of February we will show what our position is and what our capability is in the Premier League. "Then, of course, the Champions League starts up again. This is an important time for us and we all want to do well."
In the coming weeks United have a rather friendly fixture list, with games against Cardiff, Stoke and Fulham before they visit Arsenal in the middle of February. It might seem like a rather defeatist attitude for United, but if they can come away from Stamford Bridge with a draw, then it will set them up nicely for that run, and a chance to make something of this season.
Anything less than that...well. Getting anything at all from Moyes' first campaign will be something of a long shot.
Shinji Kagawa
The chances are that, in the absence of Wayne Rooney, Kagawa will get a start in a big game, in that 'Number 10' position that everyone's been assuring us he'll be brilliant in. Even though Adnan Januzaj looks ready to take that role now, even at 18, Kagawa's decent performance against Swansea last weekend will surely see him keep that spot for the trip to Chelsea.
It's odd that Kagawa's backers have been so keen to suspend judgement on his time at Old Trafford until he gets a proper go in that slot, since we were constantly told when he arrived that he was a brilliant signing because he was just as comfortable coming from the left as he was in the middle. Still, he could well prove all us doubters wrong with a dominant showing against Chelsea. Just don't hold your breath.
Mauricio Pochettino
Interesting times at Southampton. While the impact of a chairman leaving might have been a little overblown in the media, it will be much more serious if Pochettino decides to follow him. Pochettino was apparently persuaded by Nicola Cortese to stay in charge for the trip to Sunderland this weekend, and denied on Thursday that he was about to disappear. "I am staying as Southampton manager," he said. "I have a professional responsibility to everyone."
Still, the gossip columns on Thursday predicted war, famine, pestilence, death and an exodus of players with Rickie Lambert, Luke Shaw, Adam Lallana and Jay Rodriguez apparently on their way. Basically it sounded like there was going to be nothing left at St Mary's other than Paolo Gazzaniga and Dani Osvaldo's mirror. And all this because the chairman wasn't happy about when the club would be sold, and how much he'd get when it was.
The chances are that the Southampton skies will not fall in this month, but in the meantime they have a bit of form to recover. After their blinding start to the season, they have only two wins in the last ten games, and they are at the beginning of a fairly friendly-looking run of fixtures, the game against Arsenal a week Tuesday aside. Their other upcoming games include Fulham, Stoke, Hull and West Ham, encounters that should theoretically see them rack up a healthy wedge of points. Assuming the seas haven't risen and claimed all on the south coast, of course.
Click here to read why Mauricio Pochettino would be ill-advised to leave Southampton in their current turmoil
Chris Hughton
Were it not for the impending Hampshire apocalypse, Hughton would be leaving all others in his wake in the 'next manager to leave' markets. Fan impatience has given way to revolt - or as close as revolt a club with Delia Smith and Stephen Fry on their board can get.
It isn't hard to see why, either. A rotten run in the league (no wins in the last six) that has seen them drop to within a canary's feather of the bottom three, was compounded by the slapping at the hands of the equally-hapless Fulham in the FA Cup.
Still, at least he has the backing of his board, after chief executive gave an in-no-way-hyperbolic interview this week. McNally said: "The brief to Chris was to keep us out of the bottom three, we are not in the bottom three and it is to keep us out of the bottom three so that is what we have to do. We would not contemplate relegation at our football club. In a sporting sense it is worse than death."
So, as long as Norwich aren't in the relegation zone, everything's cool, but if they slide into it and stay there, everything's borked? Aye, seems sensible. Relegation is, to channel Michael Owen briefly, obviously bad news, but it isn't the end of days. If Norwich went down they would, unless an even bigger fish was flushed down the toilet with them, start the following season as favourites to go straight back up again. It's bad, but not the end of the world.
Also, by saying Hughton is okay as long as Norwich stay out of the bottom three, McNally didn't exactly relieve any of the pressure on his manager either. Particularly speaking before a weekend which, if results go against them, they could end in the bottom three. All the best, Chris.
Sky Sports brings you closer to the sport you love in 2014 with live sporting coverage from the Barclays Premier League, UEFA Champions League, Formula 1, Super League, The Masters, Ryder Cup and much more. Click here to find out more about how you can upgrade to Sky Sports.
Ole Gunnar Solskjaer
Has anyone actually noticed that Cardiff are in the relegation zone? Among all the understandable and justified wailing about Vincent Tan and his one-man mission to tear down football as we know it, it seems to have escaped most people's notice that they're in some trouble.
The optimism over his appointment and the 'Well, of course' after his first game in charge was won thanks to late goals by substitutes was burst a little by the defeat to West Ham last weekend. It's bad to lose your first league game, it's worse to lose that game if it's at home, and it's terrible to lose that game to West Ham, relieving some of the pressure on one of your closest and most vulnerable rivals.
"I hope to build with him a long-term future here," said chairman Mehmet Dalman this week. "Over the next five years, I think you will see a lot of Solskjaer and this is a great place for him to build his credibility." And that's smashing. It's just that if they don't start scoring goals and winning games quite soon, that future will be in the Championship. Alas, this weekend sees a trip to Manchester City. Keeping it respectable will look like a victory, the way they're playing at the moment.
Crystal Palace
Word is that Tony Pulis has been so impressed with his squad since arriving at Selhurst Park that he has down-scaled his January transfer plans, and won't bring in half a new team, as he was apparently planning.
That's lovely, and Palace have put in some solid performances of late, but those performances haven't produced results. Last weekend, for example, they were terrific in the first half against Tottenham, dominating and making Tim Sherwood's side look like the ones scrabbling around at the bottom of the table, but they couldn't kill off their dominated opponents. Not helped, of course, by Jason Puncheon's maverick penalty technique. That, alas, is the sign of a side headed for trouble.
They're at home to Pulis's former employers this weekend, and as Stoke's away form has been typically terrible this term, it's as good an opportunity as any to collect some vital points. If they can't do that, then 'trouble' might not even cover what Palace are heading for.
Nikica Jelavic
A new club, a fresh start. Was it just that Roberto Martinez's management didn't agree with him, or is there something more seriously awry with the Croat's game? That he only scored once in the Premier League in 2013 does nod towards the latter, but y'know - change as good as a rest and all that. Perhaps Jelavic just didn't like 2013 - maybe he only performs in even-numbered years.
What's certain is that Hull need him to start scoring even more than he does - Robbie Brady is their current top scorer with three, and while they're sitting relatively comfortably in 10th, they're only five points off the relegation zone, and that sort of cushion can disappear pretty quickly with a few barren games. All Jelavic really has to do is be better than Danny Graham. Talk about a low bar.
Tim Sherwood
Four wins from five in the league since taking over from Andre Villas-Boas. Much more of this and people are going to start taking him seriously.