Chris Kamara analyses contrasting victories for the top four
Kammy looks at wins for the top four, the scramble for survival and tips a late-season United surge.
Last Updated: 01/03/14 11:18am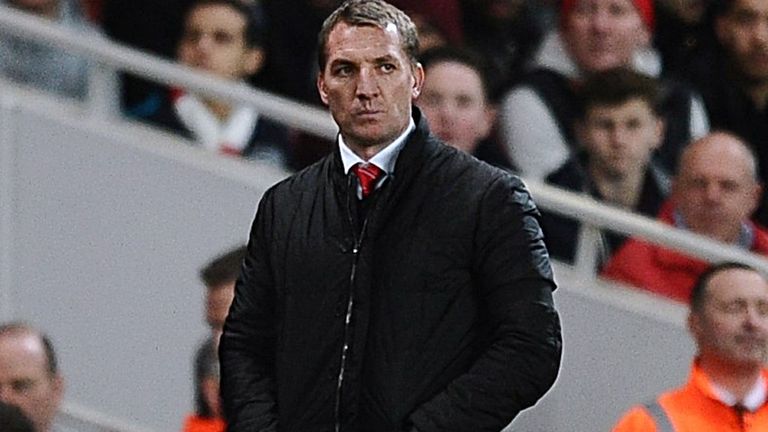 Liverpool are title contenders, but are living dangerously
KAMMY SAYS: It doesn't matter that Liverpool conceded three against Swansea, in this instance. The only time it will matter is when they come up against better teams, defend like that and get punished.
Fair play to Swansea, they went to Anfield and had a go. It's a learning process for Garry Monk because they are open and playing good football but you have to make sure you don't concede. The pleasing side is they had a real go and created chances, but as soon as you get to March, it's all about the points. Nobody will talk about how Liverpool nearly lost - they'll just look at the three points.
Brendan Rodgers knows he needs to strengthen his defence but they've also got some injuries to key men. You can't say they're not title contenders because anything can happen and if you look at them going forward, they're as good as anybody.
More home comforts for Jose
KAMMY SAYS: For me, the winning goal against Everton has to be Frank Lampard's goal. I looked at it and there's no deviation on the ball. Tim Howard obviously thought that John Terry was going to get a touch but he didn't and that's why it's Lampard's goal - it was on target.
As for the victory itself, that's the Mourinho way. Manchester City won ugly for the first time this season but we all know that Jose's teams have always done that. The pleasing things for him is that they're doing what United used to do with injury-time goals snatching the wins for them. I think that's the third or fourth time that they've won a game that late.
With regards to Everton, they're clearly not far away from the Champions League because Roberto Martinez can look at Petr Cech and say: 'We worked you hard today. If you hadn't have been in such good form, we may well have won this game.' The thing that's cost Everton over the past month is that Romelu Lukaku has been out, otherwise they may have six or seven more points.
Arsenal are moving on swiftly
KAMMY SAYS: Arsene Wenger is the manager and makes the decisions and he could have got away with leaving Olivier Giroud out against Bayern Munich because they played brilliantly. If Mesut Ozil had scored that penalty then they would have gone on and won the game, but the fact is he didn't and Yaya Sanogo didn't look like scoring from then on.
So you have to ask - who did Wenger punish when he left Giroud out for something that happened off the field? Giroud? The team? The fans? You can't change the course of history so all he could have done was bring him back into the team. He did so, and Giroud scored twice.
Arsenal are a very good team - Tomas Rosicky's goal was a fantastic team goal. It was a master-class in passing and movement.
Points are all that matter for Man City
KAMMY SAYS: Like we said about Liverpool, nobody will remember that Stoke went to the Etihad and grafted really hard and could have had a bit more luck, or that on another day with a different referee, Vincent Kompany may not have stayed on the pitch... all that will be remembered at the end of the day is that City have won.
From Mark Hughes' point of view, they looked pretty solid. One little lapse in concentration from Charlie Adam led to Yaya Toure deciding the game. From City's point of view, they couldn't be flamboyant like Arsenal but both sides came away with three points.
Why did West Brom sell Shane Long?
If you're a West Brom supporter, you must be thinking 'what on earth have we done in getting rid of Shane Long?' You can say Long doesn't score enough goals but the one thing you could never say is that he doesn't work his socks off. When he goes over that line, the only time he might let you down is if he's not feeling well! I've never seen him fail to run around lots. He gives you that and he's also clever - his movement's good.
Now, he's found a partner on the same wavelength as him in Nikica Jelavic and they're both thriving. If you're a club at the bottom then you don't sell your striker to another club down there - Pepe Mel must be looking at him and thinking 'I wish I had him here.'
With regards to Cardiff, they were in 16th when they got rid of Malky Mackay. If they'd have been in the bottom three then you could say it was the right decision, but when it's just a clash of personalities rather than anything to do with football, you'd be disappointed as a Cardiff supporter. Ole Gunnar Solskjaer has come in and found it difficult because they're not his players. He's got a philosophy of how he wants the team to play but he might have to re-think that in the same way that Monk might have to at Swansea.
Big boys lift Moyes' mood
KAMMY SAYS: Tony Pulis came in and decided he was going to make his Crystal Palace team very difficult to beat. Bar the rash challenge from Marouane Chamakh, you never know what might have happened against Manchester United on Saturday.
With regards to United, Wayne Rooney has just signed a new contract, Robin van Persie is now back fit, Adnan Januzaj has been a real bonus for them and the midfielders will gain a lot of confidence from Rooney and Van Persie being reunited. So all in all, you can't say they won't go on a run from now until the end of the season because it's more than a possibility. You can't speculate they won't make the top four when there's still a mathematical chance of them doing it.
Palace have had a great run but they're still down in it. There are still 10 or 11 teams who are in this relegation battle. Until they have 40 points on that board, nobody can say they're safe. Everything's up to play for - I've never known this many teams involved. It's as tight as it's ever been!