Premier League: Chris Kamara defends Jose Mourinho and lauds Suarez
Kammy says Mourinho's actions are fine and Spurs fans - like all others - should sing their hearts out.
Last Updated: 28/10/13 5:08pm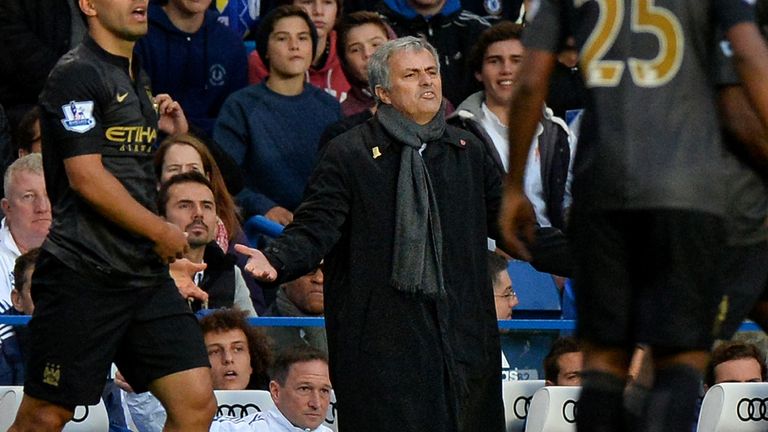 Jose just got lost in the moment
Should Jose Mourinho have celebrated in the crowd? Jose is his own man. He got caught up in the emotion of his own team scoring against a team who, if you asked Jose, are his biggest rivals in Manchester City. It's a massive result for his own club. We all get carried away and sometimes it's good to see and sometimes not, but I thought it was good.
If you're the opposing manager, then you think it's disrespectful but you get lost in the moment. You ask players why they take their shirt off or why they've gone into crowd and they can't explain. They just get lost in the moment.
We want to see fans getting behind their teams
Andre Villas-Boas has suggested the Tottenham supporters were too quiet and negative on Sunday, but that's the world we live in. People are paying big money and demanding more and they aren't really thinking about how their support could help the team get a result. They're thinking 'entertain us and then we'll get behind you'. They're just being honest and there's no crime in that. Hopefully Spurs fans won't take it to heart and they'll think their boss has got a point and want to get behind the team next time.
I was at Aston Villa on Saturday and Romelu Lukaku went to the Everton fans to rouse them up and the response was brilliant. Maybe the Tottenham fans got complacent against Hull and just expected to win easily. There are times against any team where the crowd plays a massive part and the atmosphere makes a difference. Let's get back to that and have the fans singing their hearts out and getting behind the teams.
Luis Suarez is giving everything to Liverpool
If Gareth Bale is worth £80m, then how much is Luis Suarez worth? He's got the lot - a left foot, right foot, heading, dribbling, link-up play and he's got the willingness and desire to win. Sometimes that causes him some problems and he ends up doing things he shouldn't, but he's served his punishment and Real Madrid may now be wondering why they didn't sign him. Every time he puts on that Liverpool shirt, he's given everything. Now everything is clicking into place and he's at the right age. During all his problems, I said he owed Liverpool and it looks like he's doing that. He and Daniel Sturridge are complementing each other very well and it's exciting times for Liverpool fans.
Will he be there at the end of the season? Every player has their price. The proof will be in the pudding if they don't qualify for the Champions League and he goes knocking on the door. But if Liverpool can strengthen, then who knows? They haven't bought the best players over the last few years but now they are starting to build an exciting team.
All's well that ends well at Norwich
Leroy Fer came out and said he wanted to score and win for the team. At the end of the day, referee Mike Jones got it right. If he had given that goal, then Norwich would have had to walk one in their goal and it would have been a farce. But all's well that ends well with that one!
Sunderland look rejuvenated after a big win
It was just a brilliant result to beat Newcastle. If they had been in the top eight and won at home, then it would have been immense, but to do it when you're bottom of the table makes it even bigger. The fans live for that result and they can go to work and mingle with the opposing fans. To come out as top dog is everything.
Newcastle have had the better of it in the last two years, but for Sunderland's survival stakes, to battle like they did and not give up is a massive boost. I know Gus Poyet very well and in such a short space of time, to get that result will do him and the team the world of good.
Leave Paolo alone
Despite Sunday's result, you can't knock Paolo Di Canio. It's easy to come in and make things a bit more simple and better. If Di Canio had got results, then nobody complains. It's about results and this season they were poor and this gives excuses to players. If they had won, then players would say that this was just the way Di Canio did things.
You're not telling me he's changed from last season. It's the same Di Canio that kept them up last season and his style worked last season. Will he approach things differently in his next job? I'm sure that will be the case. Working with lower division players is a lot different with Premier League players, who are more comfortably well off than you.
There's trouble at the Palace
It was always going to be difficult for Ian Holloway at Crystal Palace. Maybe when Ollie looks back, he may think he should have signed better players. The chairman will only be looking to get someone to stop the slide back into the Championship and if they do, then it's a gamble that paid off.
Look at Southampton. Nigel Adkins had two promotions back to back and after a few months in the Premier League, the chairman showed no loyalty by getting rid of him. What he did though was draw in somebody to improve the club even further and it looks like the right decision. Sometimes you have to look at the bigger picture and time will tell on the decision with Holloway.