Mackay malarkey
In the wake of Cardiff City sacking manager Malky Mackay, Subhankar Mondal analyses what has gone wrong at Welsh club...
By Subhankar Mondal
Last Updated: 27/12/13 4:33pm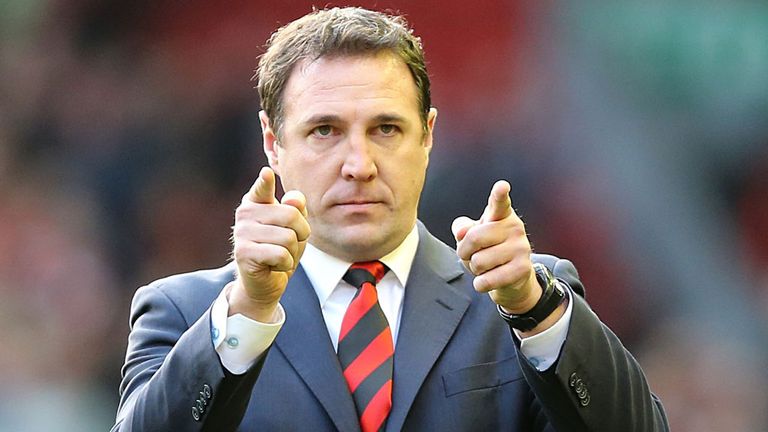 It all started to go wrong when Iain Moody was sacked as the club's head of recruitment in early October and was replaced by a 23-year-old Kazakh originally on work experience who has since been stood down because of visa issues.
Moody was accused by Cardiff City owner Vincent Tan of overspending during the summer transfer window as part of preparations for the Bluebirds' first season in the Premier League in their history. The total outlay, including add-ons, came to £50million, £15m more than what was originally allocated for recruiting new players.
That Moody's connections and negotiating abilities proved crucial in Cardiff landing Gary Medel, Steven Caulker, Andreas Cornelius and Kevin Theophile-Catherine in the summer was overlooked, and while one can understand why he was fired, replacing him with someone close to the club owner's friend has a touch of nepotism.
Malky Mackay has had a long-standing friendship and working relationship with Moody and it was only a matter of time before the cannon would be turned on him. The Scottish manager was accused to be in cohort with his trusted aide in overspending in the summer and was told by Tan in an email to 'either resign or be sacked'. Reasons for the club owner's stance were aplenty, including lack of positive results and playing style.
The on-pitch footballing points are understandable - to some extent anyway. Cardiff were hammered 3-0 by Southampton on Boxing Day and slipped to just one point above the relegation zone. The style of football has not been very exciting and they have lost matches that they should not have. Yet what else would one expect of a team who are playing in the Premier League for the first time in their history?
Cardiff were always going to be involved in a fight for survival and it should be taken as a positive sign that at Christmas they are not in the relegation zone. And the Bluebirds have given their fans plenty to cheer about this season, not least their 1-0 home victory over Swansea City in the South Wales derby in November.
Manchester City slumped to a 3-2 defeat at the Cardiff City Stadium in August and Manchester United fared marginally better in the Welsh capital a month ago, being held to a 2-2 draw. Cardiff held their own against Everton and Tottenham Hotspur at home despite failing to win either match and emerged victorious away at Fulham.
Cardiff fans staged a protest against Tan before the team's clash against Southampton on Thursday, with many insisting the Malaysian businessman 'does not know football' and should allow the people who understand the game to make decisions about transfers and players. It is easy - and perhaps safe during such trying times - to jump on the bandwagon about 'foreign owners destabilising a club', but on this occasion it is hard not to question Tan's tactics and mindset.
Since taking over the club from Peter Ridsdale in May 2010, Tan has made a number of decisions that have not gone down well with supporters. He changed Cardiff's shirts from blue to red, claiming that doing so will increase their popularity among football fans in the Far East. Changing the colour or design of an airline to enhance reputation and increase sales is fine, altering the essence and identity of a football club to do the same is not. In addition to that, Tan swapped the club's bluebird badge for a dragon. However, all that was overlooked as he promised and did deliver the investment that was key in the club gaining promotion to the Premier League after years of near-misses.
Yet Tan's intent to run the club in his own image without taking into considerations the fans' feelings has gone a bit too far. That Mackay is one of the best young managers around is well documented and his work both at Watford and Cardiff will enable other clubs to make an approach for him. In the past two seasons the Bluebirds have gone from strength to strength - a Championship play-off semi-final appearance in 2012 and a League Cup final defeat on penalties to Liverpool was followed by automatic promotion to the Premier League in 2013.
This season success for Cardiff would have been staying in the English top flight, but perhaps Tan wants something bigger and better. But what? Finishing in the top six? Or in the top 10? A fairytale run in a cup competition? Becoming famous overnight all over the world and becoming a Premier League superpower in the blink of an eye?
Anyhow one looks at it, it appears that Mackay is yet another victim of short-sightedness and of too much success raising expecations. The goose was laying golden days one at a time and it should have been allowed to continue to do that.
Perhaps all this was a simple case of miscommunication that should have been sorted in-house. When Mackay said that he wanted three players in January, maybe he was not informed by Tan and chief executive Simon Lim that he will get "not a single penny". That statement came two days after the manager has made his wish public. Perhaps while signing the players, Moody did not inform his immediate bosses how much he was spending and where. Perhaps what Cardiff really needed was someone with a communication degree who could interact with all parties concerned and make sure that the points made were getting across.
Ole Gunnar Solskjaer is being reported as the man to replace Mackay and the Norwegian does indeed have a pedigree. His exploits as a Manchester United striker, under the management of Sir Alex Ferguson, is well known and so is his success with Molde as a boss, winning the Norwegian Premier League in 2011 and 2012 and the Norwegian Cup this year.
Solskjaer has also won a host of trophies as Manchester United reserves boss and has not eclipsed his intension to manage a top-flight club in England. Like Mackay, he is in his early 40s and will arrive with promise and bring renewed optimism. Yet it could all go wrong - he is taking over a team who are just outside the relegation zone with an owner who could very well give him the chop at the end of the campaign if they fail to stay up.
Or maybe Tan will just send Solskjaer an email threatening to sack him if he does not resign.