Paul Merson's New Year's Day predictions
Soccer Saturday pundit sees victories for Arsenal, Man City and Liverpool and thinks Spurs can pick up at point at Old Trafford against Man United.
Last Updated: 31/12/13 11:31am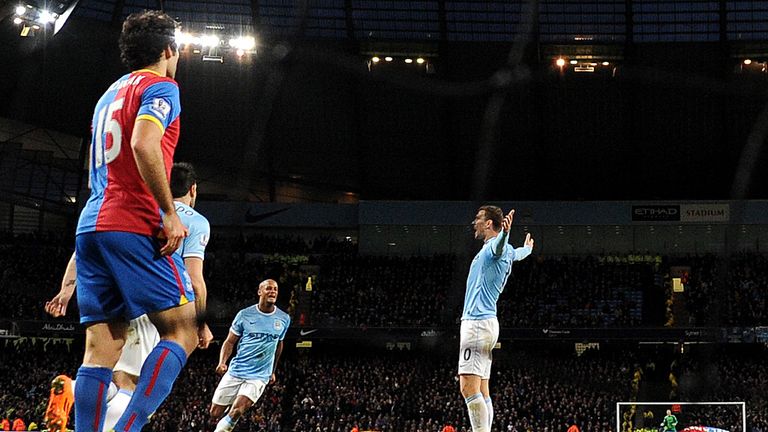 It really shocked me when Manuel Pellegrini said after the game against Crystal Palace that 'they came here and put everyone behind the ball'. I'm thinking, hang on a minute you're playing a team near the bottom of the table - these teams are not going to come and roll over.
Some of the Man City players seem to think that they can just turn up and wipe the floor with the opposition, but fair play to Palace because they didn't allow that to happen. The way they played has set a precedent for all other clubs to follow when they take on Man City; put 10 men behind the ball and make yourself as difficult as possible to beat.
The only thing I'll say about this fixture is that Swansea might just want to come out and play because they are at home and it will be hard to do that. The Swans were unlucky not to get a win against Aston Villa on Saturday but I do still think City will take advantage of their early kick off and go top with a win - even if it is just for a few hours.
PAUL PREDICTS: 1-2
Arsenal v Cardiff
I don't like the situation at Cardiff at the moment, it's not good. There are people there making the wrong decisions and having no manager over the Christmas period means they've had some bad results. The way the whole thing has been handled is a joke.
Arsenal got a massive result against Newcastle on Sunday so it's swings and roundabouts but I think the Gunners are going to be clear winners here.
PAUL PREDICTS: 4-0
Crystal Palace v Norwich
On Soccer Saturday the other day and I said that Palace would rest all their players for the game against Man City because I thought they were going to get really well beaten at the Etihad. They didn't rest anyone and it turned out they were unlucky to only lose 1-0. But those players haven't been rested for this big game against Norwich and I think that means the Canaries will come out on top.
PAUL PREDICTS: 1-2
Fulham v West Ham
This is a massive game at the bottom of the table. West Ham scored three goals at home against West Brom and didn't win which surprised me because even though they can't score a goal they can normally defend and keep it tight at the other end.
Fulham's result was an absolute shocker; they made Hull look like the Harlem Globetrotters! Fulham are one of those unpredictable teams and Scott Parker will be back for this game and they're playing at home; when it got silly in that 6-0 defeat I think they just thought 'right let's focus on the West Ham game now'.
PAUL PREDICTS: 2-1 - which would be a massive result
Liverpool v Hull
Liverpool have been unlucky with the two terrible fixtures they've had over Christmas - Man City and Chelsea away one after another; that's a shocking Christmas for them, not that they've done too badly. Ok, they did lose both but they didn't put themselves to shame. It's just surprising that one minute you're top on Christmas Day and come New Year's Day your fifth - it's a ruthless league.
I think Hull have taken a lot of pressure off themselves by winning the game against Fulham on Saturday and Liverpool tend to beat teams at Anfield.
PAUL PREDICTS: 3-0
Southampton v Chelsea
I think that's the best I've seen Chelsea play against Liverpool on Sunday. I thought they were outstanding and played at a pace which looked dangerous. It's a hard game for Chelsea because I think Man City will win and then I expect Arsenal and Liverpool to win which means Chelsea have got a lot of pressure on them to beat Southampton. I think this is going to be a hard game for the Blues.
PAUL PREDICTS: 2-2
Stoke v Everton
Stoke have conceded eight goals in their last two games but they were unlucky against Newcastle. I know they lost 5-1 but up to about the 40th minute they were 1-0 up and the better team until the ref decided to get involved and be busy. Everton were bang unlucky against Sunderland as well, they still made plenty of chances when they had 10 men.
This is a hard game for both teams; I've seen Everton go to the Emirates and give Arsenal a right good game but I don't like going against Stoke at home so I've got to for a draw.
PAUL PREDICTS: 1-1
Sunderland v Aston Villa
This is a massive, massive football match. Sunderland have got some momentum now and coming back from 2-0 down against Cardiff where they never looked like getting anything was important. They've also just beaten Everton away and Villa are struggling.
Villa are really worrying me at the moment; I think Swansea had over 70 per cent of the play against them the other day and I think that means Sunderland will win this game.
PAUL PREDICTS: 2-0
West Brom v Newcastle
West Brom have drawn their three games over Christmas since Steve Clarke was sacked but I think Newcastle gave Arsenal a right good game and are playing well so this could be tight. West Brom will be desperate not to lose at home and Newcastle will make this one difficult.
PAUL PREDICTS: 1-1
Man United v Tottenham
I think Tottenham will get a result here. I haven't been very impressed with Man United, I know they've won six games on the trot and it's Man United and this is how they do it but Norwich were better than them last week and could have had the game well out of reach by half-time because they dominated.
I think Emmanuel Adebayor looks very decent and sharp now he's back and I don't know how long it will last but at the moment Spurs are flying.
PAUL PREDICTS: 1-1
Think you know better than Merse? Prove it with our Super 6 game and win £250,000