Liverpool's win over Man City doesn't decide the title, they'll be plenty more twists and turns, says Kammy
Kammy rounds-up the weekend talking points and says nothing is decided at the top or bottom.
Last Updated: 14/04/14 2:38pm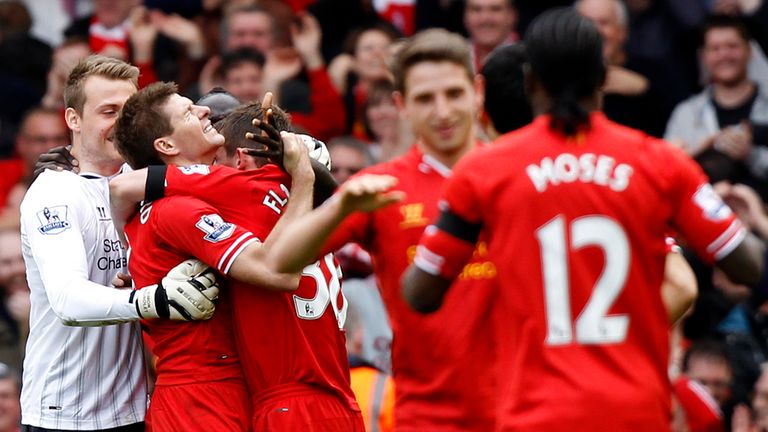 Liverpool just blew Manchester City away in the first half of the game and, of course, they're now favourites for the title because if they win all their games, they've got it.
But in no way is it as cut and dry as that. We all know what can happen in this league and a game that looks easy now looks nervous. There are going to be twists and turns in the remaining fixtures that's for sure.
One incident that caught my eye was Martin Skrtel's handball and, unfortunately, there's no doubt about that one. Skrtel wasn't looking at the ball but what was his hand doing up there?
It didn't surprise me that it wasn't given because hardly any have been this season.
It's amazing, because right up to last year we'd been protesting on Goals On Sunday that 90 per cent of handballs in the box are accidental but so many penalties were given. Then, at last, the referees took heed of what we were saying and these days it's really hard to get one given!
Mourinho gets results from juggling his strikers
I understand where Swansea boss Gary Monk is coming from when he says he's disappointed. It took the officials a long time to decide on Chico Flores' red card, but at the end of the day, he can't have many complaints.
It was one those 'sometimes they go for you, sometimes they don't' situations.
Demba Ba got the winning goal; he's a proper goal-scorer, there's no doubt about that. But Samuel Eto'o and Fernando Torres are as well; the fact is, they haven't performed as well as Jose would have liked.
Mourinho is looking for more from all three of them and it's been hard to juggle the pack so they perform on a consistent basis.
Anything is better than never and Demba Ba looks as if he's taking his opportunity. As a manager that's all you want.
Newcastle lose league game number 11 from 16
I always remember Charlton fans saying Alan Curbishley had taken them as far as he could. It was because every time they got to 40 points, which was round about March time, the team let out a massive sigh of relief knowing they were in the Premier League for another season and their results from then on weren't great.
But how their fans would love those days back.
Newcastle aren't the first and won't be the last team in the Premier League to have got in to a position where they can't go up, or down and then go through a run like this and sometimes, you have to be careful what you wish for.
I do understand the Newcastle fans, though. When there are 52,000 at home games week in week out they're expecting a bit more. They're turning up and expecting to see their team battle and fight. But what is happening to their football club isn't unique; it has happened to many others before.
Everton keep up the pressure for fourth
Everton ground out the win at Sunderland and their boss Roberto Martinez joined us on Goals On Sunday the day after.
Roberto told us how impressed he was with Sunderland and that they really had to dig in to get the three points and keep that pressure on Arsenal for fourth spot.
Even though Steven Naismith had a couple of chances that Roberto thought he could have converted, overall he thought it was pretty 'even-Stevens' before the own goal decided it.
Cottagers dig to victory
The great escape is certainly on at Fulham. I was at the game on Saturday and they were in a situation where they had to dig in for a result because Norwich were the better team.
Once Fulham scored they showed grit and determination that they haven't shown in previous times I've seen them. They looked compact and hard to break down. It went from Norwich opening them up for most of the game to them struggling to get through.
Marshall helps Cardiff come up trumps
Fulham's keeper David Stockdale pulled out some brilliant saves to keep his team in the game but Cardiff's stopper David Marshall did the same against Southampton. We all know how good he's been this season, at times he's been overworked but he's come up trumps.
Cardiff may be still be in the relegation zone but I don't think anybody is down and out of the league yet. Even Sunderland, if they win their games in hand, which looks unlikely, are right back in the pack.
It's the same as at the top; down the bottom there are going to be loads of twists and turns between now and the end of the season.
Tottenham dressing room must be difficult
You could say Spurs conceded some bad goals, or that West Brom scored some good ones.
Tottenham made their situation very difficult last Monday when it was reported that Tim Sherwood wasn't going to be their manager next season.
It must be a strange situation for him to be in that dressing room and it must be difficult for the players. There will be ones that quite like him and want him to stay on but who will think they haven't done him justice. Then they'll be the ones that are already thinking about the new manager and feeling quite happy.
Timing at football clubs is important. What they should have been saying is, 'don't worry about Tim Sherwood, he's our manager for the foreseeable future' and just carry on. I admired him for the way he conducted himself at that Sunderland game last week and his team went out and got the result.
You know that he's already on his way and whatever the fans feel about him doesn't make any difference now.
Hull and Arsenal reach Wembley
Steve Bruce has got to be in the mix for manager of season that's for sure. But for the first time ever there are so many candidates; there's Tony Pulis at Palace, then you've got Brendan Rodgers, Jose Mourinho and Manuel Pellegrini as well - there are so many contenders. Let's not forget Mauricio Pochettino, who's had a great season with Southampton. It's an amazing set of circumstances for this year's award.
Well done to Hull for reaching the FA Cup final. The same goes for Arsenal, who showed a different side to them with their semi-final win over Wigan. They dug in to get themselves back in the game even though weren't playing that Arsenal-way in the first 45 minutes.
I can understand why the Gunners celebrated the way they did at the end of the game. It was relief more than anything else. People criticising them need to understand that Arsenal haven't won anything for nine years, they've come under intense criticism for it, the manager might have had to consider his future if he didn't win that game - that's a lot of relief.
That's not to say it's the be-all-and-end-all because they'll want to go on and win it now.