Pahars Q&A
From starring in the Premier League as a Southampton legend to rising to the current role of Latvia manager - Marian Pahars talks Sky Sports through his unique career after his playing days
By Graeme Bailey - Tweet me: @graemebailey
Last Updated: 10/09/13 5:44pm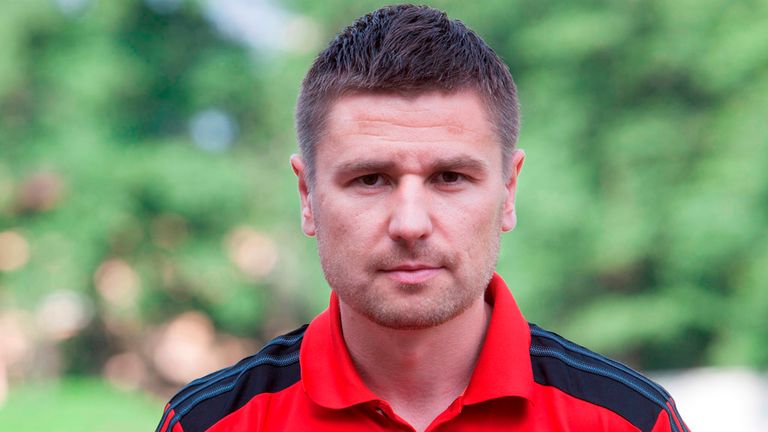 Marian Pahars became a Southampton idol in a seven-year spell with the South Coast club at the turn of the Millennium.
The former Latvia international scored more than 40 goals in over 130 appearances for the Saints to ensure he was a big fans' favourite.
Now, at the age of 37 years old, he is the manager of his country's national team and is aiming to restore their fortunes. Here, he talks Sky Sports through his career since hanging up his boots.
How did you reach your decision to retire from your playing career?
"The last few years at Southampton, and then when I played in Cyprus and one year in Latvia, I did not really enjoy football. Every time you get injured you go through so much and it should not be like this. You want to really concentrate on football and it was just so frustrating for me being injured all the time. I had to have something else to think about and when I was at Southampton I was thinking about what I would do if I suddenly stopped. Then, when I had finished, the club came to me and I just knew I wanted to stay in football. But I did not know if that was in management or something else. But I had done nothing else - football is what I know and is my life. But, again, I did not realise I would stay in football as a manager."
What led to you getting your first coaching job with Latvian club Skonto?
"When I stopped playing football in 2009, that was a decisive year for me. I had two or three months doing nothing. My wife was pregnant and we had plenty of time together and I got away from football. But when [former manager Aleksandrs] Starkovs came to me to go to Skonto and be his assistant, I knew I needed it. I was missing football and as soon as I stepped out on the field as his assistant I knew that is what I wanted to do."
You then became Skonto manager in 2011. How did that develop?
"Starkovs had a couple of assistants at the time and when he left to go to Baku FC in Azerbaijan, he came to me and offered it to me. But I really do not know why and I said to the chairman and players, 'thank you for giving me this chance, as I believe a couple of people deserve it more than me'. But for Starkovs to ask was a bit of shock and surprise. I thought maybe I would leave but I have a good connection with the club chairmen and the relationship has been there since I was young. It was difficult making the step up to the manager's job after just one year but I was ready and I thought, 'why not?'. Of course I was not ready but this is normal and you have to try something before knowing how it should be or knowing the demands."
Then, earlier in 2013, you took the Latvia Under-21 job. What happened and why did you decide to take that role?
"It was again down to Starkovs and the relationship with him. He was the national team coach but it is never one man deciding. My name was put forward at the committee, they all voted and Skonto gave me their blessings, as there were some issues there with money and other things. But I always look at the positives. I never wanted to look at the negatives and that is what the job offered. It was a professional setup and a step up in terms of what it offered, so I decided to go. Whilst with the U21s, this gave me time to finish off all my coaching badges, study and attend seminars. This was impossible whilst with the club. It is different, as you do not have that chance to work with the players every day. But you get so much more planning done. You do not get that chance with the club."
Just a few months later, you took the manager's job with the senior Latvia team this summer. What has it been like to make the step up?
"I could have said no. Nobody forced me to take it. It was my decision. The chance was there and I had to take it, as it might never come again. Of course it is prestigious but also very demanding with a lot of responsibilities. I could feel the pressure straightaway. When you become national team coach, you also get enemies straightaway without doing anything. Some people will not like you. But I do not want to listen to many comments in the press. Some people say I am too young and should have stayed with the U21s but I do not want to focus on that. What would be the point? I am national coach and am focusing on that."
You have been tasked with rebuilding the Latvian team. How do you plan to set about this task?
"The thing is, usually in the world in every country - England, Italy or Spain - if someone is changing coaches, then something is not right. You have to prepare for that. I know that we are not going through the best time but now is the time to put things right and a lot of things have to be put right. But, of course, I needed to make decisions that are right. We have started well which was necessary but there is a lot to do. We have got some good players, for sure. There are now changes but I do not want to change things dramatically and completely destroy what was there. A base exists and, of course, the squad needs freshening up. We will bring some of the younger players in and make a change here and there in looking to the future. Coming from the U21s, maybe I have that chance to see who had the potential to step up. But we expect three, four or even five players to make that step up."
What are your future targets? Do you have ambitions for a big job in club management?
"As is the case when you are a player, you want to step up at the higher level. This is normal. From the age of 17, I dreamt of playing at that level. Now, as a manager, I dreamt of Skonto and then the national team. I have reached that in one year. As a player, I moved for big money to Southampton and improved my life and I got to a high level. I played with the best players in the world and proved myself. So, as a coach who is training players, I hope to do the same. But I need time to develop myself. When that happens, I do not know, will it be England or Russia? Who knows. It could be Australia or China. You just do not know. I need to get experience, though, and study."
Do you still keep an eye on how Southampton are doing?
"Yes, of course I follow their progress and see how they are doing. I keep in touch with people at the club and friends but not that much, as they did not play in the Premier League for a while and I could not see many games. But I have visited the stadium since I left and watched a game last year. They have a very good coach and play very good football. I am happy for them and how they are doing. They are financially stable and the new chairman seems to be doing the right things while also being ambitious. That is important."
Would you like to see another Latvian at Southampton?
"I would love that but the Saints fans would need for him to play well! But if I had the chance to recommend someone who I felt could do a good job for them, I would put him forward - no doubt."