Chris Kamara: It's such an open season, now sit back and enjoy it
Chris Kamara's view on the top flight weekend, including a big win - and name-change issues - for Hull.
Last Updated: 02/12/13 3:57pm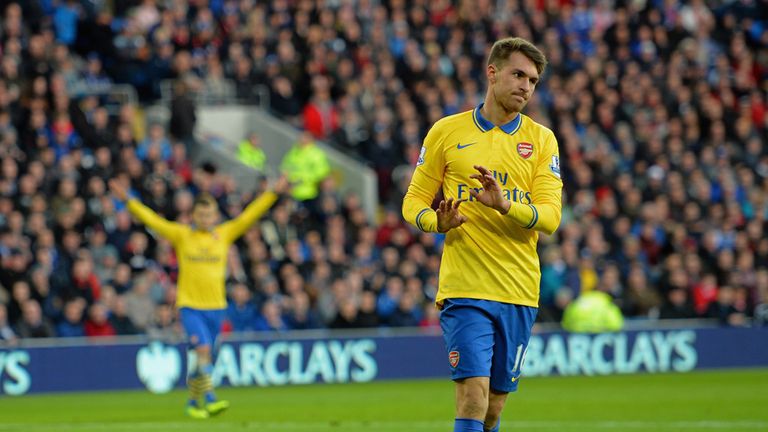 There were heart-warming scenes in Cardiff
I hope Aaron Ramsey maintains this level of performance right the way through the campaign because if he does, he'll be a shoo-in to be player of the season. It's important for him to be playing this well around March time because that's when the players get the ballots but he's just awesome; he can score with his head, right foot, left foot, plus he's such a clever player and has matured so much.
When Robin van Persie scored for Manchester United against Arsenal the fans weren't very happy and they were saying he was disrespectful with his celebrations but with Ramsey's goals against his former club it was different. The reason Arsenal fans are upset with RVP was because if he'd have stayed last season it could have been them that won the title but with Cardiff that's not an issue.
Ramsey left them when they weren't in the Premier League and the Welshman accepts that it was the club that made him and modelled him. All those fans watched in admiration as to how far he's progressed and the mutual respect was there for all to see. It was heart-warming for the game to see a home fans applaud when their team has had a goal scored against them
The sack was always coming for Martin Jol
The fact that Fulham didn't have a single shot on goal against a side that have been struggling to score goals isn't good. It was inevitable that Jol was going to leave as soon as Rene Meulensteen joined. To lose at West Ham by three goals was the final straw for owner Mr Khan and he wielded the axe. Sam Allardyce, meanwhile, put all his eggs in one basket in the summer by signing Andy Carroll and big Andy getting injured has been a massive blow. This was a great result for them, though, and all of a sudden the scenario has changed - from where are the goals coming from to a buzz from the victory.
If home records could win titles...
Man City got a phenomenal home record and they have got the best squad of players - I think everyone will tell you that - so it's just whether Manuel Pellegrini can decide how to play the different types of Premier League teams to get enough results away from home to make sure they win it. Jose Mourinho, Arsene Wenger and even David Moyes have the experience and know how to go to the different grounds and get results, but Pellegrini is still getting used to that. If you could win the league on home form alone City would win it by a mile but I'm sure they'll find their consistency in the New Year.
Name change issues shouldn't be happening
Nobody wants to lose a player of Daniel Sturridge's quality. His goal scoring speaks for itself and he bailed Liverpool out when Luis Suarez was suspended. Let's take nothing away from Hull City, though, as that was a game where everybody expected them to lose apart from their supporters and their manager so to get that result is absolutely fantastic. It's just a shame that all that nonsense about changing the name of the club is causing a few problems.
Things like this shouldn't be happening during the season. Cardiff City changed their shirts to red and even though their supporters weren't happy about it, they made the change in close season after getting promoted. When you try and do these things in the middle of the season you aren't going to keep people happy. If they'd have decided to change the name at the end of the season and Hull were doing what they're doing now the supporters wouldn't like it, but they'd accept it.
As Steve Bruce said in his press conference, when they're down and not playing well the name change is on the supporters' minds, it's on this fella who's come in and spent £70million on the club and wants to make changes for commercial purposes and they don't like it.
Don't let the boardroom take anything from Pardew
I was up at Newcastle last week when they had a difficult game against Norwich and they came through it and once again on Saturday they had a difficult game but came through it. If you ask any Newcastle supporter what's going on up there they'll say it's in turmoil but it isn't. Alan Pardew has had to put up with stuff because once again people are not happy with what's going on in the boardroom but he's got to get on with his job and do the best that he can and Pardew is doing great.
The boardroom stuff is taking away from the job that's he's doing rather than people separating the two and looking what they've done. Early season they were getting battered and he's turned that around and stopped them giving away silly stupid goals and now they look like a force to be reckoned with. It's amazing how quickly things have flipped this season for loads and loads of clubs.
Workmanlike performance
Norwich did enough to win that's one thing for certain, but nobody will look back and say they were creative because they just dug in and made sure they got the three points. The first-half was half decent but in the second half Chris Hughton basically said to his team 'right, we've got to see this one out' and they restricted Crystal Palace to two or three opportunities on goal in the second-half. It was a workmanlike performance.
Set-play woes for Southampton
Southampton were well worthy at half time but Chelsea showed their resilience. That's the one thing about Jose Mourinho, he seems to able to conjure something up at the Bridge at half-time to produce something and the game is never over, there's always someone that comes up and produces and the two centre-backs did it for him on Sunday. If you look at some of the goals that Southampton have conceded there have been a lot from set-plays and that's down to the manager working on people stopping getting those crosses in towards the big boys.
Shining performance from new star
Gerard Deulofeu - welcome to the Premier League. We want to see more of him because he's got something about him. We had Adnan Januzaj come in at Manchester United and produce, then we see this fella come in on and he's even more impressive. He looks quality and will be a welcome addition to the league.
The Everton supporters are happy, the only thing I would say is not to compare Roberto Martinez with David Moyes. They're different managers. You had a great time under Moyesy, he left the club in a better state than when he took over but they're in a different era now. Talk about how well you're doing now, not how you would have done it under Moyes. I know it's hard for fans, those were great times but move on now and enjoy your time under Martinez.
Sunderland need to nick some points
To be fair Gus Poyet deserves a lot of credit for the way that his team performed. Villa came back from 2-0 down against West Brom last Monday and would have had massive confidence and belief going in to the game, but Sunderland were the better team and had the better chances so from that point of view it's pleasing for Poyet. It's disappointing in one way because they should of won it, Giaccherini has got to score that chance at the end but that's a good level of performance away from home and if they can nick points at home then they'll stay up.
AVB should keep quiet
Andre Villas-Boas' reaction to the press is out of frustration. I fully understand where he's coming from but he's better off keeping his council and saying absolutely nothing. It's hard when you feel major people are against you; journalists and former owners of the club can influence other people's thoughts and if you're not feeling great yourself about the team's performance and you read these things it could sway you.
Gordon Strachan said the right thing on Goals on Sunday: 'Forget it, deal with reality, as much as they try, don't let it affect you.' It's all about you sorting those players' performances if you let it affect you it's going to cause problems but I do understand why he's had a go back I but think with experience he'll learn that it's better not to say anything because he'll just fuel it.