The Fantasy Football Club: Adam Lallana picks his Southampton #One2Eleven
Adam Lallana picks his ultimate Southampton dream team on The FFC's #One2Eleven.
Last Updated: 11/01/14 8:29am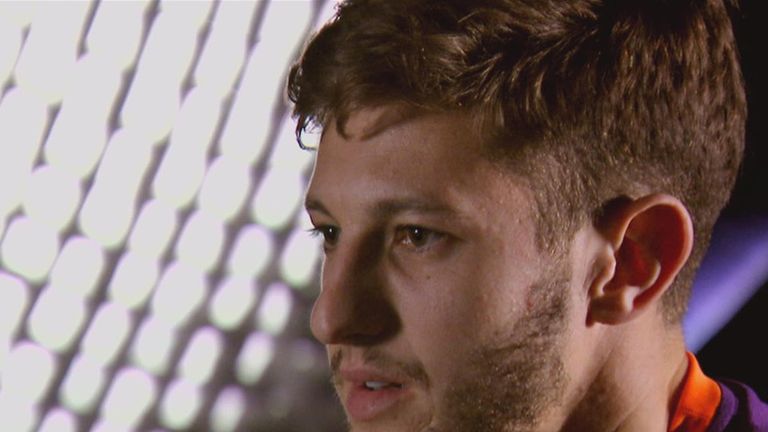 GOALKEEPER: Kelvin Davis
He's been there since I made my debut and had two promotions with me and features a lot in the Premier League, he's just a great 'keeper.
RIGHT BACK - Nathaniel Clyne
He's been here two seasons now and has just kept on improving. He's an immense talent and I can see him pushing on and eventually getting into the England squad. He's a really good lad; he came from Crystal Palace obviously and he's played a lot of games now but it's good to see him getting better and better.
LEFT BACK - Danny Fox
He's probably my best mate at the club so he just sneaks in ahead of Luke Shaw. When we got promoted from the Championship he played a huge part -I think he got 14 assists in the season; he's got a great work ethic and he's a great lad and full back.
CENTRE-BACK - Jose Fonte
He's been there with me from the League One days, he's been a solid member of the team and improved a lot over the last three or four years and is a massive part of the reason why we've kept so many clean sheets this season and have a really good defensive record.
CENTRE-BACK - Dejan Lovren
He's been unbelievable - probably our best player this season - and he's a really good lad as well. Him and Fonte are inseparable, they're best buddies off the pitch and if one of them doesn't train the other one tends not to train so I don't know whether there's something going on there!
CENTRE MIDFIELD - Inigo Idiakez
I learnt a lot from him when I first entered the first team set up. I really looked up to his vision and awareness and he helped me improve my game and made me feel a lot more settled; he's a good guy with a good heart.
CENTRE-MIDFIELD - Morgan Schneiderlin
Since he's gone up the divisions with the club he's blossomed as a player and I think he'd be in my team if I had to choose a team from the whole Premier League. He's got every single attribute; he tackles, he passes, he reads the game, he scores goals. I think he might have been here long enough to maybe represent England as a country.
RIGHT MIDFIELD - Alex Oxlade-Chamberlin
He came into the set-up when we were in League One and his talent quickly caught the eye. He was a lad that always worked hard as well. I still speak to him now and it's not gone to his head. He's genuinely a good guy.
LEFT-MIDFIELD - Gareth Bale
I grew up in the same youth team as him. I was ahead of him at one point and he gradually took over. I think he was 16 when he was given a six-week scholarship and they were unsure about him and it's quite amazing to think that now. He went through that period from just breaking into the reserves to the top so quickly.
FORWARD - Rickie Lambert
He's got every attribute; he's a clever player, he's gets goals, he scores headers, scores penalties, scores free-kicks; he's just a natural goal scorer.
FORWARD - Theo Walcott
He's so, so quick. I've never seen anyone that quick and that powerful combined. He can just go past players like they're not even on the pitch - it's frightening!
It's good that I'm getting the chance to play against a lot of my old team-mates from a younger age. It may have taken me that bit longer to catch up but it's great to be competing against them and I think in that role up top is where you can get the best out of Theo.
Being at Southampton since I was a kid, it's been a pleasure and an honour to play with so many fantastic players and I think the majority of them are still playing now and are still quite young, so I'd fancy that team to finish in the top four in the Premier League at the minute.