Gary Neville: David Moyes won't have many with him on diving views
Gary Neville says David Moyes is fighting a losing battle against diving in the game.
Last Updated: 17/09/13 10:37am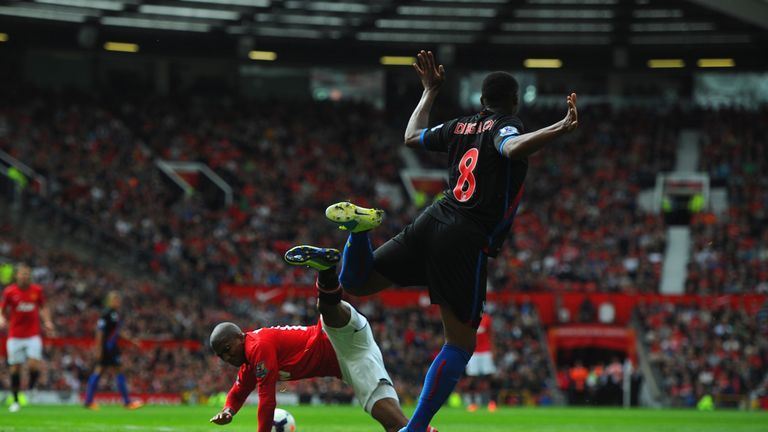 Moyes' Manchester United winger Ashley Young has once again come under criticism for two controversial incidents in the Red Devils' 2-0 win against Crystal Palace on Saturday.
Sky Sports football expert Gary Neville told Monday Night Football: "Moyes has made his bed on diving.
"He did last season as well before the Liverpool game about Luis Suarez and then Phil Neville dived for Everton about half an hour into the game.
"Moyes has always condemned diving, he absolutely hates it and feels there is no place for it in the game. He'll struggle to get it out, he'll be a lone crusader, or he'll not have many with him at least."
Danger
Young was given a yellow card within the first half after deliberately tripping over Palace defender Kagisho Dikgacoi's leg in the penalty box, and Neville thinks that Moyes may pay the price for scrutinising the England international.
"The fact of the matter for Young is that he looked a little sheepish when he came away from it. He put his hands on his head and then got away from the situation quickly.
"It probably brought him back to a couple of years ago. I think at the time Sir Alex Ferguson said he would have a word with him, tell him to take the pressure off himself, because he has got a reputation and people will be looking out for it.
"The danger when I say lone crusader is that once you say that you hate diving and Moyes has condemned Young for diving - the next week another one of your players dives and you have to go after him, and then the next week and so on.
"He's also not the only player for Manchester United that goes to ground by the way.
"I do think this is something in the game you're going to struggle to get out of it, because of the fact there are grey areas. It's not always black and white.
"This one though isn't a good one. I think he's deliberately tried to kick someone to get a penalty."
Not unlucky
Young won a spot-kick later in the game when he clashed with Dikgacoi again. Replays of the incident showed there was minimal contact from either player and that the altercation may have occurred outside the box.
The Palace midfielder was sent off for what referee Jon Moss deemed to be a professional foul - and Neville agreed with the decision.
"With the actually penalty incident for me, as we've seen with Koscielny earlier this season, if you're a defender and you tackle like, you expect a red card, added Neville.
"I hope Dikgacoi and Ian Holloway aren't patting each other on the head saying 'unlucky mate', because honestly he'll get sent off every single week for that. I don't care what anybody says that will always be a sending off.
"Tackling from that angle when somebody is going through on goal, you are massively running the risk of being sent off. The question is when was the foul?
"I think the worst part of it is the last bit where he dives in. The first bit is just a coming together. I reckon if Dikgacoi hadn't gone to ground he may have got away with that and the ref may have just blown it away.
"The first thing you say as a forward is literally get your body steel in front of the defenders. The defender then has to either put his arms up in the air and leave you, or he'll dive in.
"To me if you dive in like that, even if you get the ball you're going to go through the player because of the angle of the tackle.
"For me it's 100 per cent a sending off and though the referee didn't seem very sure, I think he came to the right decision."