Gary Neville: Relief for David Moyes as he gets big win under belt
Gary Neville says a big win against Liverpool takes the pressure off Man Utd boss David Moyes.
Last Updated: 26/09/13 11:20am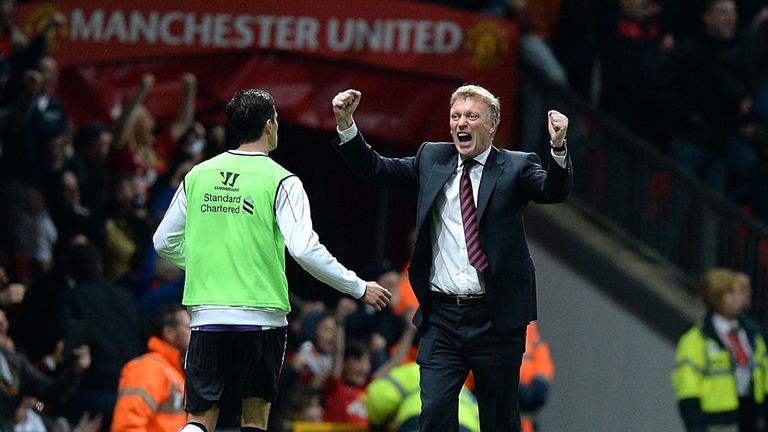 After a miserable 4-1 defeat in the Manchester derby against City on Sunday, there was relief for Moyes as Javier Hernandez scored an early second-half goal to hand United a place in the fourth round at the expense of their fierce rivals.
It would be almost unthinkable for United fans if the team had lost to both of their biggest rivals within four days and Sky Sports pundit Gary Neville believes this "big game" win will ease the pressure on the new manager.
He told Sky Sports: "There's always a huge inquest, especially after a defeat like that in the derby and the pressure does build.
"Relief is the word to describe for Moyes, he was happy at the end. You could see there was a sparkle in his eyes that he's got a big win under his belt.
"It was tough there, it was a hard-fought victory that. Liverpool didn't play badly in the game and had a few chances. United had to dig in there to get that result."
Awkward Liverpool
For Liverpool it was a second defeat in as many games and Neville believes the Reds lacked concentration and struggled to finish chances, despite having striker Luis Suarez return to the squad from a 10-game ban.
"Every time the ball came in the box for Liverpool, whether it was Kolo Toure, whether it was Jordan Henderson, whether it was Daniel Sturridge - they all looked like they couldn't sort their feet out. It all looked a bit awkward in the finishing and no one went out there and just finished it. Every time they had a chance they never got it away.
"It's a good result for United, the goal after half-time was important and there was a lack of concentration and focus from Liverpool. After that, Manchester United had something to hang on to, particularly at the end they grew into the game, Ryan Giggs and Phil Jones became difficult for Liverpool to play, but Liverpool wasted their chances."
Rotation
Moyes made eight changes to the team that lost at the Etihad on Sunday including first starts of the season for Jonny Evans - who was named Man of the Match - and goalscorer Hernandez.
Former United defender Neville believes this squad rotation will now come into effect and benefit last season's Premier League champions.
"I think over the next couple of weeks with the next round of the Capital One Cup, the Champions League game against Shakhtar Donetsk and league games coming thick and fast, Moyes is going to have plenty of games to rotate his squad.
"Early on in the season when he had the likes of Liverpool, Chelsea and Manchester City - he wanted to play a consistent team to try and get through that difficult period.
"They've probably been a little bit below par with the results in the way in which they've gone, but now I think you'll see a lot more of the lads that played tonight intermingled with the team.
"I think you'll see them on Saturday, I don't think he'll go back to the Manchester City team, I think it will be a mixture of tonight's team and the team that played in the derby."