Gary Neville: Manchester United show "glimmer of hope" in last two games
Gary Neville says Manchester United have shown glimpses of improvement in the last two weeks.
Last Updated: 07/04/14 11:18pm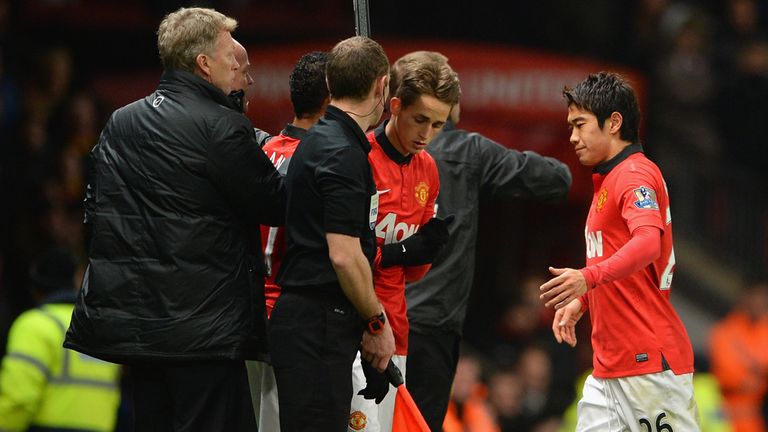 David Moyes' side face Bayern Munich in the second leg of their Champions League quarter-final on Wednesday evening in the knowledge that defeat would end their chances of winning a trophy this campaign.
However former United captain Neville says the performance of Shinji Kagawa in the first leg - and his link-up play with Juan Mata in Saturday's 4-0 win over Newcastle - has provided glimpses of the type of football the club's supporters have been crying out for.
"What United have had in the last two weeks is the rotation," he told Monday Night Football.
"I have to say that against Bayern Munich last week, Kagawa really provided that urgency in the second half.
"The second goal [against Newcastle] was Mata at his absolute best, showing composure when others would panic and basically doing brilliantly well.
"I think that's been a feature when those two have linked in the last couple of weeks, signs that things are settling down a little bit and some of the players are feeling more comfortable. They are coming off their lines and playing in good areas in midfield.
"It's more like what you would have expected, linking the likes of Kagawa, Mata and Januzaj together.
"Obviously Mata can't play in the Champions League game against Bayern Munich, but you can see in the game against Bayern last week and on Saturday there is some football coming into the game for United."
Need
Mata is ineligible for Wednesday's game at the Allianz Arena having played for Chelsea in the Champions League earlier in the season, but Neville says the Spaniard thrived in the absence of injured forwards Robin van Persie and Wayne Rooney on Saturday.
And he says the club record signing needs to be played in a traditional number 10 role, rather than on the wing, for Manchester United.
"That's where Mata needs to play. I don't think he can play in wide areas," Neville added.
"United rely upon pace in wide areas and I think to play wide you see people get exposed; we saw it with Santi Cazorla against Everton; it becomes a real struggle for them when you're playing in the top games.
"You can get away with certain things if you're playing against Newcastle potentially or other teams if they're not at their best, but I think in the big games it becomes a real struggle.
"He's obviously better off the front. He can affect the game. These players need to be in central areas and need to be more free with Kagawa running past him and linking with him.
"They've shown a little bit of a glimmer of hope in terms of United's season - and they've got a huge game on Wednesday."