Gary Neville: Manchester United don't need a 'big name' manager
Gary Neville says Manchester United don't need a "big name" manager to replace David Moyes.
Last Updated: 25/04/14 12:04pm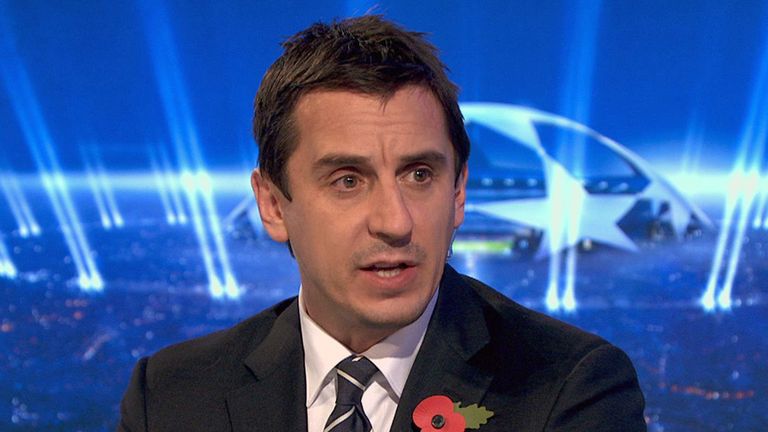 Ryan Giggs has been placed in interim charge of the club, but is not to be considered for the full-time role as star names such as Louis van Gaal, Carlo Ancelotti, Jose Mourinho and Jurgen Klopp are touted as the favourites for the job by the bookmakers.
Former United defender Neville thinks the club are likely to go for a high-profile European coach, but he doesn't think the club necessarily needs a "figurehead" to attract top players and insists the club should sell itself.
"The suggestion that they need a big manager to attract players to the club, I find that a bit sad to be fair," he told Sky Sports.
"The idea that Manchester United Football Club need to have a sort-of figurehead to be able to attract players is a nonsense as far as I'm concerned.
"Manchester United, as a football club, is big enough in its own right to be able to attract players - and they should be.
"It seems to be pointing in that direction and I suppose at the start of next season, if they can spend the money that they have wisely and there's a new big-name manager then times will be exciting again.
"The reality of it is that it doesn't really matter who the manager is. What matters most to Manchester United fans is that they actually win football matches and get back to where they belong."
Statement
Moyes issued a statement regarding his sacking on Wednesday, in which he thanked former boss Sir Alex Ferguson but didn't mention any current players or other members of the board.
However, Neville feels Moyes has handled his exit well and says it would be wrong to delve too deeply into what wasn't said in his press release.
"When managers get sacked they always send statements out that, if you like, terminate the story and close the chapter," he added.
"David Moyes has done that and thanked a number of people, describing his time at the club and how proud he was.
"I read the statement and I don't think we should read too much into it. I can't think of too many statements of managers who've been sacked after 10 months that would thank the players.
"In fact, he only named one person by name, which was Sir Alex Ferguson. I don't think he thanked the board, but why should a manager who has been sacked after 10 months go through every single person at the club?
"There's 500 staff at Manchester United. I think he was pretty respectful in his statement to be honest with you. He said he was privileged to get the opportunity, that he enjoyed every minute of it and he was sorry it didn't work out."