Alan Pardew: Gary Neville says Newcastle are where they should be
Gary Neville has backed under-fire Alan Pardew, saying Newcastle are "where they should be".
Last Updated: 28/04/14 11:25pm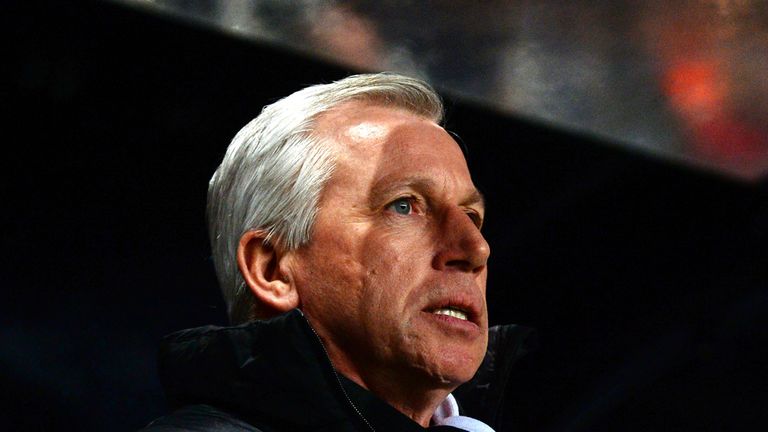 Members of the Toon Army held up banners calling for the manager to be sacked following a 3-0 defeat at the Emirates Stadium, the club's sixth successive defeat in the Premier League.
However, the club remain in ninth position, safe from relegation after a promising start to a season which has tailed off following the sale of influential midfielder Yohan Cabaye to PSG in January.
And Sky Sports pundit Neville says Pardew deserves credit for the work he's done since taking over in 2010.
He told Monday Night Football: "Alan Pardew is getting a lot of stick at the moment, but maybe when they look back in time - he's one of the longest-serving managers, second in the league - he hasn't done a bad job in what have been circumstances where not a lot of people would have done better.
"This year is probably about the maximum that anybody could have got from them. Selling Cabaye in January not only takes a lot of quality out of the team, but it deflates the rest of the group. A lot of them are French and know him very well and they think, all of a sudden, it's a selling club. It's that knock-on effect.
"Generally this is where Newcastle are at this moment in time: mid-table, nothing to play for - but that's not a bad thing. It's where they should be.
"The eight teams above them are better than them. That's sad for Newcastle fans to hear, but it's where they're at, at this moment in time."
Better
Neville believes it would have been an overachievement had Newcastle qualified for Europe this season because the teams above them have better players and bigger budgets.
But he says their miserable end-of-season form is tough for their supporters to stomach.
"I have to say it's a disappointing night for Newcastle," Neville added after the Arsenal defeat.
"Newcastle fans want excitement and fire in games - and they are getting nothing at the moment at the end of the season. It's just drifting through aimlessly and that is the worst thing, I think, for a Newcastle fan.
"They want things to happen. Most football fans do, don't get me wrong, but they are so passionate up there. They want goals, they want madness, they want excitement. They might even be happier losing 7-3 or 7-4 than drifting through games with nothing happening.
"It's a shame because generally, ninth in the league is about where they should be. When they look back upon the season, Alan Pardew will think 'if you said ninth position at the start...'
"All the teams in front of them are better teams. I think that's where they are. They have levelled out in terms of where they were at the start of the season to where they are now.
"Now is probably about right. I don't think it's a bad performance from them over the season, it's just disappointing the way it's ending for them."
Neville highlighted the poor performances of centre-backs Fabricio Coloccini and Mike Williamson, suggesting they demonstrated a lack of communication against Arsenal.
And he says their defensive errors are reflecting badly on the club's coaching staff.
"It's repeated mistakes. We all make mistakes - I made plenty - but repeated mistakes are unforgivable," he added.
"You make one mistake and you have to work really hard not to make it again. Sometimes you make it again but this is repeated, week after week, the same mistake. It's not sinking in.
"I feel sorry for Alan Pardew in some ways and I feel sorry for the coaches because it reflects badly on them. There's no way they're coaching them to do these things on the pitch.
"They're experienced players and it's strange for Newcastle. They haven't done a lot going forward tonight, but conceding goals in the soft way they have has killed them."