Liverpool lack intensity and must rest 'physically struggling' players, says Gary Neville
'Reds not winning the ball back quick enough'
Last Updated: 25/11/14 9:49am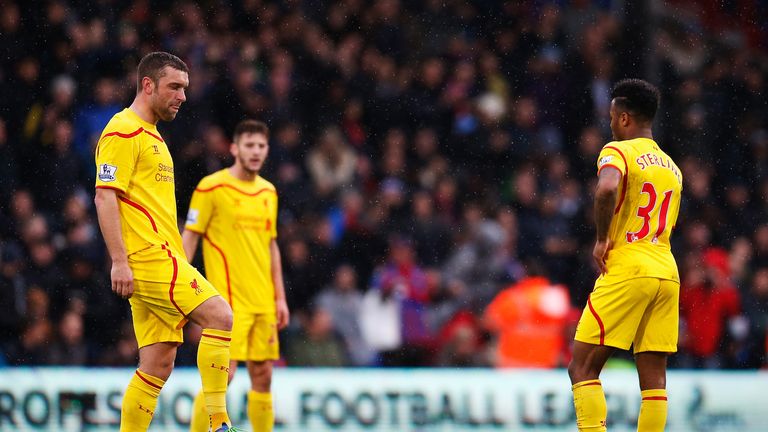 Liverpool are lacking in intensity and their players are desperately in need of a rest, Gary Neville told Monday Night Football.
The Reds slipped to their sixth Premier League defeat of the season at Crystal Palace on Sunday and trail table-topping Chelsea by 18 points after 12 games.
Brendan Rodgers side notched up 101 goals last season but have netted just 15 times this term – half as many as Chelsea – and Neville says they must improve in attack.
Crystal Palace look like they're in fast forward and Liverpool are in rewind.
Gary Neville
However, he pointed out Liverpool's difficulties going forward are a direct result of their inability to win the ball back in the middle of the park as quickly as they did in the 2013/14 campaign.
"Crystal Palace were more enthusiastic, had more energy and Liverpool's performance was woeful, when you think of the standard they set themselves last year," said the Sky Sports pundit.
"That's what's damaging Liverpool more than anything at this moment in time; it's such a short memory to think how they played last season. They were startling at times, breathtaking.
"What was breathtaking about them? People used to say they blitzed teams in the early parts of matches. But what was staggering to watch last season was the pressurising, the intensity when they gave the ball away to winning it back. At this moment in time it isn't there.
"Structurally Liverpool aren't a great defensive unit but what they were great at last season was springing into attack and reacting quicker to win the ball back.
"That's not to do with quality, it's not to do with Luis Suarez or world class players. It's to do with the mentality, fitness and confidence.
"The difference is night and day. If you look at Crystal Palace in the game, they look like the ones in fast forward and Liverpool are in rewind.
"They say in football that your hard work results in performances, results and goals. If you said to me what Liverpool's faults are at the moment, I'd say it's in attack. But, actually the reason they're not getting the level of attack is because they're not getting the ball back quickly enough, at the same intensity."
Rest
Neville explained he suffered similar problems with his fitness on the back of summer tournaments as a player and Rodgers' only solution is to rest those who went to the World Cup.
Liverpool's Champions League commitments have added to their players' workloads this season and the former Manchester United defender says that tiredness then has a knock-on effect on confidence – which was already low, after the team failed to pip Manchester City to the Premier League title last season.
"I feel for a few of them; I think a few of them need taking out and a rest," he said. "There's no embarrassment or shame in that.
"I remember playing in 1996, 1997 and the summer of 1998 and having to have two weeks off during the season because I was absolutely knackered. People might not like to hear that at home, with a football player who is well paid but this, to me, at the moment, looks like a football team that's carrying lead legs.
"That comes from lacking in confidence; these lads have lost the league, they've then gone to a World Cup, they've had three weeks of rest and now they've got games every Wednesday and Saturday.
"I don't think it's that they don't want it. These players are good characters. It's just that at this moment in time they're mentally struggling and physically struggling." 
Watch Liverpool take on Ludogorets in the Champions League live on Sky Sports 5 HD from 7pm on Wednesday.