Football Expert & Columnist
Liverpool: Jamie Carragher impressed by Sturridge, Coutinho and Aspas
Jamie Carragher blogs on Liverpool's OTHER forwards and where the Reds need to bolster their squad.
Last Updated: 29/08/13 3:38pm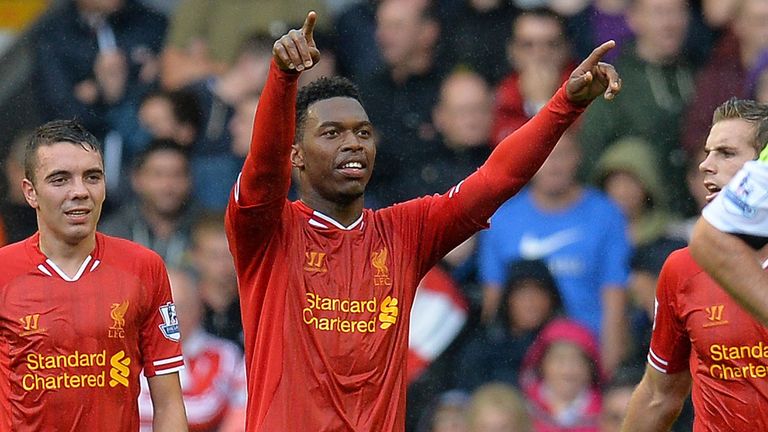 They played quite well when he missed games at the end of last season but they have put together some really good stuff at the start of this year in their games against Stoke and Aston Villa.
Daniel Sturridge has got both of Liverpool's league goals, as well as scoring against Notts County in the Capital One Cup, and has carried on his form from last season when he scored 11 times in 16 games after signing from Chelsea.
Sturridge obviously played well with Suarez last year but I think he is really enjoying being the main man while Luis is banned; he is thriving on that responsibility of being the central striker and the player looked at to provide the goals.
I think he could form a good partnership with a deeper-lying Wayne Rooney for England in the important World Cup qualifiers coming up, but he is working well with Philippe Coutinho for Liverpool at the moment.
We were a little bit surprised that Inter Milan let Coutinho go last winter but Italian football is a bit more defensive and it is probably more difficult for him to show his magic, whereas in England games are more end-to-end so he gets more space to operate in.
I also like new signing Iago Aspas, who works very hard for the team and does a lot of unselfish work, just like Dirk Kuyt used to; he is very neat and tidy on the ball as well and very rarely wastes possession and now you just want him to get on the scoresheet and build his confidence.
You would imagine, though, that when Suarez is back he would take Aspas' place in the team as that position would seem ideal for Luis and allow him to dictate play and both score and create goals.
Aspas has done well but Suarez is a different kettle of fish.
Short
I thought Liverpool handed the Suarez stuff really well this summer by saying that he was definitely not for sale, sticking to that, and proving that contracts still mean something these days and players don't have all the power when it comes to transfers.
Luis, to his credit, has responded to that and after probably letting himself down a little bit in training during pre-season has, by all accounts, come back and shown what a grafter he is.
I'm sure he will show that on the pitch when his ban ends, too.
Liverpool will be even stronger when Suarez is back but I still think they are a little bit short squad-wise of challenging Arsenal and Tottenham for a Champions League place, so I would like to see a couple more signings before the window closes.
They need a few players to really affect the first XI and who can come in and make a big impact straightaway, so a bid for someone like Juan Mata would excite me - if Chelsea are willing to let him go.
Liverpool need more goals in the team - Suarez and Sturridge will get some, of course, so will Steven Gerrard and you would like to think that Coutinho will chip in, but it would be nice to get someone who can get 10-12 over the course of the season, as well as another defender.
Brendan hasn't spent loads this season - Kolo Toure came on a free and Aspas, Luis Alberto and Simon Mignolet weren't massively expensive - so maybe people have been surprised that a real big-money, big-name signing hasn't come in.
Henrikh Mkhitaryan, who has joined Borussia Dortmund from Shakhtar Donetsk was mentioned and he would have cost a few bob, but it's not about what you spend, it's about where you spend it.
Sami Hyypia and, to a certain extent, Xabi Alonso were relative unknowns when they joined and turned out to be great players for Liverpool, while Sturridge and Coutinho didn't cost massive amounts and they are doing really well.