Football Expert & Columnist
Jamie Carragher praises Martin Skrtel's role in Liverpool's win over Manchester United
Jamie Carragher says Martin Skrtel could have saved his Liverpool career against Manchester United.
Last Updated: 01/09/13 5:02pm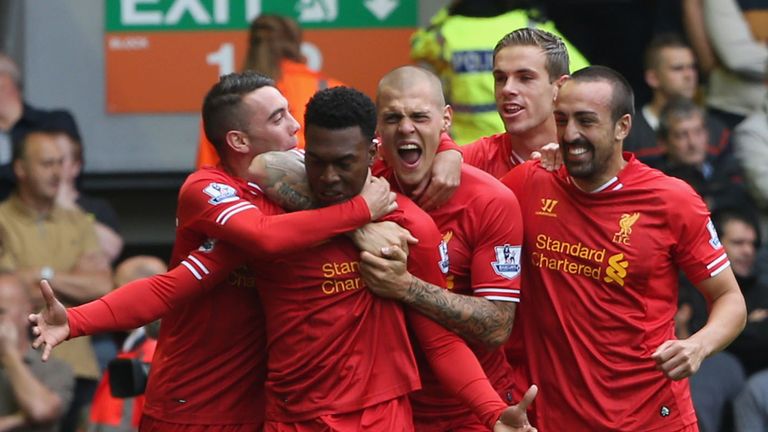 The 28-year-old played a central role in Liverpool's third successive 1-0 victory in the Premier League this season as he successfully shackled United's star striker Robin van Persie in his first match of the season. Read the full report.
Skrtel, who arrived at Anfield in 2008, lined up alongside Daniel Agger in the absence of the injured Kolo Toure against United. But there have been doubts over whether the Slovakia international has a future at Liverpool with central defenders Mamadou Sakho and Tiago Ilori set to join the club from Paris Saint-Germain and Sporting Lisbon.
But Carragher, who was often selected ahead of Skrtel at Anfield last season, believes his former team-mate could have given his Liverpool career a crucial lifeline with a solid display against United.
"That could have been his last performance for Liverpool but may be with that performance he stays," Carragher told Sky Sports. "They have got Ilori and Sakho to come in and Kolo Toure has had a great start.
"I don't think after that performance it will be (his last game). If he had performed poorly today and Liverpool had lost, it could easily have been that lad's last game of the season. He has had no pre-season. To come in and not give Van Persie a sniff until very late on it is great credit to him."
Great start
Daniel Sturridge scored his fifth goal in four games to give Liverpool the victory at Anfield and put them on top of the Premier League ahead of Tottenham's clash with Arsenal at the Emirates.
Liverpool's strong rear-guard action following Sturridge's fourth minute header was impressive and Carragher also picked out the performance of Simon Mignolet, who has played a key role for Liverpool following his £9m move from Stoke this summer.
"He (Mignolet) has made a great start to his Liverpool career with three clean sheets," Carragher said. "There was a lot of talk about Pepe Reina. Did Liverpool get rid of him because of his high wages? They got rid of him because Brendan Rodgers did not rate him.
"Rodgers rated Mignolet higher than Reina. It was nothing to do with wages. They still had to pay £9m for Mignolet so it is not about money. He obviously didn't rate Pepe Reina."
Failure
Fellow pundit Graeme Souness praised Sturridge's quick-witted finish for the game's only goal when the former Chelsea striker flicked Daniel Agger's header into the United net.
But Souness was his was critical of United's failure to deal with the corner that led to the goal, and especially Rio Ferdinand's failure to stop Agger.
"It was cute play and clever, clever movement (from Sturridge) but Rio and David Moyes will not be happy with that going in," he said. "For Rio that is not good.
"You are looking for your most experienced defender to be in command there, to put your head on it and take a blow for the cause. But he has not done it."