Football Expert & Columnist
Newcastle: Jamie Carragher hails Loic Remy and Shola Ameobi
Jamie Carragher says the pairing of Loic Remy and Shola Ameobi has been key to Newcastle's revival.
Last Updated: 30/11/13 8:19pm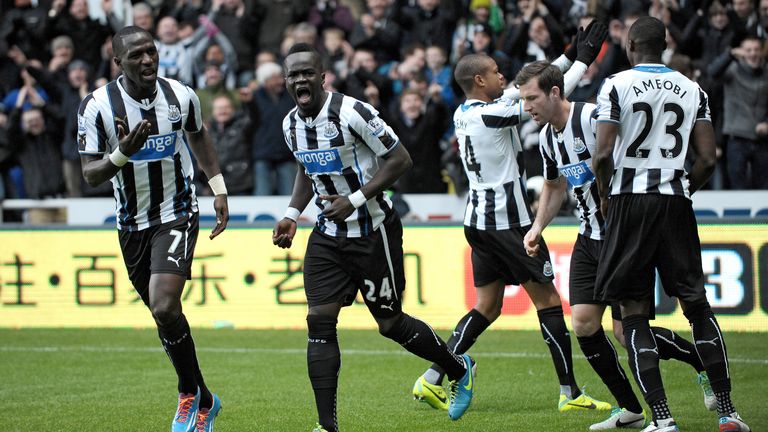 Alan Pardew's side claimed a 2-1 victory over West Brom on Saturday Night Football - their fourth win in a row - to climb to fifth in the Premier League table following an indifferent start to the season.
Ameobi, who won the Man of the Match award against West Brom, has been preferred to Papiss Cisse in recent weeks and Sky Sports pundit Carragher believes his interplay with summer loan signing Remy has improved Newcastle's attacking play and sent them up the table.
"It's a partnership that takes you back 10 or 15 years to the big man and the little man," he said.
"But there's a lot more to it than that. Shola is not just playing straight up front, he's getting between the lines in the number 10 role.
"Today is the first time Remy hasn't scored within the partnership, but they still won the game. They are obviously aware of each other and that's always a good sign and they are never too far apart.
"They are always close together so they can play little one-twos and make little touches. There's obviously a relationship there.
"We can see that with the results, of course, but when you watch them play how many times do they inter-link with each other and play little passes?
"It's like they've always played together."
Rely
Newcastle did not need to rely on their strikers for goals on Saturday with Yoan Gouffran and Moussa Sissoko finding the net from midfield.
Carragher senses a growing team spirit on Tyneside and praised the work ethic of those two players, who have been preferred to France international Hatem Ben Arfa in Pardew's team.
He added: "You look at the wide players and how much effort they are putting in.
"Ben Arfa and Cisse are on the bench and we keep coming back to that, but I don't think Ben Arfa would have been in the position Sissoko was in [to score his goal].
"He would probably have been out wide and wouldn't have been defending - but the way they are set up defensively now helps them attacking-wise. The goal is the perfect example because Sissoko wouldn't get the shot away if he was out wide.
"Him and Gouffran are helping the team defensively, but also offensively. Both scored today as well.
"People talk about team spirit and togetherness - and that comes from winning games. At the moment they are on a good run and you can see with the fans. A few weeks ago there were demonstrations, but when a team is winning it covers everything.
"They'll all be together tonight. All the fans will be going for a pint and it should be a great night on Tyneside."