Football Expert & Columnist
Stoke 3-5 Liverpool: Luis Suarez and Daniel Sturridge 'have been a revelation'
Luis Suarez and Daniel Sturridge have been superb for Liverpool this season, says Jamie Carragher.
Last Updated: 13/01/14 10:27am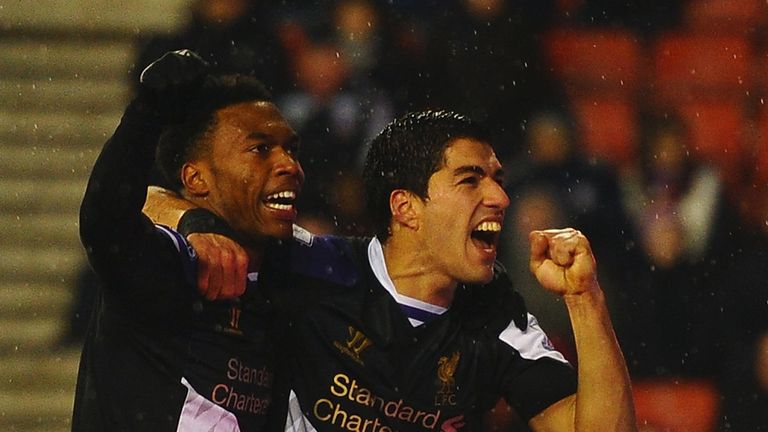 Sturridge came off the bench on 66 minutes after nearly two months out with an ankle injury and marked his comeback with an 87th-minute strike that finally shattered the Potters' resistance in an eight-goal thriller.
Fellow forward Luis Suarez scored twice to take his Premier League goal tally to 22 and Carragher says their partnership gives Rodgers great flexibility with his formation.
Electric
"Suarez and Sturridge have been a revelation all season," said the former Liverpool and England defender.
"It was interesting to see how Liverpool would set up when Sturridge came on. First of all it looked as if Luis was going to go to the left but it looked as though Liverpool went to a 4-4-2 and Jordan Henderson then went to the left.
"Sturridge played in a great ball [for the fourth] and Suarez's finish was Thierry Henry-like. Those two are electric up front."
He added: "These are the selection dilemmas that Brendan Rodgers has got now. Philippe Coutinho went off [for Sturridge] and while we've been talking about the position that Henderson plays in the middle of a three, when he brought Sturridge on Liverpool played 4-4-2. Henderson went to the left, Lucas dropped back alongside Steven Gerrard.
"With these players coming back it doesn't just give him options in terms of players and numbers, it gives him options in terms of changing the formation.
"We've seen Liverpool play with a back three this season. It will be interesting with Sturridge coming on and making that impact how Brendan Rodgers sets up in the next few weeks."
Disappointed
Liverpool squandered a 2-0 first-half advantage before the break but took the lead again when Gerrard stroked home a 51st-minute penalty, awarded for Marc Wilson's challenge on Raheem Sterling.
But Carragher said the spot-kick should not have been given - both because Wilson's challenge was innocuous and because Sterling should have been pulled back for hand-ball in the build-up to the incident.
"The main talking point is the penalty and, for me, I don't think it is," he reflected. "There is the slightest contact but football is a contact sport and I'd be disappointed if I was Marc Wilson.
"Gerrard has got a great record with penalties. The pressure was on him - he's just come back into the side - and from 2-0 up it's now 2-2 and the penalty is in front of the Liverpool supporters as well. I think everyone was delighted for him when he put it away."
After the match Gerrard told Sky Sports how well he is adapting to playing in a new, deeper holding role at Rodgers' request and Carragher said that it's a position the 33-year-old is ideally suited to.
"I think he'll want to play there. The longer it goes on the more he'll realise that maybe he's not the Steven Gerrard of Istanbul - charging about the pitch, getting goals, creating goals.
Quarter-back
"This is something that you see a lot from midfielders now - dropping in between the centre-backs. It's like a modern theme within the game.
"He's like a quarterback with his range of passing but he can also get back and get blocks in. You know you are going to get that from Steven Gerrard whether he's playing the holding role or is attacking midfield role.
"In that position he adds a little bit more than Lucas in that position with the ball. I sometimes wonder if they could prolong his career by playing him at centre-back. In 12-18 months' time he might even go there because not many centre-backs would have his range of passing.
"But for the time being it looks as though he's going to play this role because it's the first time I've ever seen Lucas Leiva play in an attacking midfield role for Liverpool and the lad played well."