Football Expert & Columnist
Jamie Carragher: Daniel Sturridge benefitting from 'world class' Luis Suarez
Sterling and Lallana should start against Italy in World Cup opener
Last Updated: 07/03/14 8:52am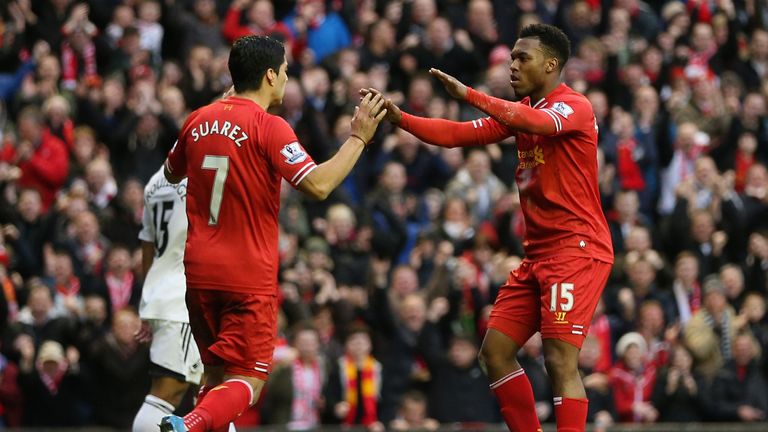 He has now scored in 10 of his last 12 games following his goal for England against Denmark, and I am delighted that he has taken his form into the international arena because it took him a while to get there.
Wednesday night was only Sturridge's 10th cap and considering he is 24 years of age that should probably be higher, but it is only since he joined Liverpool that he has been playing week in, week out and forced his way into England's plans.
He played quite wide against Denmark but he still got on the scoresheet and I think his confidence is growing from playing and training every week with a world-class footballer in Suarez and then every now and again at international level with Wayne Rooney.
Sturridge is getting used to playing in a partnership, whereas before he almost went it alone, as he played on the right-hand side at Chelsea under Andre Villas-Boas and was only a bit-part player at Man City earlier in his career.
I think Daniel is now a definite England starter and we all know Wayne Rooney will go to the World Cup, too, so it will be interesting to see who else Roy Hodgson picks up front - and whether he takes three or four strikers.
Penalty
Danny Welbeck is the obvious one as he has been trusted by Hodgson in the past and can also give you something on the right or left and I think will go to Brazil, even though he has not had a great season for Man United.
Rickie Lambert looks an obvious fourth choice and his excellent penalty record could help his claim, though Andy Carroll is an option if he gets fit, but while I am a big fan of Peter Crouch I think he has been out for too long to have a real chance of filling the 'big striker' role.
There is no guarantee that Roy will take four strikers, though, as with so many good, young players pushing for positions in those wide and attacking midfield areas, perhaps three might be enough.
Adam Lallana is one of those midfielders and I think that after changing the game against Denmark he has done enough to not only get on the plane but to start against Italy.
He has revelled in being Southampton's best player and taken that swagger into England and offers you something a bit different; he doesn't have the express pace of an Andros Townsend but he has a great mind and eye for a pass.
I also think Raheem Sterling should play on the right in the position Theo Walcott's injury has opened up; he is the form wide man in the Premier League and did himself the power of good on Wednesday by really looking the part.
Confidence
Sterling has really benefited from his time under Brendan Rodgers and I think that backs up the point I made on Sky Sports earlier this week about managers being given time to build their side.
I proposed the idea that clubs should be banned from sacking their manager during a season and that whoever is in charge in August should remain that way until things have finished in May,
That would give managers confidence as they wouldn't be constantly looking over their shoulder after every bad result and I think it would help the players, too, as they could keep their minds on football and not on what's going on above them.
I wouldn't tinker with the transfer window system, though, as I think it gives players a chance to get out and play in January if they have not had too much over the first half of the season - and it is great for fans watching Sky Sports News on Deadline Day!
And I am also not in favour of changing things up and having dugouts on either side of the pitch, which is something I heard suggested after the Alan Pardew incident at Hull over the weekend.
I can see why people think it is a good idea to have one coaching team on one side of the field and one on the other as it might stop tensions spilling over on the touchline, but it is always good to see managers standing close together and trying to get their tactics across to players.
It would be a shame if we lost that.