Football Expert & Columnist
Steven Gerrard desperate to end Liverpool's title drought, says Jamie Carragher
Steven Gerrard's emotional celebrations demonstrated his passion for Liverpool, says Jamie Carragher.
Last Updated: 22/04/14 10:29am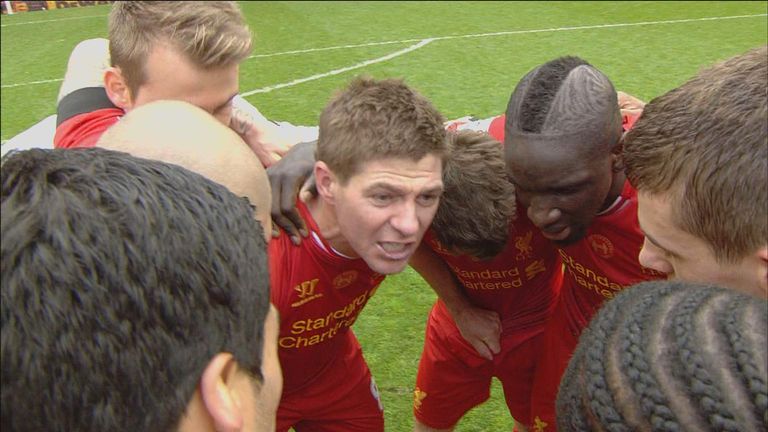 The Reds captain played a key role as Liverpool responded to a second-half comeback from their visitors to grab a 3-2 win and take control of the Premier League title race.
At the final whistle Gerrard could barely contain himself and delivered a chest-thumping speech to his team-mates who had huddled around him.
And former Liverpool colleague Carragher told Sky Sports that Gerrard's reaction was a result of realising that, after over 15 years of personally striving to bring the league crown to Anfield, the club are just four games away from reclaiming the title.
"That comes from being at this club so long and not winning the league," said Carragher. "That's not just [about winning] today.
"I talked before the game about a lot of these Liverpool players looking like they're playing without that pressure and that they haven't got that burden on their shoulders, they've only just come to the club or don't know the history of it - but he does.
"You talk about pressure on someone's shoulders but how many times has he carried the club through his own performances? I think he's the one feeling it the most.
"If I was involved I'd probably be struggling to sleep and he's the one who will be going right through that. We saw his reaction at the end, shouting to his family and friends in the box - that's the build-up of going so long without winning the league."
Belief
Jamie Redknapp reckons Gerrard may have given up his hopes of winning the Premier League with Liverpool after the Reds finished 28 points behind champions Manchester United last season.
However, Philippe Coutinho's winner on Sunday, after a David Silva strike and Glen Johnson own goal had cancelled out first-half goals from Raheem Sterling and Martin Skrtel, put the title race entirely in Liverpool's hands.
They are now five points clear of Chelsea, ahead of the Blues' trip to Swansea - with Jose Mourinho's men visiting Anfield on April 27 - and out of reach of Man City, even if Manuel Pellegrini's side win their two games in hand.
"Whether you're a Liverpool fan or not, that's the sort of thing, as a football fan, that makes your hair stand on end," Redknapp said, reflecting on Gerrard's post-match celebrations.
"Gerrard got his players in a huddle and his character, everything about that man, was coming out there. It was pouring out of him. That was great to see.
"He knows now that they're in touching distance of something very special. He thought he'd never get that opportunity to win the league - but they're four games from changing Liverpool's history."
Turning point
In his post-match interview, Gerrard was quick to point out the league is yet to be won, and insisted Liverpool must be at their best to beat relegation-threatened Norwich next weekend.
But Carragher suspects his former club's 3-2 triumph over Man City may be the vital moment in this season's title race.
"Liverpool have been playing great and they've won ten in a row now but, if they go on to win the league, this will be what will be looked back at," he said.
"There's always a game when someone wins the title and you look back at and say 'that was the difference, that was the turning point'."