Football Expert & Columnist
Liverpool 0-2 Chelsea: Jamie Carragher says fans can't complain over tactics
Jamie Carragher says Liverpool can't complain about Chelsea, as they've done the same for years.
Last Updated: 29/04/14 10:31am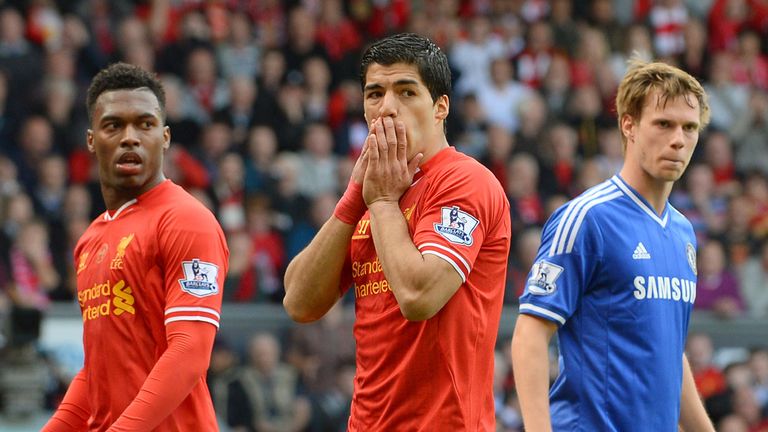 Reds boss Brendan Rodgers said Chelsea had "two buses parked" in front of their goal as they secured a 2-0 victory at Anfield on Sunday, a result that severely dented the home side's hopes of ending their 24-year wait for a league title.
Liverpool had 67% of the possession, but were regularly frustrated by time-wasting tactics from their opponents and Carragher says the manager needs to focus on finding ways to combat such an approach.
And he says his former club can have no complaints because they have enjoyed plenty of success in the past by adopting exactly the same strategies.
"I've done it playing for Liverpool," he told Monday Night Football.
"I remember going to Barcelona in 2001 in the UEFA Cup and we got a 0-0. We did exactly the same as what Chelsea did yesterday, we went there for our clean sheet. Johan Cruyff said after the game we were a disgrace to football.
"Let's not forget that in the seventies and eighties when Liverpool went away they'd go there and do a job to try and get a 0-0. At times they'd play it back to Ray Clemence and slow the game down.
"I remember with Rafa Benitez playing against Chelsea, we played them at their own game. We slowed the game down, played direct football, never got caught on the counter-attack and never risked playing a ball into Stevie (Gerrard) or Xabi Alonso, as they had Duff, Robben and Drogba for the counter-attack.
"There was frustration after the game. We heard Liverpool fans afterwards on radio phone-ins and whatever, but you've got to not be complaining so much about Chelsea and think you may come up against this again - how are we going to go about it and try to get the result?
"You can't complain and say 'we don't play like that'. We've done it before and been successful at it.
"You can't complain. Lots of teams have done it, we've done it, so get on with it and try to find a way to fix it."
King
Mourinho was critical of West Ham earlier in the season when they held his side to a 0-0 draw, accusing them of playing "19th-Century football".
But Carragher says the Chelsea boss is not afraid to use any tactics to win a game - and is surprised more teams haven't done the same things at Anfield this season.
"He's the master and the king of 19th Century football - and he's not embarrassed about it and he shouldn't be," he added.
"He's done a number on Brendan Rodgers and Liverpool. The last time Liverpool lost a game was to Chelsea - and you think how long ago that was.
"You think of the other teams who've played Liverpool, especially at Anfield; Arsenal have gone there and conceded five and were done plenty of times on the counter-attack; Everton were exactly the same and conceded four; Spurs went there and played open and conceded four.
"I can't believe it has taken so long for a team to do this."
Momentum
Manchester City emerged as the favourites for the title after their win at Crystal Palace saw them move to three points adrift of Liverpool with a game in hand and a superior goal difference.
But Carragher says his former club can still win the Premier League if they win their remaining fixtures against Palace and Newcastle - and they must quickly forget Sunday's result.
"A word for Liverpool in the last few months is 'momentum' - and it's just been stopped," he added.
"If I was Liverpool - Brendan Rodgers or Steven Gerrard - the first thing I'd be doing is organising a night out, a meal or a day at the races. They've been on a great run and you can't be too downhearted about one defeat in 12 games.
"All right, it's a bad blow in terms of the title. Let's get everyone lifted again together, get out with the wives at a meal or the races and go again for the Crystal Palace game.
"It's now in City's hands, but Liverpool have got on paper the easier game, Palace away rather than Everton away. City could easily draw or lose at Goodison; it's a tough place and they haven't got a great record there either.
"If Liverpool win their two games left, I still think they've got a great chance of winning the title - and they've got to get that into their heads.
"I know they have [sports psychiatrist] Steve Peters there and it's his job to lift the mood, but get the players together and ram home that message now.
"This title's still on."