Football Expert & Columnist
Jamie Carragher: Manuel Pellegrini not entertaining, but delivers results
Jamie Carragher says Manuel Pellegrini may not be entertaining, but must get credit for his results.
Last Updated: 28/05/14 4:37pm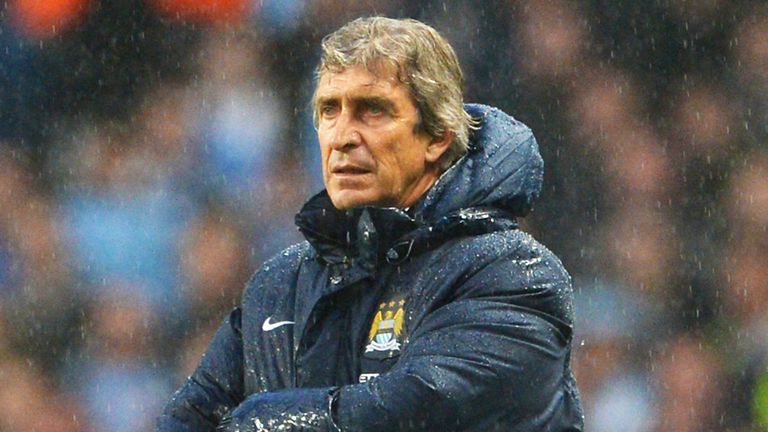 The Chilean has already picked up the Capital One Cup in his first season at the club and after Wednesday's 4-0 win over Aston Villa he needs just one point at home to West Ham on Sunday to secure the Premier League trophy as well.
Pellegrini has refused to respond when faced with verbal attacks from other managers this season and despite his success is only the third favourite - behind Crystal Palace's Tony Pulis and Liverpool's Brendan Rodgers - to win the LMA Manager of the Year award.
And Carragher suspects his personality may have something to do with that.
"Maybe it's because he's not entertaining enough in interviews? Every time he comes across in interviews he plays everything down and you very rarely get anything out of him. You never see him on the back pages," he told Sky Sports.
"But credit to him for that. He's here just to do his job in terms of management and get results - and he's done that.
"He's got one trophy and it looks like he's on the verge of the big one in terms of the Premier League title. City won it under Roberto Mancini of course, but last season there was a lot of friction within the squad and I think he has brought the players together and they seem a lot happier. I think you see that in Edin Dzeko now with 26 goals this season.
"He has had a few spats this season - not so much him but Alan Pardew and Jose Mourinho - and he's never got involved.
"You talk about players letting their football do the talking, well he's let his team do the talking."
Patience
City had to wait until the 63rd minute before opening the scoring against a dogged Aston Villa defence, but Edin Dzeko's brace plus late goals from Stevan Jovetic and Yaya Toure has taken the club to the brink of Premier League glory.
And Carragher says the cool demeanour of the coach will have helped the players as the tension rose in the first hour at the Etihad Stadium.
"The best thing City did tonight was not panicking - and I think maybe that comes from the manager," he added.
"You never see him getting too worried on the sidelines or very stressed. I'm sure at half-time he was calming things down because what they kept doing was what Liverpool failed to do against Chelsea. I think Liverpool got desperate in that game and were taking shots and crossing balls from silly angles.
"They kept probing and it was difficult to break down Villa. We said at half-time that they needed overlapping full-backs - and that's what they did.
"The fact was David Silva was still getting on the ball and threading little balls through. They weren't taking stupid shots from silly angles and getting desperate. That may have come in the last 15 or 20 minutes if they hadn't got that goal.
"But the way they just kept playing, there was patience in the game and you always felt they would eventually break Aston Villa down."
City are two points clear going into the final game of the season and their vastly superior goal difference means a draw against West Ham will secure them the title.
And Carragher says his former club Liverpool must now focus on getting ahead early in their game against Newcastle - and then they must hope for a helping hand from Sam Allardyce's side.
"They've got to do what they've done for most of the season and try to blitz Newcastle at home," he said.
"Get up in the game and get winning the game as early as possible - and if it's still level at the Etihad you can imagine the atmosphere at Anfield.
"You'd expect City to win. With them winning tonight they now only need a point - but can you imagine if it's 0-0 with 10 minutes to go and Andy Carroll gets on a set piece..."