Football Expert & Columnist
World Cup: Jamie Carragher says England must play the youngsters against Costa Rica
Last Updated: 23/06/14 9:48am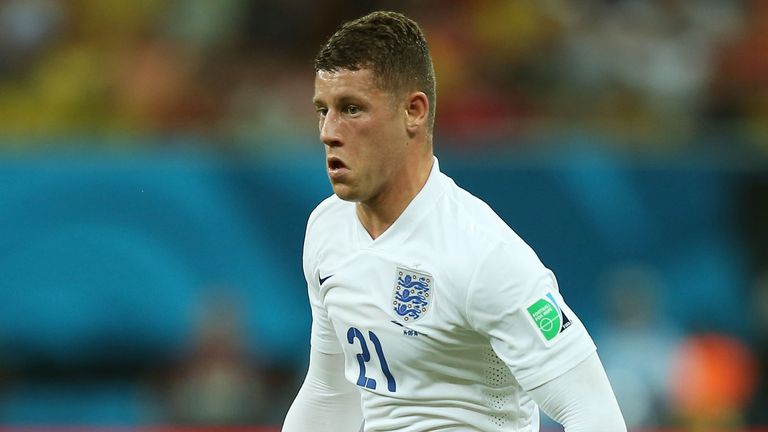 Jamie Carragher has insisted there must be no room for sentimentality – not even for his former team-mate Steven Gerrard – and England's youngsters must be given vital World Cup experience in their final group game.
The former England defender has called on Roy Hodgson to give Ross Barkley, Luke Shaw and Jack Wilshere starts against Costa Rica following their successive opening defeats to Italy and Uruguay.
Carragher added that it would be great if Hodgson can find a place in the team for Gerrard and Lampard but insisted the priority should be to expose England's youngsters to more competitive football.
Speaking on Sky Sports' World Cup Podcast - which you can download here – Carragher said: "I think that you can bring Jack Wilshere in. Jordan Henderson has done ok after a great season, but it could be time for Wilshere.
"I thought that it was crying out for him at times in the second half of the Uruguay game. That was a substitution that should have been made much earlier.
It was shocking defending. If you see your son or another kid making that mistake at an academy you would think that is was a basic mistake.
Jamie Carragher
"There is scope for bringing in some of those players. If it is a dead rubber then those players definitely have to come in – Barkley and Shaw definitely have to come in. [Raheem] Sterling will have to stay in.
"Then it is up to Roy Hodgson if he wants to give certain players a final game, if it is Stevie or Frank Lampard. It would be a nice gesture.
"But the most important thing is that the younger players gain experience, and not giving a thank you to older players at the end of their career. Yes it would be nice if Roy can mix the team up and do both, but the most important thing is those young players."
England's performance against Italy was greeted with optimism in some quarters, despite them going down 2-1 to the Italians, and some saw Sterling's display as representative of an exciting future for the team. 
Shocking
Carragher, though, took little solace from the performances, desptie his desire for the youngsters to be given more game time in their final Group D fixture.
"The fact that we, England as a big football nation, are clinging on to a performance against Italy in which we lost and an average performance at best against Uruguay for a country of our pedigree and the quality of players that we have is not good," he said.
"It is not quite 2010 but I am not thinking this is a tournament for the future and it has been great – we have lost two games in the World Cup."
The former Liverpool defender was particularly disappointed with the quality of defending in England's defending against Uruguay and highlighted Luis Suarez's second goal against Hodgson's team as a particularly low point in their campaign.
"It was schoolboy, basic defending," he said. "It was shocking defending. If you see your son or another kid making that mistake at an academy you would think that is was a basic mistake. Stevie probably misjudged the header and you could argue that Phil Jagielka should have gone up to attack it but as a defender you have to expect the worst.
"Gary Cahill banked on Luis Suarez being offside – you can't take chances like that. Just run with him and defend properly."
Greatest
Carragher, though, did have some word so praise for his former team-mate Suarez, who recovered from knee surgery in time to smash two goals past England.
"There are very few players like him now if football, those who can play through injuries or carry on so quickly after the injury," he said.
"I was worried for England. Knowing Luis Suarez as I do from training and on matchday, he never misses a day's training. He is childlike in his enthusiasm. There was no way he was going to hold back.
"We are talking about one of the best players in the world. There has been a lot of talk over the past season about where he ranks in terms of Liverpool's greats.
"He probably has to win a league or a European Cup to surpass a Stevie Gerrard or a Kenny Dalglish but in terms of pure ability and talent, he could be the greatest player Liverpool football club has ever seen. He is rightly acclaimed as one of the top three or four players in world football."