Football Expert & Columnist
Graeme Souness says Man Utd must step up and Man City can trouble Bayern
Forget David Moyes, Man Utd's big-reputation players must now prove their worth, says Graeme Souness.
Last Updated: 02/10/13 1:53pm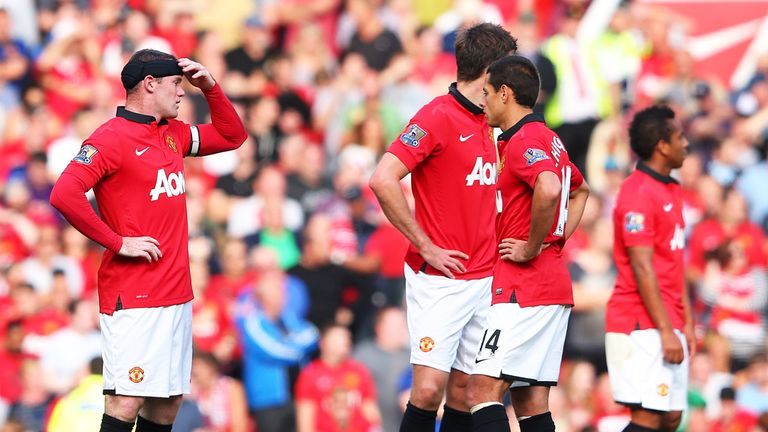 There has to be genuine concern over Manchester United's form and there's a couple of ways to look at why the team that won the title last year is not playing as well this time.
One theory is that it was a very ordinary Premier League last year. The other is that Sir Alex Ferguson produced miracle after miracle to get that team past the post. I think the truth lies somewhere in between.
A few people, including myself, felt it was a very ordinary Man United group that won the league last year, compared to where they've been over Fergie's period in charge. It was arguably the weakest group to win the title, but he somehow managed to get the best out of them week in, week out to win the league easily.
For me, winning the league with that group is up there with any achievement he had in his whole time at Man United.
Man United are a big football club, they've won a lot in the last 25 years and 70,000 people turn up to watch them in every home game but that guarantees you nothing. West Brom went there on Saturday, were positive, and deserved to win for their bravery.
You can't say that Man United should be beating them and you must give them the credit, but I believe it's now time for some of their big players to stand up and be counted - if they really are big players.
The modern game is all about the blame game and the blame is directed one way all the time - at the manager. That's wrong. There are England regulars and European Cup winners in that squad who should stand up and be counted.
One of the things that makes you a big player is that you hate being criticised - and when you lose a game, you respond and make sure it doesn't happen again or at least very often. So let's see the players with the big reputations stand up in this game.
Over the years Manchester United have bounced back with a big result when people have been writing them off and that's what they need to do this time because this is a big game in their season, even though it's only October.
But I see this as a very difficult game for them in their current form and I wouldn't be too sure about them getting that result.
Manchester City v Bayern Munich
Bayern Munich are my favourites to win the Champions League again. It's probably between them and Barcelona if the Spanish club can keep Lionel Messi fit.
Bayern are a team without a weakness - I said that last year - and the only danger for them is if the new manager wants to make too many changes in how they play.
They have been served well in recent seasons, reaching three of the last four Champions League finals and winning one, by playing in a certain way. They had a ridiculously good season last year when they won everything so Pep Guardiola needs to change very little. It'll be more of the same from them and they're still the team to beat.
But I think Manchester City will also be in the mix this year because of the quality they have in their group. They beat Plzen well in the opening match, but that hasn't changed my opinion at all because they will be the whipping boys.
I also think the defeat to Aston Villa on Saturday was a bit of a freak result. How often will a team have 67% of the possession and end up losing the match? The result against Manchester United the previous week was fabulous, as was the performance and they've got so many great players in this squad. They will be right up there.
So this should be a great game and one that will tell us a lot about both clubs. I think there will be goals. There will be a lot of attacking players in the pitch and the game could go either way.
If you were to push me I'd call a draw, but City are capable of just edging it.